Aran Cardigan Full Zip with Collar Charcoal
Aran Cardigan Full Zip with Collar Charcoal
Breathe new life into your existing closet with our Aran cardigan full zip with collar charcoal. This sweater features historical trademarks and modern trends for a sifted blend of the old and new world. Our sweater is a legitimate Irish product made in Donegal County, Ireland.
The Aran Cardigan is carefully hand-knitted from 100% premium Irish merino wool, a luxurious material that offers a blend of warmth, softness, and breathability. Pretty patterns of Aran cable stitches adorn this glamorous sweater from top to bottom, giving it a voluminous texture and dimension.
Moreover, the full zip on our Aran Cardigan gives the sweater a contemporary touch that plaudits the traditional Aran design. You can layer your sweater in cold weather or wear it open during milder weather.
Our Cardigan sweater features two practical front pockets to give your piece a trendy touch. The charcoal color delivers class, style, and sophistication all in one. Here are more features to this cardigan:
The 100% premium merino wool offers a blend of breathability, warmth, and softness
Pretty Aran cable stitches to give it a voluminous dimension
An authentic Irish product from Donegal County, Ireland
Raised collar to cover your neck and keep you warm
Charcoal color delivers style and sophistication
The full zip feature gives it a modern look
Sizes range from XS to XXL
Size Chart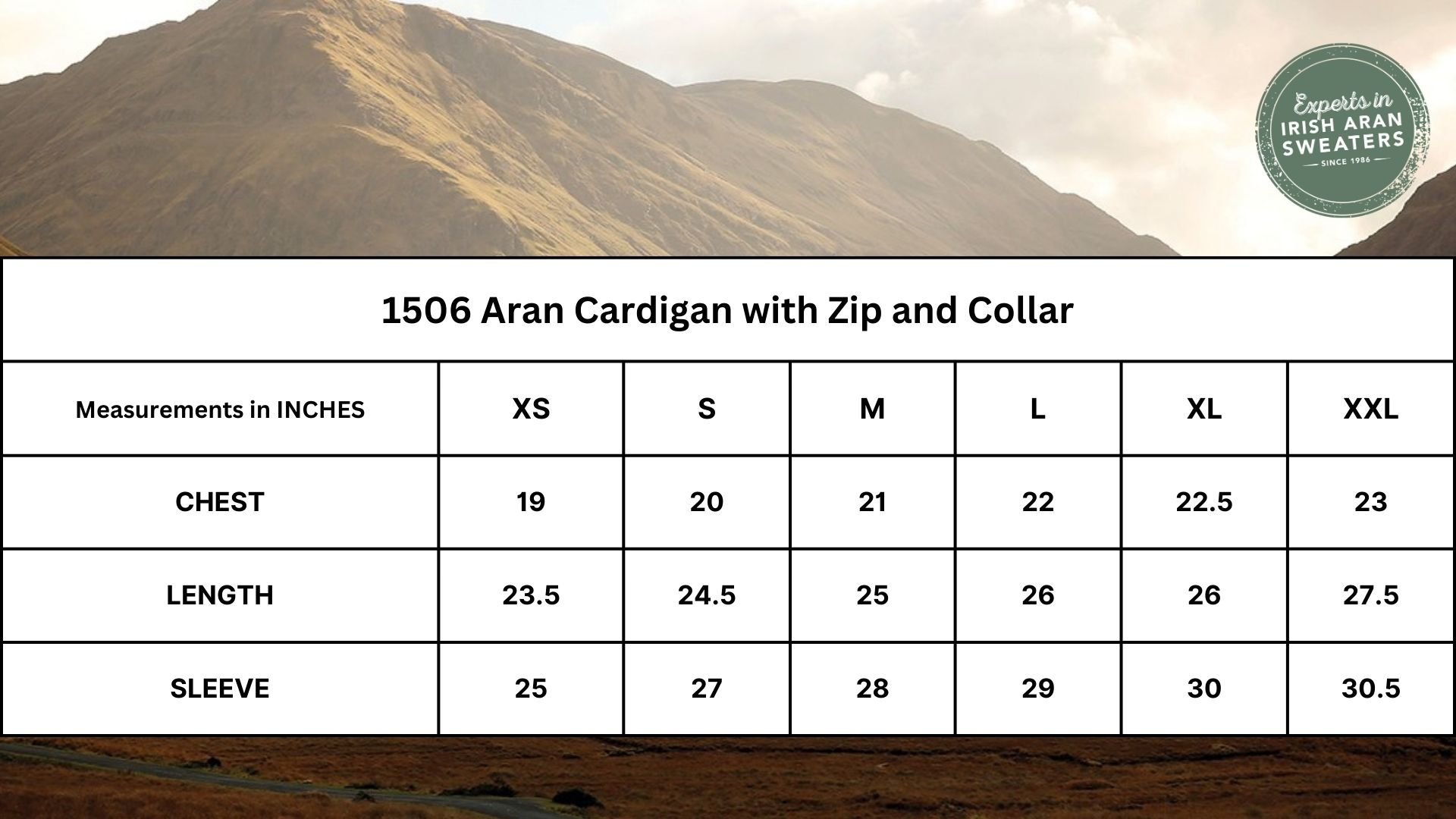 Wash Care
While our sweaters are a great choice, because they are warm and durable, proper care should be always taken to protect your garment. We recommend all of our sweaters and wool garments are gently hand washed with a mild wool detergent, reshaped by hand and dried flat. If soaked for too long, the wool may shrink and become hard.
Alternatively, most of our sweaters can also be dry cleaned but always check the care label first. Under no circumstances should you machine wash or tumble dry your sweater or any other wool product. Remember, when you give your sweater great care, it will last you for a long time.
Our Customers Rate This Product