Aran Cardigan with Zip and Collar DWB
Aran Cardigan with Zip and Collar DWB
Check out in style with our Aran Cardigan with zip and collar DWB. Whether heading out for a girls' night or just chilling indoors on a cold day, this Aran Cardigan will keep you cozy all day long. The jumper is well knitted from 100% merino wool to offer warmth, breathability, and softness.
Straight from Donegal county, Ireland, our Aran Cardigan is an authentic Irish pullover with a unique story of traditional Irish culture. This ladies' sweater has a full zip feature down the front, ideal for layering in the cold—you can still wear it open when the weather gets milder.
The deep water blue colour looks stylish, elegant, and sophisticated and elevates your appearance. The Aran cardigan is a must-have for every lady's closet because you can pair it with our cashmere scarf and your favourite blue jeans to complete the look. Other features include:
Handknitted from 100% merino wool, assuring warmth, softness, and breathability
The full zip feature makes the jumper ideal for layering or wearing open
Easy to care for because it's dust-proof (can be dry cleaned)
Available in all sizes from XS to XXL
Classic and functional front pockets
Size Chart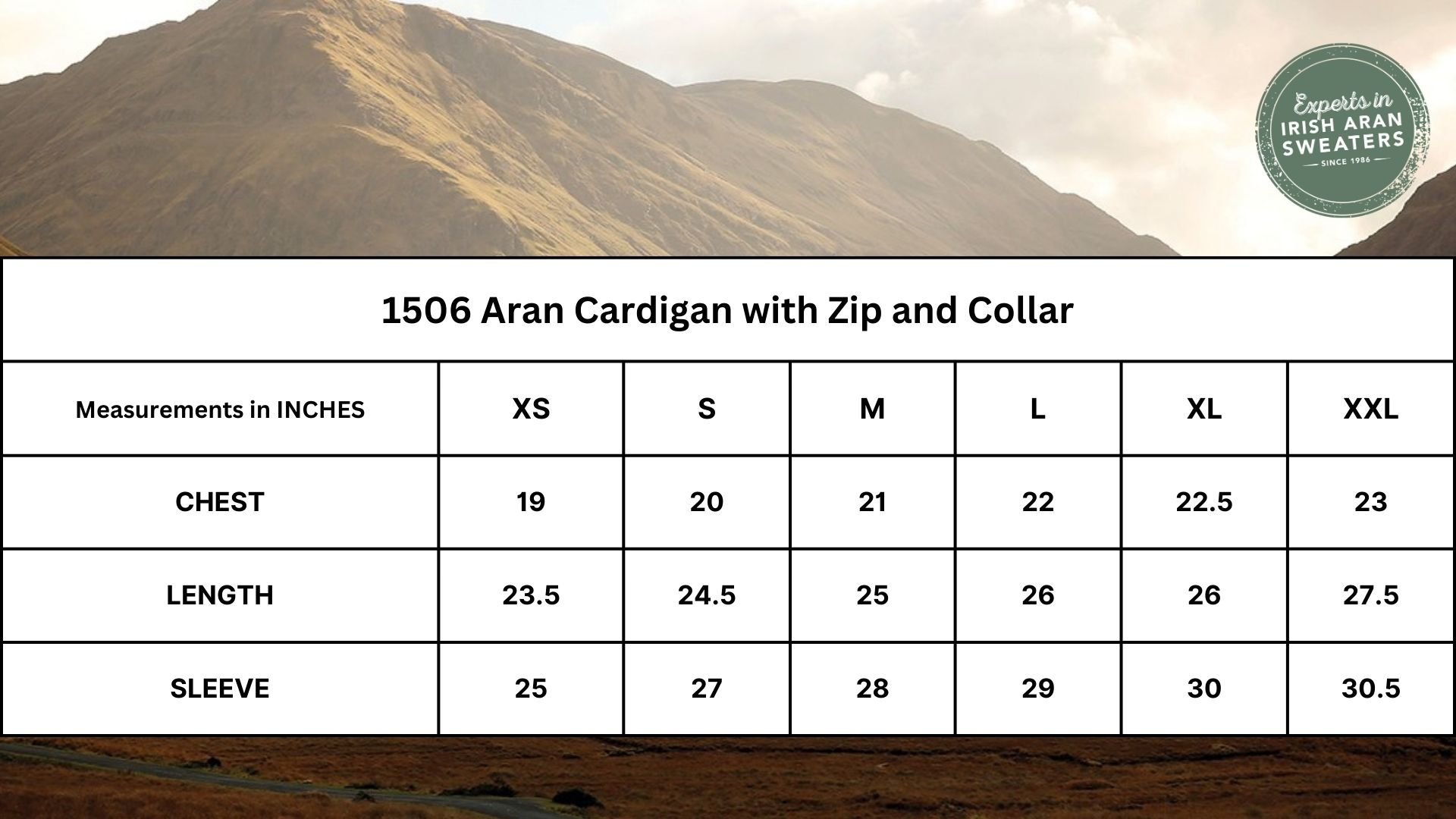 Wash Care
While our sweaters are a great choice, because they are warm and durable, proper care should be always taken to protect your garment. We recommend all of our sweaters and wool garments are gently hand washed with a mild wool detergent, reshaped by hand and dried flat. If soaked for too long, the wool may shrink and become hard.
Alternatively, most of our sweaters can also be dry cleaned but always check the care label first. Under no circumstances should you machine wash or tumble dry your sweater or any other wool product. Remember, when you give your sweater great care, it will last you for a long time.
Our Customers Rate This Product