Your Guide to St Patrick's Day 2021 in Lockdown

Paddy's Day with a Twist
With St Patrick's day right around the corner on March 17th, it's important to look forward to something and celebrate in any way you can, especially with the stress we all experienced from the news in the past year. St Patrick's day is the something positive and exciting we all need, even if we do celebrate through the 949504th lockdown.
St Patrick's day 2021 is a holiday that's going to be celebrated by millions of people around the world, not just in Ireland. In fact, did you know that in New York City alone, 2 million people gather for the city's famous grand parade each year?
Although things may look a little different this year, it's definitely not going to stop the celebrations and drinking through zoom calls, or if we're able to, a social distanced night out!
Before we start celebrating and pointing you in the direction of our St. Patrick's Day Sweater Sales, let's keep in real and cover what St Patrick's Day is all about, why it's so important and how we can dress to impress in beautiful St Patrick's Day Aran Knitwear?
Keep on reading to find all of this out and more, with some fun facts along the way!
A Brief History of St Patrick's Day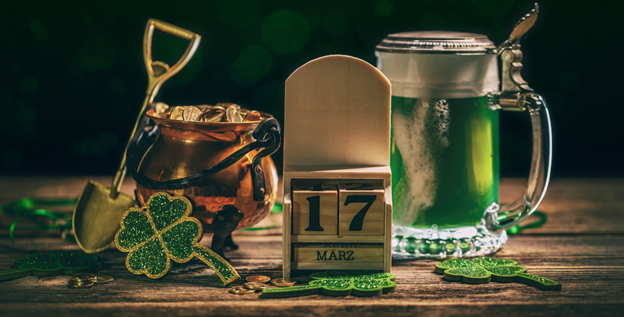 The history of St Patrick's Day as an official holiday dates all the way back to the 1900s, however, it was identified and celebrated as a national feast day in Ireland as early as the 10th century.
St Patrick is the most famous patron saint of Ireland, and is regarded as the principal missionary in bringing Christianity to Ireland, where he used the leaves of the ever-famous shamrock to teach the doctrine of the holy trinity.
Many find it hard to believe, but the color associated with St Patrick was originally blue. However, in order to honor the famous saint, people everywhere began to wear shamrocks.
During a rebellion throughout 1798, Irish soldiers wore all green uniforms in the hopes of drawing both attention and support. This is where the rave about St Patrick's started. The green eventually overtook blue, and shamrock along with their now-famous green color became the norm for those celebrating St Patrick's day.
Since then, this special occasion has now spread to every single corner of the globe. Although it originated in Ireland, it is now widely popular in Canada, Australia, New Zealand, Great Britain, and they even celebrate it in Japan and South Korea.
Why is St Patrick's Day Important?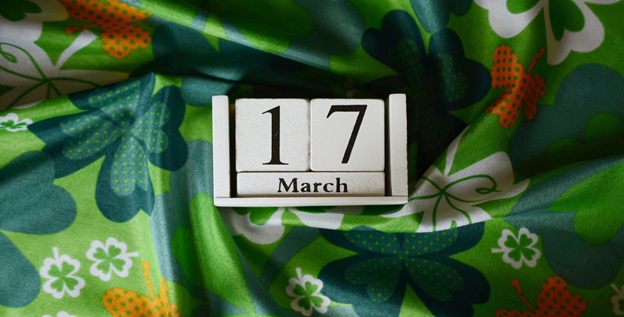 For many, this is a day where one can enjoy a pint of green beer, dress up in wacky St Patrick's Day jumpers, and erupt in celebrations all round. However, this is also a day that stands for so much more than just partying.
St Patrick's day is important for so many people, especially those who appreciate the traditional acts like going to Church, parades, and the attendance of ceilidh, traditional Gaelic festivals featuring Gaelic folk music and dancing.
In recent years, the act of giving on Paddy's Day has become more recognized globally. Typically, people will receive St Patrick's Day clothes like Aran Knitwear, and other things to mark this special day like green candy, chocolate shamrocks, Irish beer, and anything else they can think of.
Grab Your St Patrick's Day Aran Knitwear!
Here at Sweater Shop, we love this time of year. It's when we're given the opportunity to let our hair down, celebrate this wonderful Irish tradition, and of course, show off our beautiful range of authentic St Patrick's Day Aran Knitwear.
Our St Patrick's Day Aran Knitwear will get you through your day in style. Whether you're attending a parade, popping into a bar for a pint of Guinness, or on a simple Zoom call with your favorite people, you will most likely see at least one person celebrating in traditional Aran Knitwear.
If you're looking for a beautiful gift for a loved one or yourself, check out just some of our best sellers for this time of year below:
Top St. Patricks Day Knitwear Picks for Women:
Top St. Patricks Day Knitwear Picks for Men:
Top St. Patricks Day Knitwear Picks for Children:
The stitches we use in our authentic Aran Knitwear range tells tales of the ancient Irish lifestyle, with each sweep representing an aspect of Irish heritage. For instance, a Diamond stitch represents wealth, and a Cable stitch represents love. The Moss represents nature and is mainly based on the beautiful Carrageenan moss that served the less fortunate as food in the most desperate times. It also represents nature and all of the beauty of the Irish coastline, where you will find bright green moss growing and feel at home.
When you take all of this into consideration, it comes as no surprise that our Aran knitwear is so popular with wearers not just in Ireland, but across the world. The connection you're able to create with your ancestors by putting on this comfortable item of clothing means that you're able to celebrate your ancestors, wherever you are.
The Most Interesting St Patrick's Day Facts
There are so many fascinating facts and tidbits about this great day that we'll struggle to condense it to a short list, but here are some of our favourites that not too many people know about:
The first St. Patrick's Day celebration in the United States was held in Boston in 1737.
Shamrocks are the national flower/emblem of Ireland.
Beer is one of the most widely consumed beverages on St. Patrick's Day with Guinness being the main drink.
Your odds of finding a four-leaf clover are about 1 in 10,000. Legend says that each leaf of the clover has a meaning: Hope, Faith, Love and Luck.
To celebrate St. Patrick's Day, the city of Chicago dyes the river green for a few hours.
Joe Biden is now one of the most famous Irish American's, along with some other famous names like Mariah Carey, George Clooney, and NFL quarterback Tom Brady.
In fact, it's impossible to list just 6 great facts about Paddy's Day, so here's another 5 we've compliled within this handy infographic for you to print out and stick on the fridge at home or work to liven things up and get into the Irish spirit this year!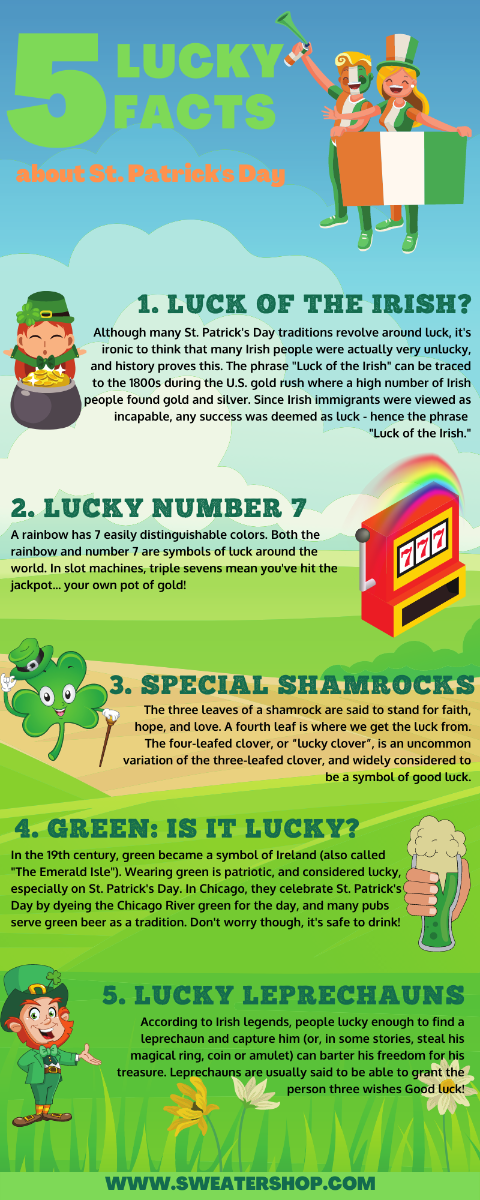 An Irish Blessing
Sweatershop.com wishes everyone a safe and happy St Patrick's Day celebration, and with this, we would like to close with a traditional Irish blessing courtest of IrishCentral.com which you're able to share and recite with your family and friends this special festivity each March 17th, and for many years to come.
May love and laughter light your days, and warm your heart and home.
May good and faithful friends be yours, wherever you may roam.
May peace and plenty bless your world, with joy that long endures.
May all life's passing seasons, bring the best to you and yours
We hope you enjoy a safe and healthy St. Paddy's Day this year. If you'd live to run back through some of our other great related content covering more 'normal' times, please feel free to check out our Guide to St. Patrick's Day Pubs in Dublin, our Insiders' Guide to St. Patrick's Day and, of course, our evergreen (pardon the pun!) infographic on The Day that Irish People Take Over the World.