Aran Cardigan Full Zip Army Green
Aran Cardigan Full Zip Army Green
With the cold in the air, it's time to get cozy in some warm wool sweaters. This full-zip Aran cardigan is made of 100% merino wool and is an excellent choice for transitional wear. The sweater has a full zip down in the front, making it suitable for layering in frigid weather or wearing open in hot temperatures.
This army green sweater brings out your feminine fashion side. Pair it with skinny black-and-white-checked jeans to look laid-back and casual without having to try too hard.
The natural benefits of wearing this wool clothing near your skin are considerable since it helps with skin allergies caused by other fabrics such as nylon. Its fabric is hypoallergenic, which reduces rash situations, and it has antibacterial properties, which prevent odors and keep it smelling fresh at all times.
The sweater can also respond to fluctuations in your body temperature. It has active fibers that keep you warm when it's chilly and cool you down when it's hot, making it the ideal fabric for all seasons. Other notable features include:
Full front zip down offers easy layering
Two front pockets to keep your hands warm
Army green color encourages versatile styling
Aran cable stict offers an authentic Irish heritage display
100% super soft merino wool provides comfortable mobility
Size Chart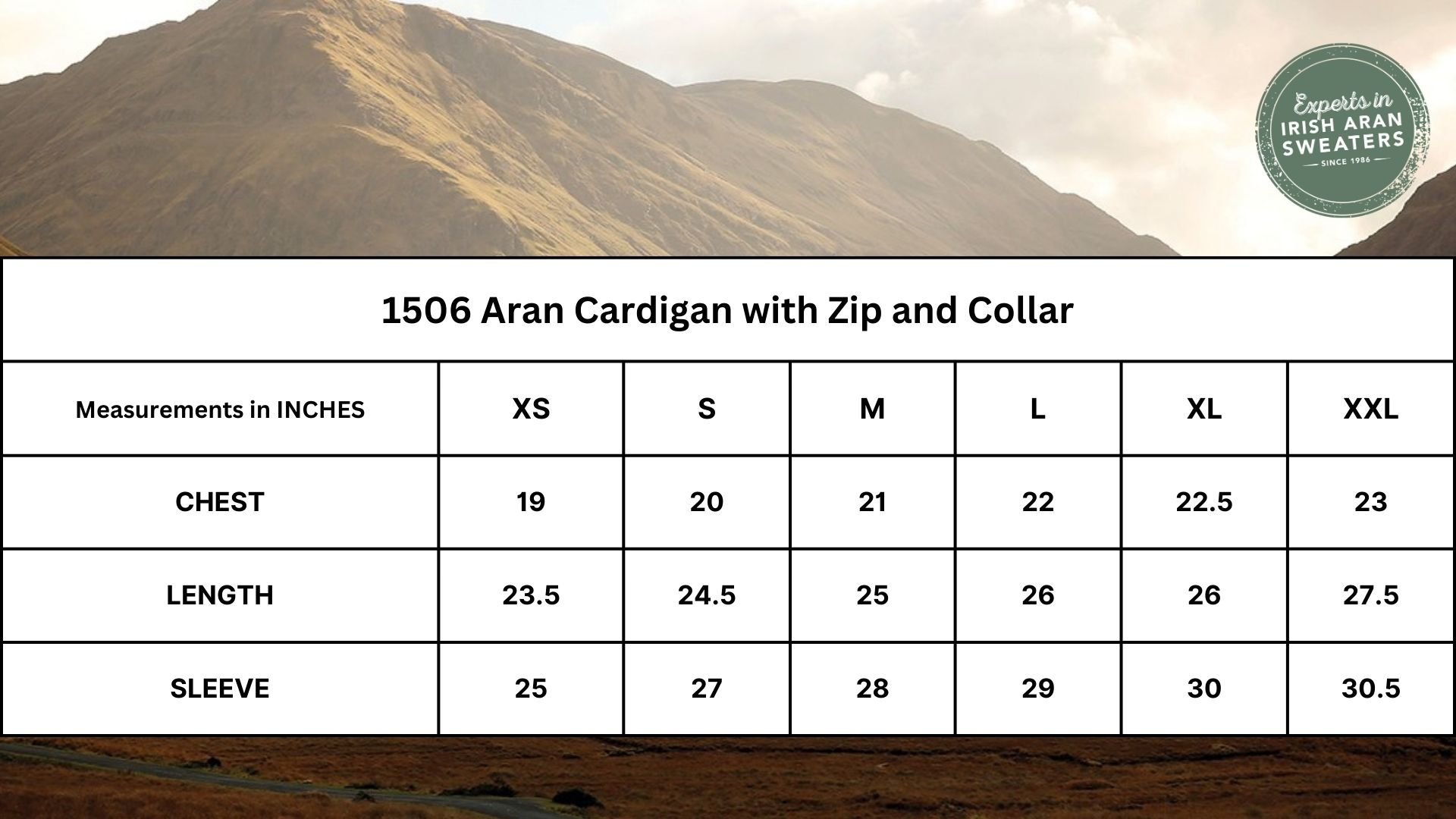 Wash Care
While our sweaters are a great choice, because they are warm and durable, proper care should be always taken to protect your garment. We recommend all of our sweaters and wool garments are gently hand washed with a mild wool detergent, reshaped by hand and dried flat. If soaked for too long, the wool may shrink and become hard.
Alternatively, most of our sweaters can also be dry cleaned but always check the care label first. Under no circumstances should you machine wash or tumble dry your sweater or any other wool product. Remember, when you give your sweater great care, it will last you for a long time.