Got questions? We are here to help!
1. ARE YOUR SWEATERS MADE IN IRELAND?
Answer: In short, yes. Nearly all of our woollen sweaters, accessories, and home goods are made here in Ireland. We are very proud to represent Irish brands and manufacturers in our stores and online website - some of our most popular Aran sweaters are made in Donegal, Dublin, and Kildare. The main exception is that our cashmere is made in Scotland, as it's known for outstanding quality and luxury in the industry.
2. WHAT'S THE DIFFERENCE BETWEEN MERINO WOOL, LAMBSWOOL, AND CASHMERE?
Answer: Merino, lambswool, and cashmere are all-natural fibres - they just come from different types of sheep (and goats for cashmere). While Aran sweaters were originally made with lambswool native to Ireland, almost all Aran sweaters today are made with merino wool, which is known for its exceptional softness, breathability, and warmth. However, some people still prefer lambswool sweaters for their unique texture and rustic quality. If you have sensitive skin, you should look for "super-soft" merino wool. It's still 100% merino, but the wool comes from the first time the sheep was ever shorn, making it even softer and finer to the touch. You can see our range of super-soft merino sweaters here. Finally, cashmere is known for its luxurious feel and unbeatable softness. A cashmere jumper or accessory pair is often a go-to gift for special occasions in Ireland. It's also common to see wool-cashmere blends for an added touch of luxe feel.
3: CAN YOU SHIP TO MY ADDRESS?
Answer: We ship all over the world (160 countries and counting). This includes US Postal boxes for military service members abroad. However, at this time we are regrettably unable to ship to Venezuela and Ukraine due to customs restrictions.
4: How long does shipping take? Answer: It depends on your location and your shipping selection at checkout (standard post or UPS Express). We made this handy chart for you to check: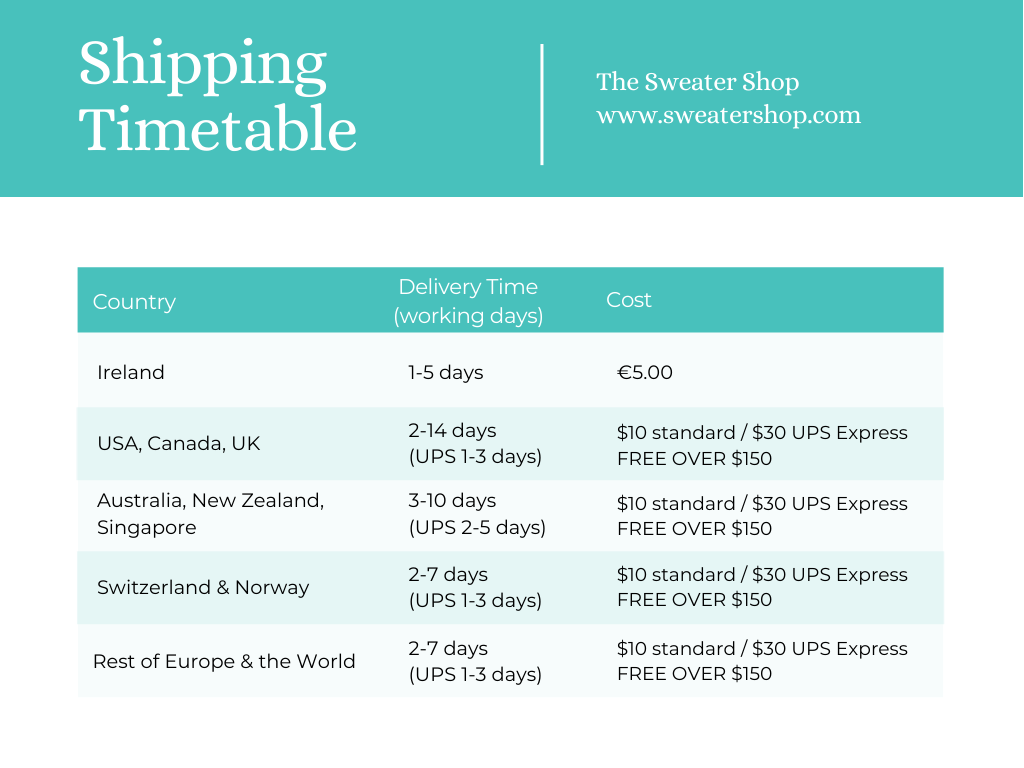 5: I NEED A SWEATER BY A SPECIFIC DATE. WHAT CAN I DO?
Answer: If you haven't yet, take a look at our shipping timetable to plan your order. Shipping outside of Ireland typically takes up to 10 working days via standard post, and at checkout, you have the option to select UPS Express delivery, which takes up to 3 working days. While we try our best to get your items to your doorstep as fast as possible, there may be a slight delay if the item you ordered is out of stock. If you're working with a tight deadline, send us an email at jan@sweatershop.ie or message us directly through our Facebook page and we'd be happy to check our stock for you before you place an online order.
6: ARE THERE ANY CUSTOMS CHARGES FOR SHIPPING TO MY COUNTRY?
Answer: Unfortunately, we are unable to guarantee your items won't be selected for additional inspection or fees, as this service is out of our control. However, we have been shipping internationally for 5+ years with minimal complaints. For more information on shipping, please see our website https://www.sweatershop.com/shipping
7: WHAT'S BETTER - HAND-KNIT OR MACHINE-KNIT?
Answer: There's no real right answer to this one, so we've made a list of the benefits of both: PROS OF HAND-KNIT OPTIONS: Hand-knit Aran sweaters are without a doubt the warmest option. Because human hands aren't as strong as machines, they can't pull the wool as tight, which means that hand-knit sweaters require more wool to make. The greater amount of wool makes hand-knit sweaters significantly heavier than machine-knits, and thus warmer. Heritage. If you're looking for a really authentic Aran sweater, you may want to choose a hand-knit to honour the heritage and tradition of hand-knitting in Ireland. Stitching. Hand-knit sweaters still outperform machine-knits in the types of stitches they contain. For example, you can tell an Aran sweater was hand-knit if it features the blackberry stitch, which machines are unable to construct. PROS OF MACHINE-KNIT OPTIONS: It's undeniable that there are significantly more machine-knit styles of Aran sweaters available. After all, it is 2020 and manufacturing has soared in Ireland for the past several decades. While hand-knit sweaters typically come in a handful of styles and 3-4 colour options, machine-knit Aran sweaters come in hundreds of different style and colour combinations. It's easy to find a flattering cut and colour for everybody this way, and adds a touch of freshness to your wardrobe while retaining the traditional Aran elements. Affordability. Due to the reduced time it takes to make each sweater, machine-knit Arans are much more affordable than hand-knit sweaters. The price difference not only accounts for the modern turn in the Aran sweater industry, but also makes it more feasible to own multiple Aran sweaters and keep up with the latest styles. Aran sweaters are an investment either way. Hand-knit or machine-knit, if you care for them properly, they will last you a lifetime. Besides, if you're having trouble deciding, why not treat yourself to one of each?
8: HOW DO I WASH AND CARE FOR MY ARAN SWEATER?
Answer: We recommend the time-tested method of hand-washing in cool water and laying flat to dry. Place your sweater in a clean sink filled with cool water and a gentle or wool-specific detergent. Make sure your sweater is submerged, but be careful not to agitate it too much, as this will cause the wool to become matted over time. We suggest leaving your sweater for around 30 minutes, and then rinsing it for a few minutes to ensure all the detergent has been removed. Once your sweater is rinsed, you should remove it and drain the sink. You can then either place your sweater immediately onto a flat drying rack or press gently between two towels to absorb some extra water before you lay it flat to dry. It will feel very heavy and wet at first, but don't worry, it will dry. Remember: Aran sweaters are naturally water-wicking. This means that if your sweater has started to retain odors, you can simply air it out to 'clean' it. While your sweater is dry, hang it near a fan or open window on a wooden or felt hanger for a day and you'll be surprised to find it smelling fresh and ready to wear again.
9: DO YOU ACCEPT RETURNS AND EXCHANGES?
Answer: Customer satisfaction is always our top priority. While we hope you are happy with your order, if you are not, we will happily offer you a full refund or exchange. Simply fill out the return/ exchange form that comes with your order and send us back your item(s). We will process your request within 5 working days of receiving your package. Unfortunately we aren't able to refund shipping costs, but if you are exchanging a product, we will send you the replacement free of charge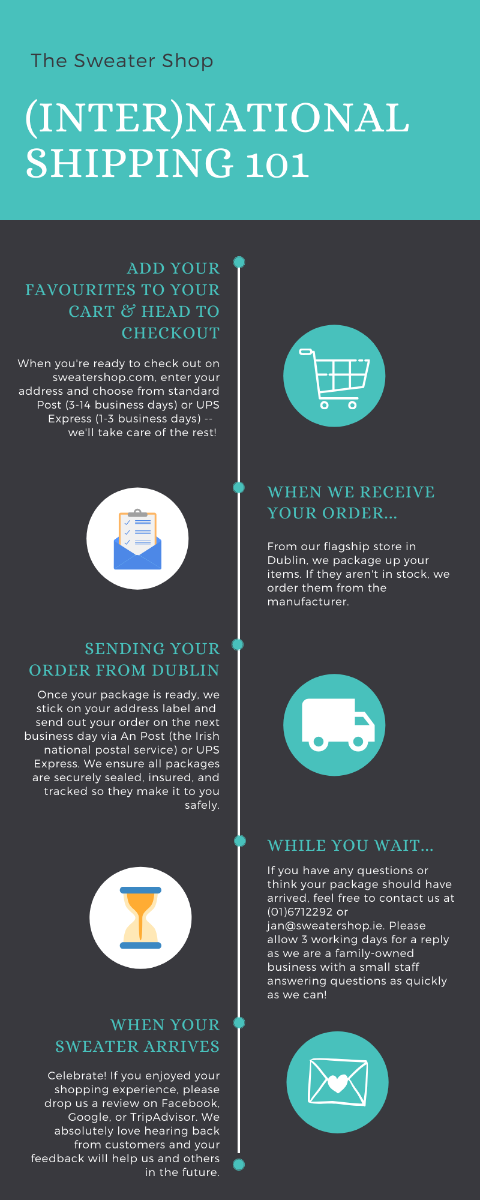 COUNTRY: AVERAGE DELIVERY TIME (IN WORKING DAYS),
Mailing Cost Ireland: 1-5 days, 5 euro USA, Canada & United Kingdom: 2-14 days (UPS 1-3 days), $10 standard , FREE over $150.00USD or UPS Express $29.90 USD Australia, New Zealand & Singapore: 3-10 days (UPS 2-5 days), $10 standard, FREE over $150.00USD or UPS Express $29/.90 USD Switzerland & Norway: 2-7 days (UPS 1-3 days), $10 standard, FREE over $150USD or UPS Express $29.90 USD Europe and Rest of the World: 2-7 days (UPS 1-3 days), $10 postal Network, Free over $150 USD via postal network or UPS Express $30 USD