Womens Waterfall Cardigan Graphite
Womens Waterfall Cardigan Graphite
This women's Irish waterfall cardigan by Irelands Eye is a favourite among all ages! It is soft, cosy and fashionable and perfect for someone who wants to wear over a shirt and leave to hang open. or layer over one of your favourite Irish 
sweaters for the colder days ahead.
Main features of this Irish Waterfall Cardigan
100% Merino Wool
Features a stylish waterfall open to front of cardigan with shorter layers which gives an extremely flattering shape
Made in Dublin by fellow Family Business Irelands Eye
Handwash or Dry clean
It comes in many stunning colours including oatmeal, natural, navy blue, silver, green and charcoal so there is literally a colour to suit everyone's tastes! Our customers have said they like to wear to work or in the evening going out as it is so elegant and they feel that way in it.
What do we suggest wearing with this Irish Cardigan?
 This cardigan is great for wearing over a white shirt and with skinny jeans for a sophisticated day time look or put with a leather skirt and belt to dress it up a bit! This truly is a luxury garment and one that will last a lifetime. Team with one of our amazing lambswool scarves to finish the look.
Size Chart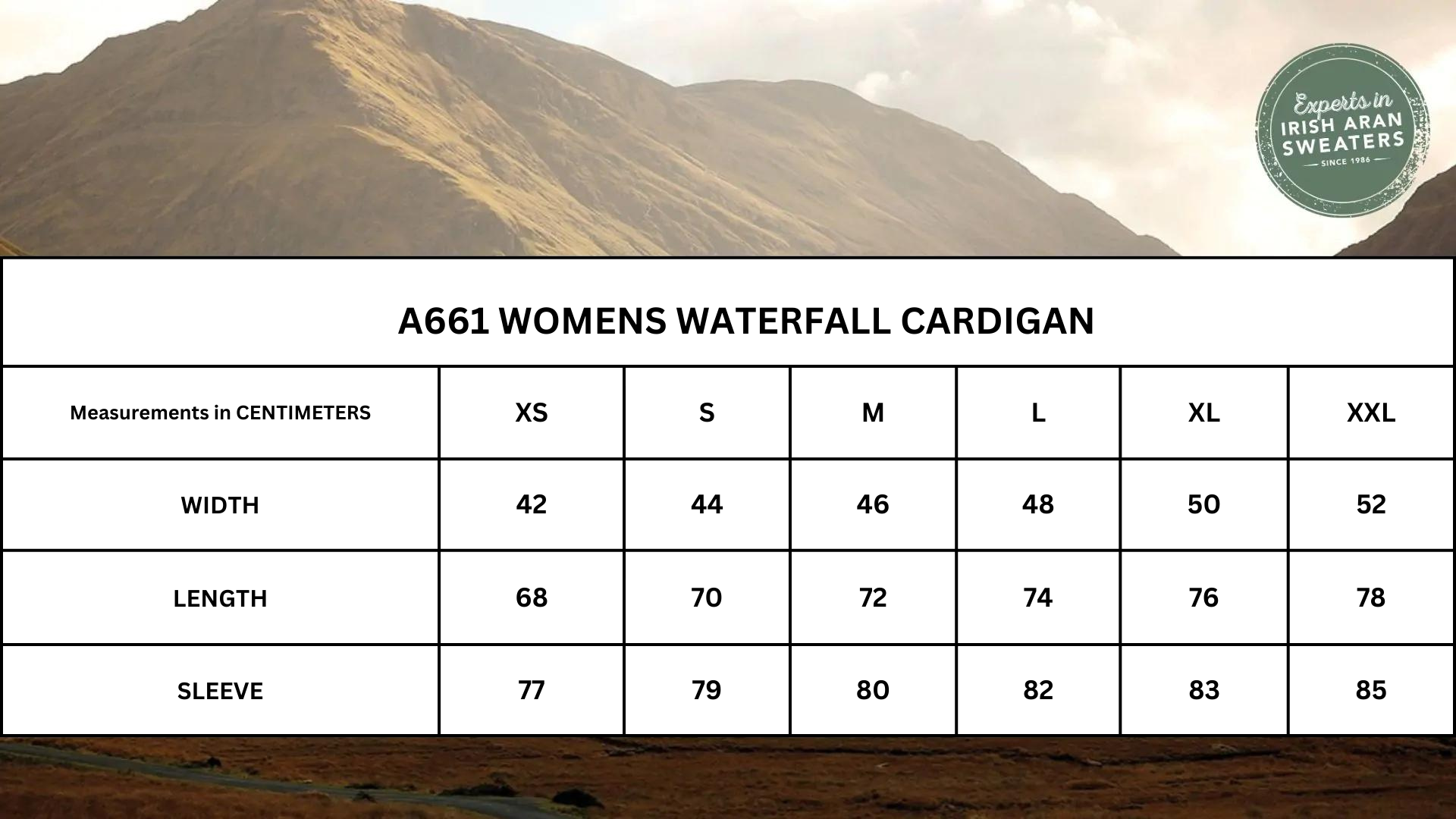 Wash Care
While our sweaters are a great choice, because they are warm and durable, proper care should be always taken to protect your garment. We recommend all of our sweaters and wool garments are gently hand washed with a mild wool detergent, reshaped by hand and dried flat. If soaked for too long, the wool may shrink and become hard.
Alternatively, most of our sweaters can also be dry cleaned but always check the care label first. Under no circumstances should you machine wash or tumble dry your sweater or any other wool product. Remember, when you give your sweater great care, it will last you for a long time.