Men's Aran Cable Knit Sweater
Men's Aran Cable Knit Sweater
This gorgeous Irish Aran sweater, available in natural, red and blue is made in Ireland by traditional crafting families using 100% Pure Merino Wool.
As a unisex traditional Aran jumper, it is one of our best sellers. Can be worn by both men and women, it has elements of that 'boyfriend' style jumper too it, adding to the all-round authentic hand knit Irish look.  
The sweater follows all the traditional Irish Aran stitching patterns that have been passed down from generation to generation, which in older days told stories of families and life in Ireland. Along the centre panel of the body the honeycomb Aran stitch flows, signifying the hard working bee or the hard work of a fisherman, who have been wearing this style for centuries. On either side of this centre panelling there are rows of Irish cable Aran stitches resembling the fisherman's ropes, the link to life.
Extremely warm and durable, as it is stitched in the traditional Aran style.
This jumper tells a story through Irish knitting
Normal delivery time is between 2 - 10 days
Got a question? Ask us at jan@sweatershop.ie
Size Chart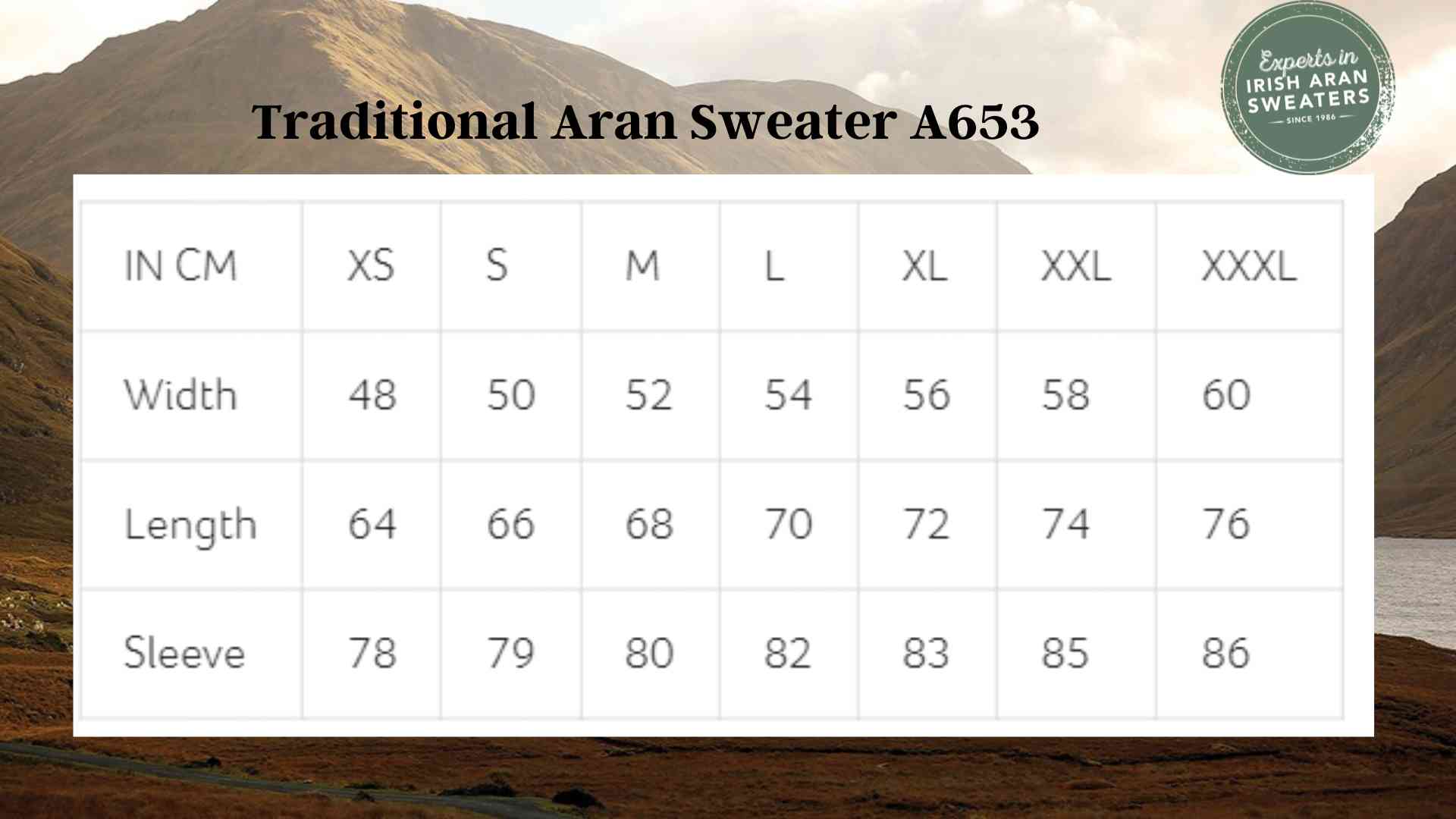 Wash Care
While our sweaters are a great choice, because they are warm and durable, proper care should be always taken to protect your garment. We recommend all of our sweaters and wool garments are gently hand washed with a mild wool detergent, reshaped by hand and dried flat. If soaked for too long, the wool may shrink and become hard.
Alternatively, most of our sweaters can also be dry cleaned but always check the care label first. Under no circumstances should you machine wash or tumble dry your sweater or any other wool product. Remember, when you give your sweater great care, it will last you for a long time.
Our Customers Rate This Product
Lovely quality - perfect fit - very happy
Just a prefect swaeter I've been looking for.
Great sweater. Bought one for myself last year and then bought two more as Christmas presents.
Exactly as advertised. Well-made, and super warm.
It is warm and it fits comfortably under my oil skins (working rain gear) all day.
Well made product. Fit was excellent.
I loved the texture and quality of the items I received, I got a couple of sweaters, and I am delighted with my purchase. Thank you.
beautyfull loved the colour and the stitching they will last for years
they were fine wrong sizes need to return. new order placed 12/1 waiting for them. need by Christmas
Love the product,its really amazing.