'Tis the season for the temperature to dip way below zero across the US and most of the Northern Hemisphere, when the rooftops, sidewalks, and parks are covered with snow, all we really want is to:
- Curl up with a nice, hot beverage ('Irish'-style, if you prefer!)
- Wrap ourselves in a warm, thick coatigan
- Pile up several blankets each night
- Cozy up with a warm hot water bottle, and, in more 'ordinary' times..
- Turn the central heating on full blast
- With the global energy crisis and the cost of energy now a harsh reality for many, that last bullet-point isn't one we can all afford right now, so we're here to help with some inventive ways to keep warm this winter, without breaking the bank.
Of course, we're a little biased in terms of how best we can help reduce those energy bills and yes, it certainly involves embracing Aran wool in one form or another!
If you're keen to learn more and to make the chill more bearable, the key to all of it is to get the perfect coatigan jacket stocked and ready for winter - you'll thank us later once you've tried one of these beauties on and felt their warmth first-hand.
Knitwear Has a Magical Way of Keeping You Warm and Cozy
A traditional Irish Aran woolen knit is a natural insulator that helps keep the body's heat. Each fiber has a series of tiny air pockets that traps heat to keep you warm even during the harshest winter.
While warm and comfy, a woolen knit can add a trendy feel to your outfit if you choose a proper piece. For that reason, we analyzed our top collection of coatigans, scoring them in terms of:
-The ability to keep you warm even when it gets icy-cold
-Fashionable design to brace the cold weather in style
-Color, pattern and stich variations.
To help showcase the very best in coatigan designs, we've handpicked our top five for your consideration. Here's the roundup of our best coatigans to get you through the winter both feeling warm and looking fab!
1. Merino Wool Aran Coatigan in Navy

Always amongst top-rated winter coats, the Merino Wool Aran Coatigan is an elegant, sophisticated, and classy ladies' choice.
The tailored coat features stunning Irish stitching throughout 100% merino wool, making it an excellent fashion statement for winter. You'll love the adorable chunky collar, which offers extra warmth around the neck.
With a three-quarter length, this stylish piece is ideal for layering over your favorite jackets or Aran sweaters.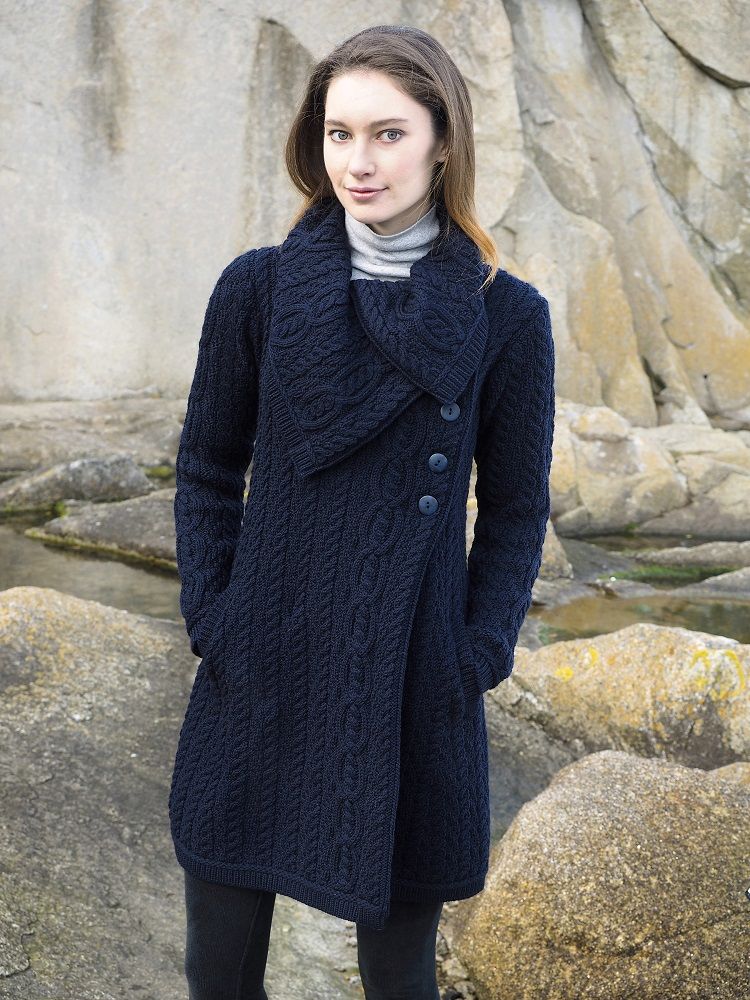 2. Women's Merino Wool Aran Coatigan

Add a dose of style to your winter fashion with the Irish knitting tradition of this Women's Merino Wool Aran Coatigan. Besides giving you extra warmth, this garment features a delicate cabled knitting pattern that you can wear as a trendy statement.
This plaid coatigan with three stylish buttons is unique because you don't have to wear a jacket to keep warm. As a result, you can show off your Irish coat even amid the coldest winter.
More importantly, the 3/4 length style allows the coatigan to cover your middle area — down to your lower thigh or knees — depending on your height. Pick this coatigan in the trending categories and look fashionable outdoors even during the depths of a cold, dark winter.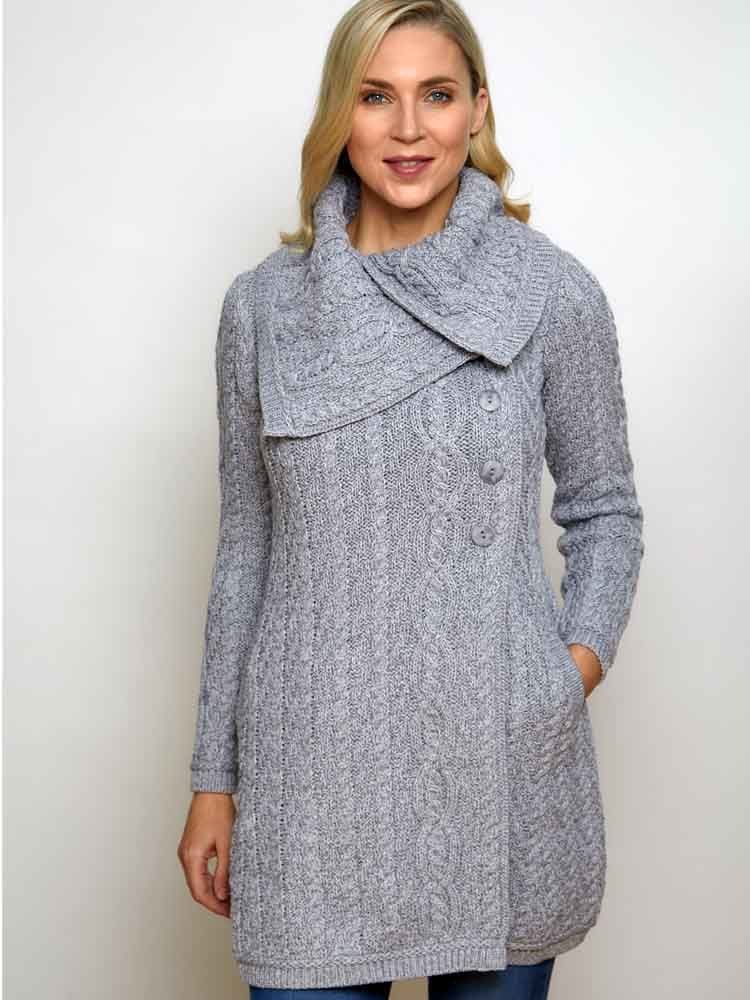 3. Kilcool Textured Coatigan Natural

The Killcool Textured Coatigan Natural from Ireland's Eye is a wardrobe staple and a fashionable item suitable for year-round dressing. This cozy coatigan has a straight fit and an open front, making it perfect for layering during winter.
The cardigan pattern coat takes the original light cream color of nature textured knit instead of over-cabling making it more of a contemporary garment. Pair the coatigan with a wool cardigan to make a cute knit to wear during cooler months.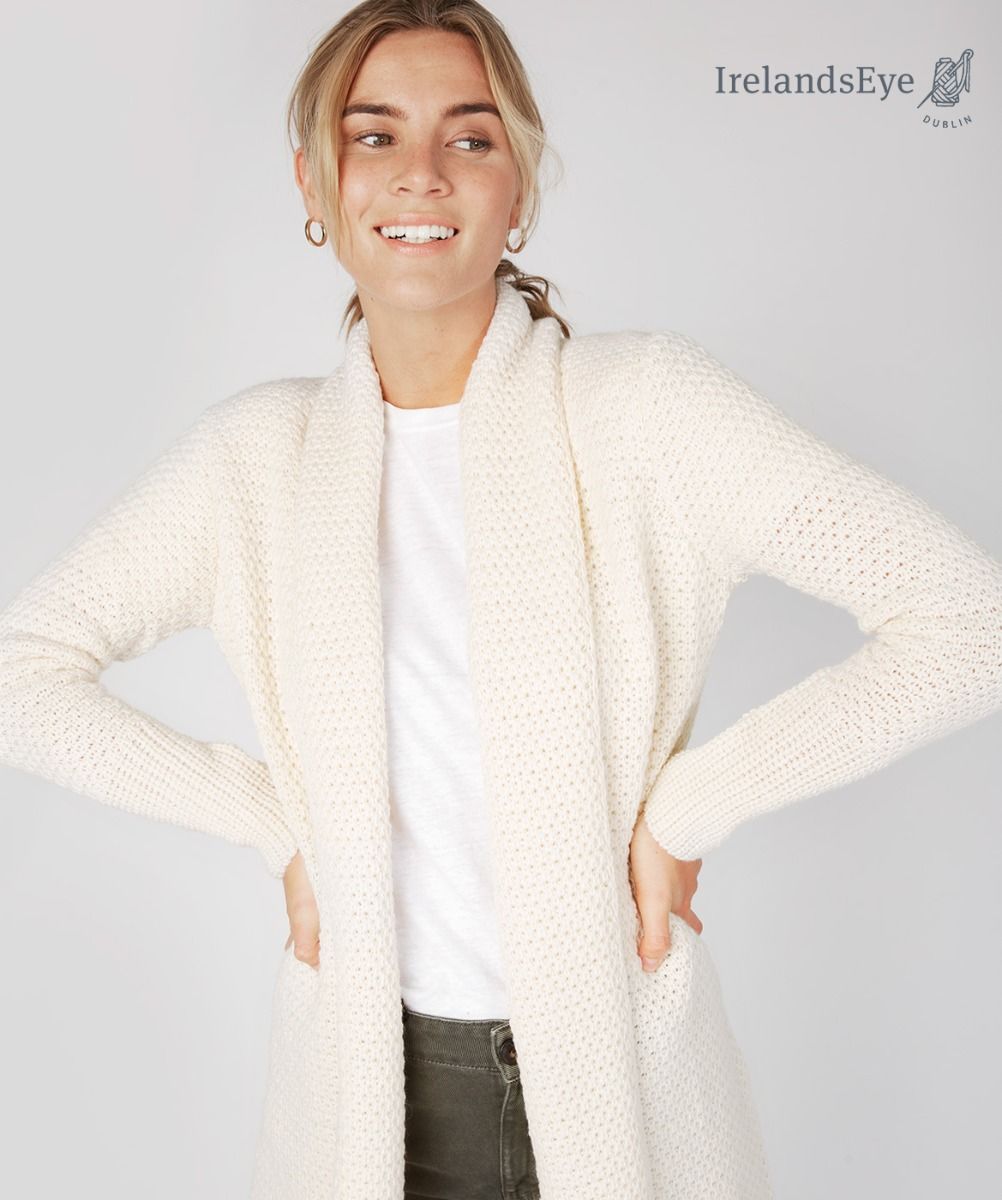 4. Ladies Herringbone Shawl Collar Hooded Tailored Coat

The large shawl collar, the hoody, and the chunky Irish Aran knit of this gorgeous herringbone garment are style staples to wear outdoors during winter. This stylish piece is in the trending categories because it's sleek and unique.
With two insert pockets, side slits, and a shawl collar that goes up into a hood, the coatigan is perfect for delivering warmth, extra comfort, and practicality.
The use of stylish traditional herringbone stitches makes this coat stand out and excellent to wear throughout winter and spring.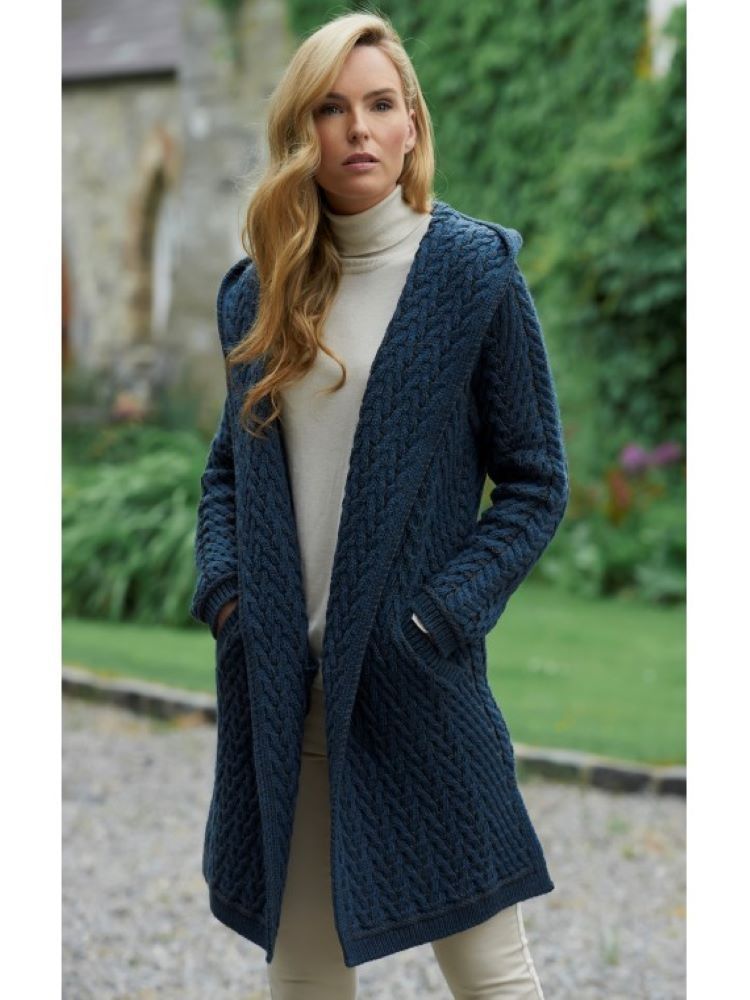 5. Women's Long Cardigan with Chunky Collar Black

Discover the beauty and simplicity of 100% merino wool fabric for winter with this timeless long cardigan piece. The black wool coatigan with button model is excellent for winter — and when transitioning to spring — because you can wear it without layering.
The fold-over collar adds a touch of distinction to this stunning cardigan coatigan dress as it extends to the shoulders and shows off beautiful Aran cable stitches. In the front lining, you'll have two elegant pockets that can keep your hands warm or hold small items like your phone, wallet, and keys.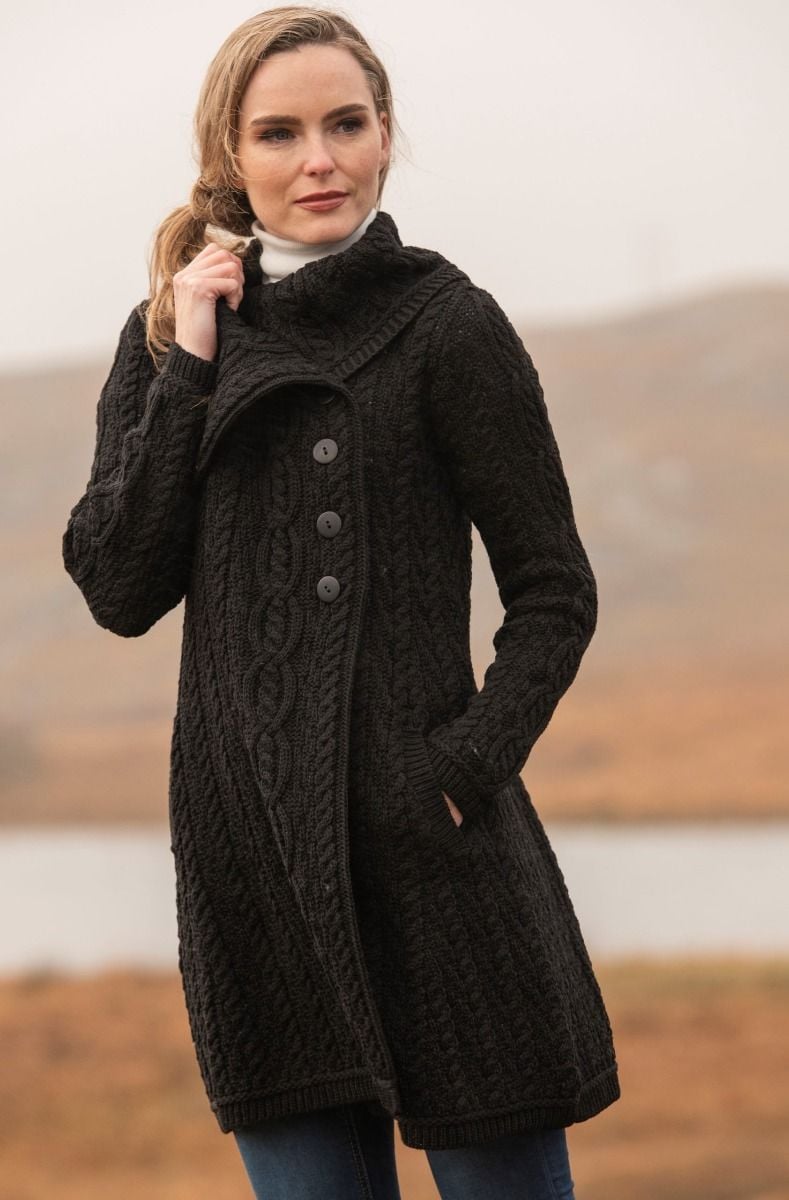 Wrapping it all up warmly with a bow (or a belt!)

Knits have a magical way of making one feel cozy, comfy, and chic. They are excellent to get you through the bitterly cold winter in style and the coatigan is the ultimate in modern, affordable and sustainable knitwear which will last you a lifetime if maintained correctly.
At The Sweater Shop, we have a huge range of knits and coatigans to ease you into a stylish fall and see you warm through the freezing months ahead.
If you like what you've seen above and you want to add a coatigan to your wardrobe, please head to our cardigan section today and browse for the style you like most or search directly for coatigans using our site search function to put your wardrobe together, we've even got a couple of coatigans listed in our sale items while stocks last!