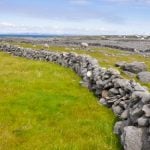 As you know, we are wool fanatics at the Sweater Shop. All of Aran sweaters are made of wool, however the type of wool varies from sweater to sweater. Do you know the difference in the types of wool? We are going to describe some of our favourite types of wool and an example of a sweater we stock in that wool to give you a better understanding of the wool used in our Aran sweaters.
Wool is the fibre that grows on the body of an animal e.g a sheep or a goat etc. It replenishes itself each time a coat is taken off and continues to grow back throughout the animal's life.
1. Irish Wool - This is wool that is taken from an Irish sheep. It can be corse and some find this type of wool in their Aran sweater itchy to wear. Aran Sweaters were knitted using unscoured wool that kept its natural oils which made the sweaters water-resistant and meant they remained wearable even in wet weather. However, today most Aran Sweaters are knit with a softer wool of Merino wool in natural colour as well as a variety of other colours. Brighter Aran Sweaters are very popular in recent years.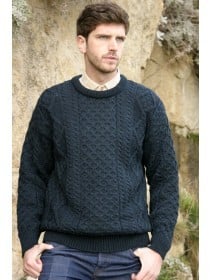 www.sweatershop.com/catalogsearch/result/
2. Merino Wool - Merino wool comes from the Merino Sheep in New Zealand and is one of the world's toughest breeds of sheep. There are many benefits of merino wool that has seen it become the most popular yarn used in Aran sweaters. One of the great benefits is that it is built for extreme weather conditions, it is so warm and insulating in the winter yet it can be worn in the summer as it is breathable too, making an Aran sweater the perfect all year-round garment! Merino wool is known for its softness and how cosy it is to wear. Merino fibres are really fine making it way softer than traditional wool such as Irish wool which can be coarse to wear. Merino wool makes a sweater feel luxurious and so soft to wear. Merino wool is also elastic, meaning the more you wear your aran sweater made of merino wool, the more it will stretch with your body shape, however it will then return to its original shape. Merino can absorb moisture vapour which means less odour on your sweater too.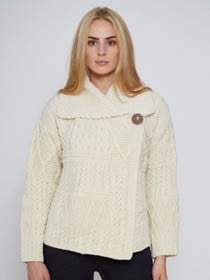 3. Merino wool and cashmere blend - lately we have seen an increase in customers who want the soft feel of cashmere but at a fraction of the price. Therefore, we have introduced a range of Aran Cable knit sweaters in soft Merino wool/ cashmere yarns mixed together. This is the next best thing to a 100% cashmere sweater. This Aran sweater will last a life time and will keep you snug and stylish at the same time. The Aran sweaters we have introduced have a high percentage of merino mixed with cashmere- i.e 10% cashmere and 90% Merino or 5% Cashmere and 85% merino - This is so the sweater lasts longer and washes better. It also helps to keep the price of the Aran sweater much more reasonable than if the percentage of cashmere was higher.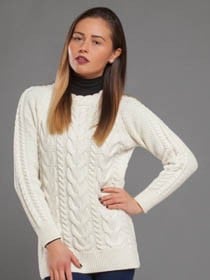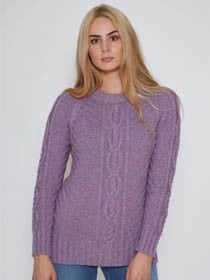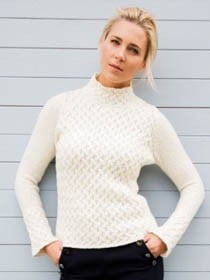 All our Aran sweaters are made with care with carefully selected yarns to make that sweater the best it can be and most suitable to our customer's needs.