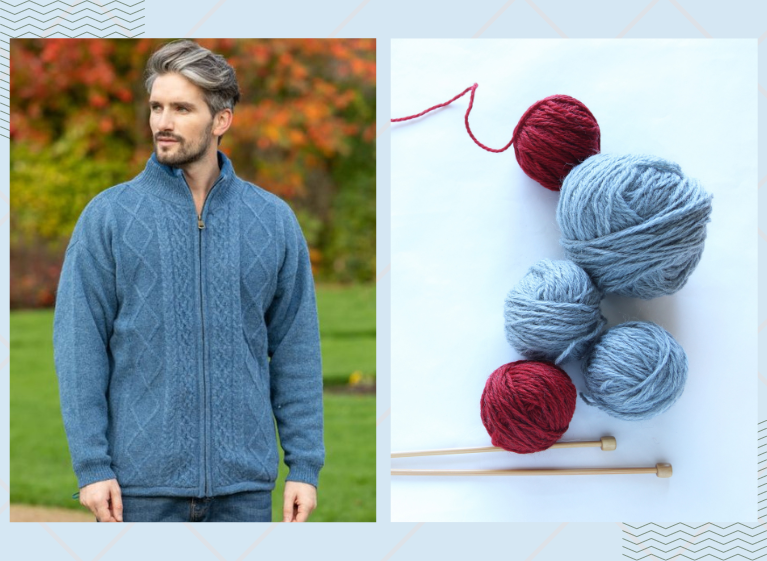 If you have ever wondered how to go about knitting a men's cardigan, then this blog is for you. We prepared a step-by-step process on how cardigan sweaters are made starting from knitting the gauge swatch, preparing the tools and supplies you need to start, and doing the actual knitting work.
This is a throwback to when knitting was a familiar and popular pastime and a way of producing clothing for everyone in the family. A cardigan sweater is a type of knitted garment that has an open front. Cardigans are usually sleeved and can be worn as a lightweight jacket or as a more substantial sweater. They are versatile items of clothing and can be dressed up or down to suit the occasion. You can wear it on top of a polo shirt or top with a jacket for added warmth in the cold weather. The fashion options are endless.
If you're new to knitting, or even if you're an experienced knitter, it can be daunting to tackle a large project like a cardigan sweater. So, where would you start?
Download the cardigan pattern
A cardigan pattern is needed to start the knitting work. Whether you're a beginner or an experienced knitter, a pattern is easy to follow to help you create a beautiful and professional-looking sweater.
The sweater is knit in one piece from the top down, so there is no seaming required. The sleeves are knitted using the magic loop method, but you can easily adapt the pattern to use double-pointed needles if that's what you're more comfortable with.
The pattern includes detailed instructions and photos to help guide you through each step of the project. And if you get stuck, there's even a video tutorial included to help you out.
There's no need to reinvent the wheel. There are many websites online that have ready-made patterns you can start from. Do a simple google and find out. But there's no knitting happening without the supplies.
Get your supplies
Assuming you don't have a cardigan sweater already that you want to unravel and knit back up (in which case, skip to the next section), you'll need to purchase some supplies before you can start knitting your new men's cardigan sweater.
Cardigan men's fashion has always been the same since the beginning with a little twist here and there to respond to the changing times but to be honest, the design hasn't changed a lot since it was first made for Irish men.
First, you're going to need yarn. You can use any type of yarn for this project, but if you want your sweater to be machine-washable, make sure to choose a yarn that is labelled as such. You'll also need to decide on the colour or colours of yarn that you want to use. Once you've chosen your yarn, calculate how much you'll need based on the size sweater you're making and the gauge of your chosen yarn.
Next, you'll need needles. You can use either straight needles or circular needles for this project; it's up to personal preference. If you're using straight needles, make sure they're long enough to accommodate the width of your sweater (usually at least 29 inches / 74 cm). If you're using circular needles, make sure they're the right size for your chosen yarn; consult your pattern or a knitting reference guide if you're unsure.
Finally, gather any other notions that might be helpful, such as stitch markers (which come in different designs), a tapestry needle (for weaving in ends), and scissors. Once you have all of your supplies gathered, you're ready to move on to the next step.
Knit a gauge swatch
To ensure your cardigan fits properly, you'll need to knit a gauge swatch before getting started. A gauge swatch is a simple sample prepared by knitting up something using the yarn you have available as well as the needle.
The gauge swatch will tell you exactly if the needles and the yarn you have chosen are given the exact gauge or measurement you actually need to create the garment, which in this case the cardigan sweater, you plan to make. In short, gauge swatch will help you determine the correct needle size to use and how many stitches per inch you should be knitting.
To knit a gauge swatch, start by casting on a few more stitches than you think you'll need. Then, knit back and forth in the stitch pattern you'll be using for your cardigan until your swatch is about 4 inches wide. Be sure to measure your gauge after washing and blocking your swatch - this will give you a more accurate measurement.
Start the cardigan knitting process
You can start the cardigan knitting process by casting the required number of stitches for your project. You should have everything in the pattern you chose for your project.
You will then knit the body of the sweater in one piece up to the armholes. At this point, you're gonna need to divide your work into two parts: the front and the back. You should start at the back. After completing the back, you will move on to knitting the fronts. Once all three pieces are completed, you will then need to join them together using either a mattress stitch or a three-needle bind-off. Then, you'll pick up stitches around the neckline and knit the ribbing.
So there's a complete guide on how to knit a men's cardigan sweater. We hope that you found this guide helpful and that you feel confident enough to try knitting one yourself. Let us know if you gave it a go and how you got on.