Classic, comfy and well-knit, the traditional Aran sweater is today worn as a trendy statement and the perfect start to a cosy fall or winter outfit. But it traces its roots to the 17th century and the tale spun around its identity is as unique as its name.
Now, the modern Aran sweater is a relaxed and elegant number that can be paired with many different looks and styles that focus on comfort and ease. There is also something beautifully structured about the sweater and this all comes down to its variety in knit styles.
Learn the origins of this transitional wardrobe staple and how to wear an Aran sweater in any weather!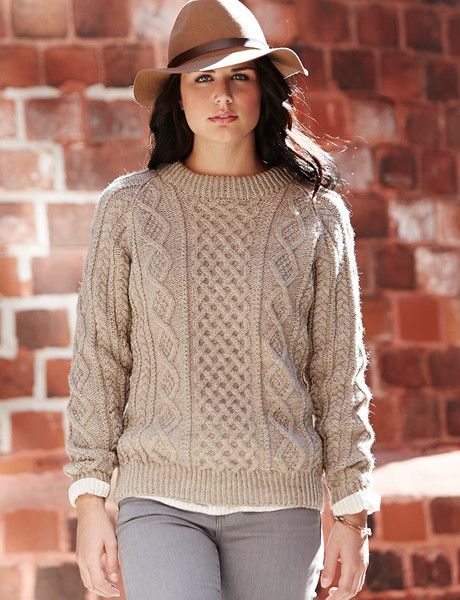 Source: Yarnspirations.com
The History of the Aran Sweater
The Aran sweater spread from its point of origin in the eponymous Aran Islands, right off the coast of West Ireland. The stitches on Aran sweaters are a mark of Irish clans and their heritages which were abundant in the Aran Islands.
These combinations of stitches were essentially family heirlooms. Each pattern tells a clan's or house's values and stories which are passed on from generation to generation. In fact, these patterns were so idiosyncratic that the bodies of the fishermen who might have perished in an accident at sea would be identified using these very designs!
Of course, this means that the Aran sweater itself is built to be naturally water-repellant. It can absorb almost 35% of its weight before feeling wet and heavy. Given that its wearers were originally islanders and families from fishing communities, this was the perfect feature.
But the Aran sweater is also incredibly warm while maintaining breathability thanks to its natural wool fiber. The wool insulates the wearer and keeps the body at an ideal temperature that's not too hot nor too cold. This balance comes from a high volume of air in between the fibers. It keeps the wearer warm on cold and wet days, making it a staple for coastal Atlantic weather.
Contemporary Class, Timeless Old World Design
Bring the indomitable spirit and rich heritage of the breathtaking Aran Islands to your closet with intricately handwoven Aran sweaters. Aran knitting developed when fishermen from the British Isles, who were sent to train the Islanders, inspired the locals with their traditional Guernsey jumpers. Aran Islanders created their own version with cream-coloredbinn wool, which is naturally water repellent due to its natural lanolin oil.
A popular export, Aran sweaters became even more fashionable whenThe Clancy Brothers and Tommy Makem appeared on American TV and in a TV special for President John F. Kennedy in the early 1960s; this Irish folk music group wore Aran sweaters on-stage, making it their trademark look. Entrepreneur and Renaissance manP. A. Sochin, who had established the export trade for Aran sweaters, could barely keep up with the demand, even with all the available Aran knitters in Ireland.
Type of Stitches Used
If you've ever admired the beauty of a Celtic braid or knot design, you'll adore the variety of stitch styles in an Aran sweater. Crafted from approximately 100,000 individual stitches, it's not uncommon for its construction to take nearly two months to complete.
The preservation and proud display of Irish heritage is what the Aran sweater is all about. These individual meanings can be combined and a family's values woven through a sweater's choice of knitting.
What's interesting is that hand-knit Aran sweaters are harder to come by. While the meaning of stitches is alive and well, there are very few who knowhowto hand knit several of these stitches into one unique pattern.
But there's a bonus to adopting multiple stitches into one seamless pattern: durability and longevity. These intertwined and interconnected stitches, along with the choice of wool fiber, make the Aran sweater a unique and highly functional piece. Its stitches give the structure a heavy and supported design.
Stitches That Tell Stories
Particular stitches in Aran sweaters are said to convey stories and meaning.
The popular "honeycomb" stitch is supposed to signify good luck and abundance, embodying the impressive toil of hard-working honey bees.
The "moss" stitch symbolizes the Carrageen moss commonly found on the Aran Islands - a reminder of the knit's birthplace and heritage.
The stone walls separating the many fields and built to contain livestock are represented in the "trellis" stitch.
The "basket" stitch is reminiscent of baskets used by fishermen, representing a bountiful catch, while the "cable" stitch depicts fishermen's ropes - another embodiment of the wish for a good catch.
A reminder of one's fruitful life - calling to mind the omnipresence of wild blackberry bushes on the Aran Islands - emerges from the "blackberry" stitch.
The "Tree of Life" stitch embodies the legacy of families, rooted in the strength of ancestors and emanating through generations of descendants.
Unsurprisingly, the "diamond" stitch is an emblem of wealth and abundance.
The "zig-zag" stitch represents the gorgeous cliffs around the Aran Islands... but is also said to depict the highs and lows of marriage.
Many have claimed that these stitch patterns and combinations have been passed down through the generations to tell the story of their lives. Others have argued that the significance of the different Aran sweater stitches is part of a set of myths by one Heinz Edgar Kiewe in his book, The Sacred History of Knitting (1967),because Kiewe likened the Aran stitches to Celtic knotwork. Whatever the case, part of the mystique of Aran sweaters remains connected to the associations the stitches have come to highlight. What is important is what that Aran sweater says to you, and about you.
How To Wear An Aran Sweater
Aran sweaters can be styled shorter, and so they can be layered under with a collared shirt or as a cropped top over a pair of high-waisted pants. Aran sweaters also go great with scarves, and they're beautiful and simple enough to only require accessories as the perfect pairing.
When buying and choosing an Aran sweater, you'll want to first look for one that is fitted. This is the modern style and thus makes the sweater a staple. You'll also want to take a look at the kind of neck you want.
Will you choose a crew neck, which is best for layering shirts or a roll/turtleneck? Several Aran sweaters designed for women also come styled with cowl necks or off-the-shoulder, wider boat necks.
When you wear an Aran sweater, you'll also notice that a more complex pattern can make a sweater seem larger or "heavier" than one that includes only one or two styles of knits. Make sure to consider this.
What to wear with an Aran sweater
So, how exactly do you style an Aran sweater and what goes well with this iconic top?
Well, the first thing to note is the style of stitch (or stitches). Sweaters that involve more varieties of stitch can be standalone pieces themselves. These can be paired with casual, everyday jeans, more formal slacks, high-waisted pants, longer A-line skirts, or even pencil skirts of varying lengths.
As for tops, the transitional and effortless ease of an Aran sweater works well with layering with collared shirts, long blazers, and even leather jackets.
Keep in mind that if you're choosing jewelry, you'll probably want to stay away from necklaces. Instead, you should opt for details using bracelets, watches, sunglasses, and belts (or a combination). Otherwise, you'll want to choose chunky necklaces that can be worn outside of the neckline.
Aran sweaters are also great for color-blocking with your style. Don't worry too much about a "clash" of patterns you can pair Aran sweaters with plaid or tartan patterns.
What you'll want to instead focus on are contrasting colors. If your Aran sweater is bright and light or pastel and cream, keep your bottoms dark. However, if your sweater is dark but rich in colour, like aubergine or blood crimson, you can pair this with a pair of white or even brighter blue faded jeans.
There is something very collegial about Aran sweaters. This is especially true when they're paired with collared shirts underneath. Somehow, they put one in mind of university students. However, you can make the Aran sweater a little edgier by wearing it with a pair of dark wash jeans and slick, fitted Doc Martens boots.
How to Take Care of Your Sweater
The first thing you'll want to do to take care of your Aran sweater is read the label your sweater comes with. Whether hand-knit or not, the blend of the sweater matters. For example, while cashmere is good for the washing machine, Merino wool works better when dry cleaned.
Modern-day wool products can often be washed without much fuss in a washing machine set to delicate. However, it's important to note that some prefer to err on the side of caution.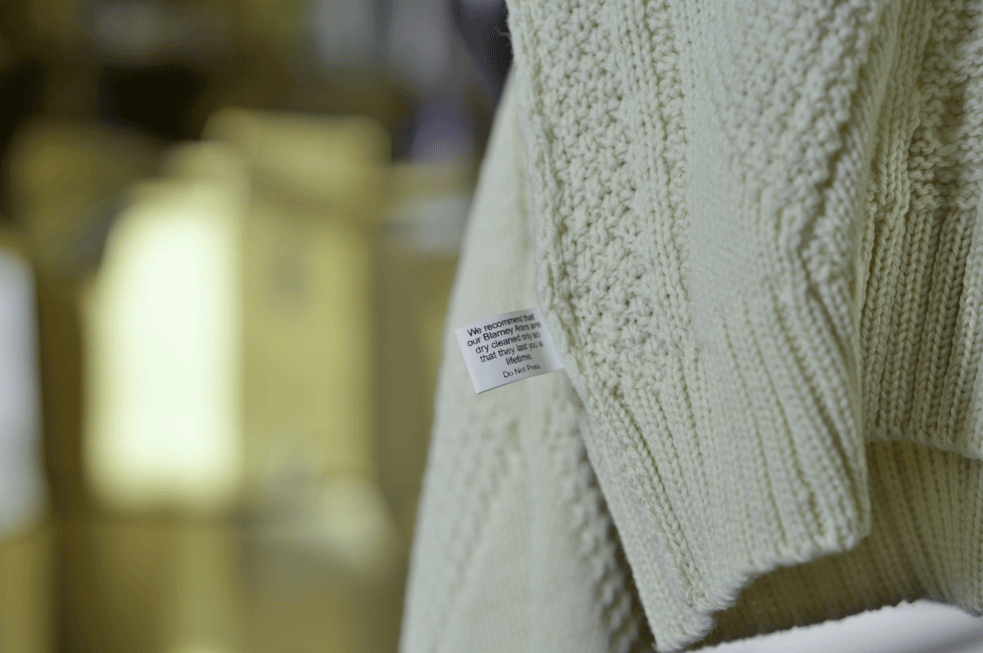 If you choose to dry clean your Aran sweater, you'll only need to use this option a few times a year. Again, this works well for Merino wool sweaters.
If you choose to hand-wash, you should be using tepid, not hot, water. Direct heat can cause shrinkage.
You also want to avoid stretching or wringing out wool when it's wet as this can permanently destroy the original structure. When drying, lay flat. And when it's try, you might choose to steam on a hanger to eliminate wrinkles, if the blend is thinner.
Finally, remember that you can always spot-test to make sure the dye on a sweater doesn't bleed out.
Irish Pride and Appeal - and Charm
Whether paired with your favorite jeans or dressed up with fancy slacks or a streamlined skirt, Aran sweaters are an alluring and versatile addition - or showpiece - to any outfit. Cherish the comfort, the class, and the customary charm of the Aran Islands - made to last, to warm, and to wow. Now that you know where the Aran sweater came from, how to wear, style and look after it. Why not browse our hand-knit Aran sweaters are made with 100% pure wool or let us know how you wear your Aran sweater in the comments below.