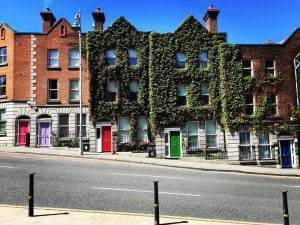 It's no secret that the current health crisis has posed many challenges for small businesses, including ourselves at the Sweater Shop. But it's also true that as this crisis has unfolded, many of us have become more connected to our communities. At the Sweater Shop, we've been touched by the encouragement we've received. We are incredibly thankful to our customers for supporting us during this time. In the spirit of supporting our community, we're giving a shoutout to some of our favourite Irish businesses. Many of them are our neighbours in Dublin, too! Hopefully this blog gives everyone a little inspiration and a way to #supportsmall and #buyirish.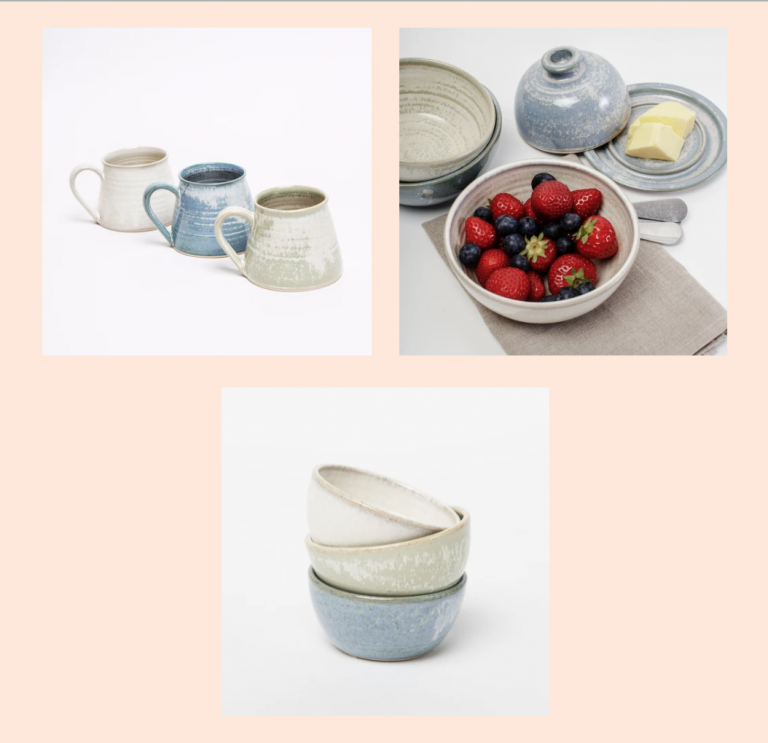 The Irish Design Shop
Elevate your brunch-at-home game with ceramics that are handmade here in Ireland. The Dunbeacon Pottery collection pictured above is handcrafted in West Cork and sold through the Irish Design Shop. Choose a special new mug or pick up an entire brunch tableware set!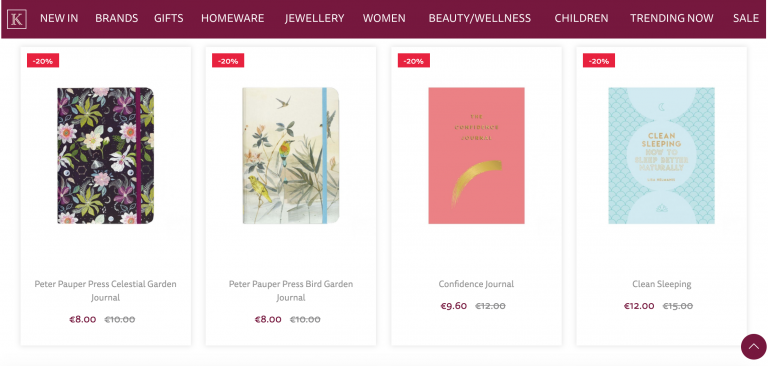 Kilkenny Shop
All of our home workspaces could use a little colour and joy at this point. The Kilkenny Shop offers a generous selection of stationary and notebooks, which would make a great little present for you or the stay-at-home worker you want to treat.
Betty & Biddy
Founded by two Irish women, Betty and Biddy has been representing Irish jewellery design internationally for some time now! Their Everyday Eire collection features meaningful Irish language sayings, making it possible to take Ireland with you everywhere you go. Check out their website for a special and affordable way to treat yourself or a friend.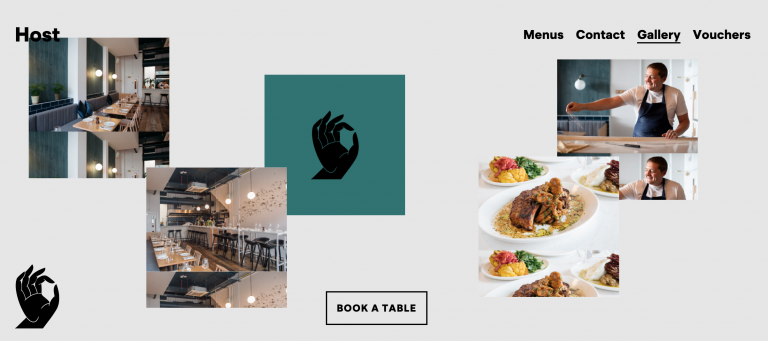 Host Restaurant
Let your inner chef shine with Host at Home - Host Restaurant's new grocer and home-cooking package service. They give you top-notch ingredients and instructions to cook a restaurant-quality meal at home. Check out their instagram stories, @host.restaurant, for some seriously inspiring dishes. Just give them a ring and pop into their Ranelagh shop - they take care of the rest!

Slated
Slated makes some seriously dreamy homeware. Their business is family-run, like ours, and each piece is handcrafted and unique. If you're looking to add a classy touch to your solo cheese parties now (which is totally acceptable in isolation), or you're excited to host again in the future, pop over to the Slated website and get inspired. Their personalised cheeseboards and slate coasters would make a fantastic gift for yourself or a loved one.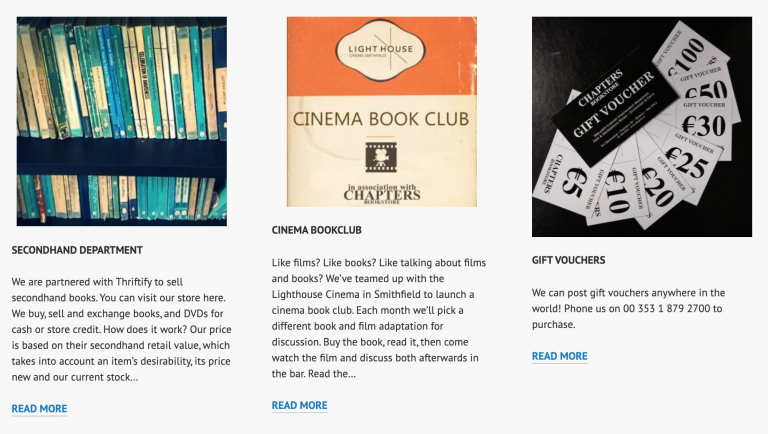 Chapters Bookstore
Chapters Bookstore is one of the best independent Irish bookstores of all time! Established in 1983, the store boasts a huge variety of classic and contemporary novels, history, crime fiction, cookbooks, children's books, and more. Plus, it's home to a massive collection of secondhand, previously loved books for all ages. You can place your book orders via email or their Facebook Page and they'll post the books directly to you.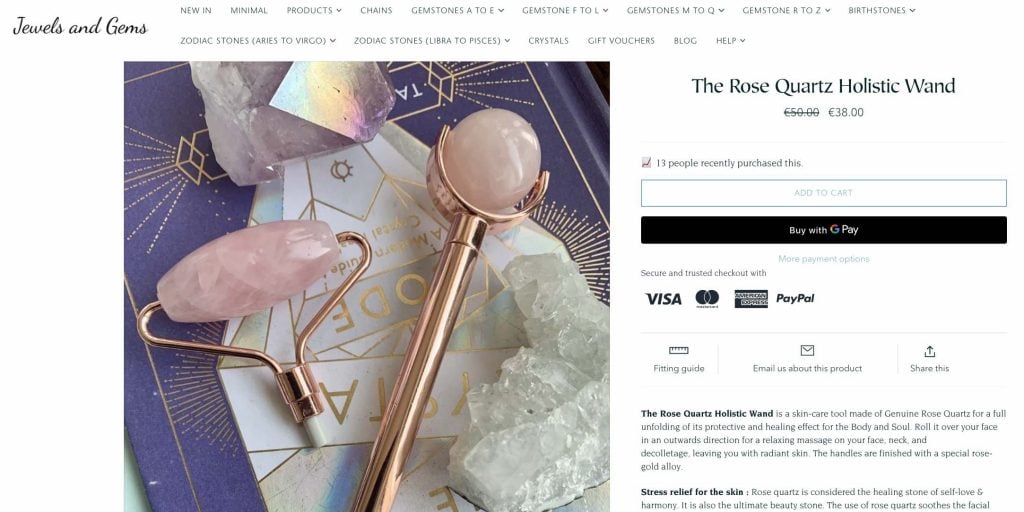 Jewels and Gems
This wonderful little shop is just around the corner from where the Sweater Shop first opened on Wicklow Street! Jewels and Gems specialises in home goods and self-care for the body and soul. This rose quartz wand is ideal for stress relief and natural detox. Have one delivered or send it as a gift to someone in need of a spa day at home.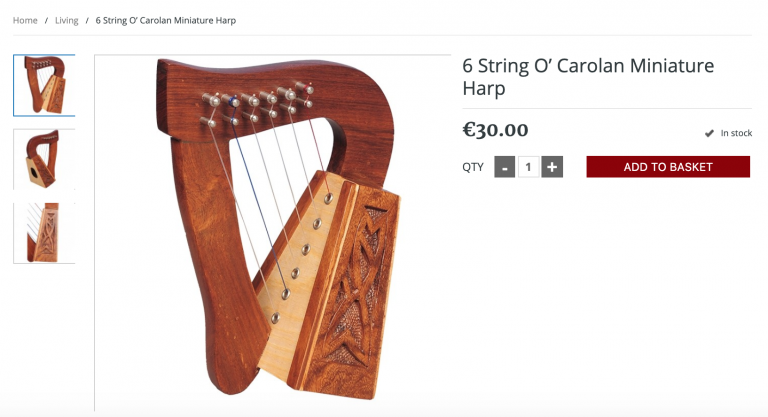 Trinity College Dublin Gift Shop
If you're one of those productivity-oriented people in isolation, now is the time to tap into your Irish heritage and learn a new skill! It's almost a guarantee no one else will have picked the mini harp during isolation. Plus, at the next government-approved house party, you can totally upstage Jake who learned the ukulele, how 2016 of him.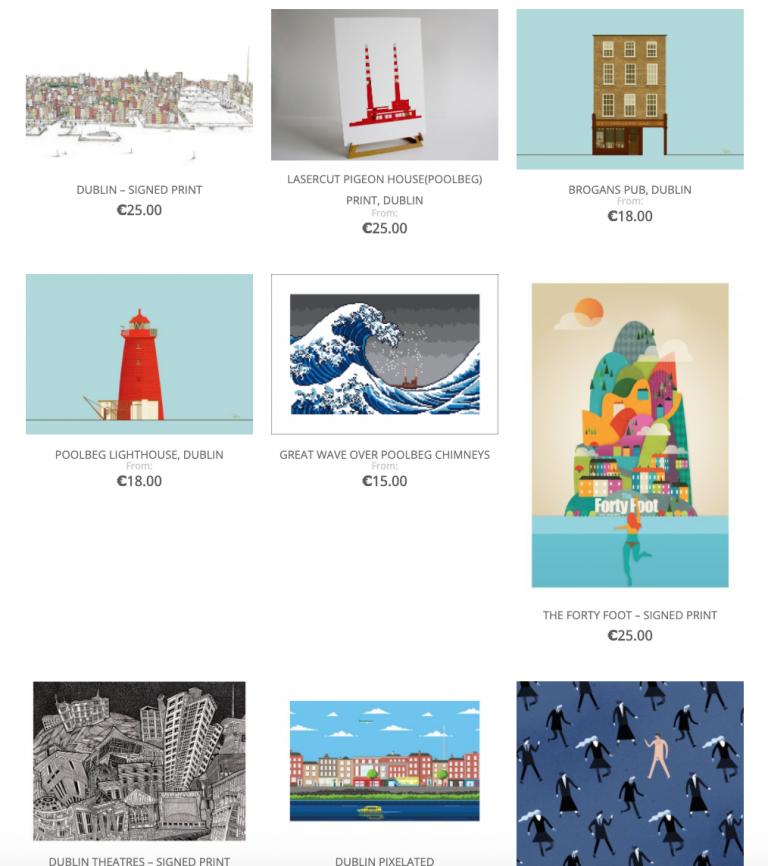 Jam Art Factory
If there ever was a time to redecorate, now is that time! Jam Art Factory has been supplying colour and art to the Temple Bar neighbourhood since 2013. They showcase up-and-coming Irish artists from all over the country, plus they ship worldwide. Theirs is a great small Irish business to support.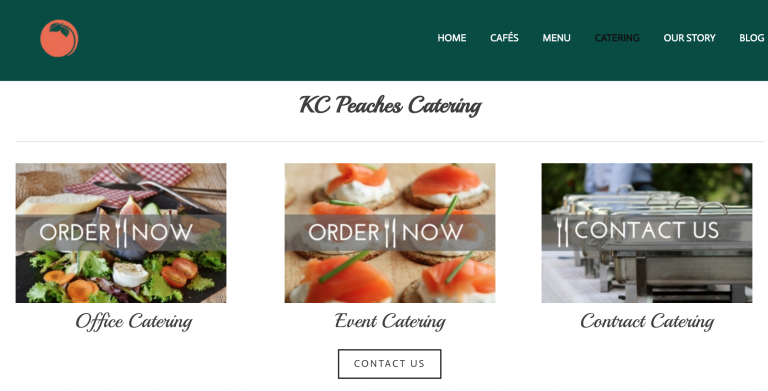 KC Peaches
We've never pined over the perfect latte for so long. While KC Peaches Dublin locations are closed for now, they are offering catering! Now is a great time to book them for your future get together (once we have the all-clear of course).