St Patricks Day is one of our favourite holidays here at The Sweatershop. Every year we look forward to welcoming back the Irish diaspora to celebrate our unique culture and heritage on our national day. From traditional local pubs to lively bars, Dublin is known for its variety of venues to refresh and entertain visitors. Its traditional on St. Patricks Day to have a pint of the black stuff and with that in mind we set out to find out which pubs serve the ultimate pint of Guinness across the city, based on price, atmosphere, history and why they are worth a visit for locals and tourists alike. Take a look at our guide to Dublin pubs, all offering a unique warm Irish welcome across the city from North to South.
WHERE ARE THE CHEAPEST PUBS IN DUBLIN?
THE SNUG BAR 3.70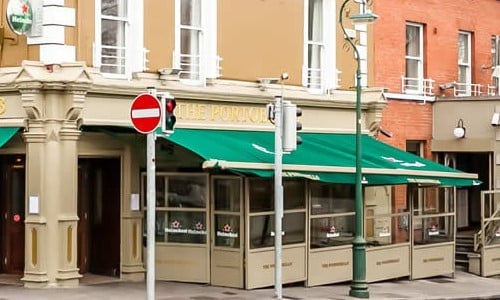 The Snug Bar is centrally located on Stephen Street Upper, this no-frills pub is ideal for a stop-off if you are visiting Dublin Castle or Dubh Linn Garden nearby. Frequented by locals, youll find the interior simple and quaint. The prices for a pint are also refreshingly reasonable.
THE PORTOBELLO 4.00
The bar at The Portobello Hotel on South Richmond Street is a lively venue with an intriguing history. During the 1916 Easter Rising, it was seized by nationalist rebels to prevent reinforcements from the nearby British army barracks advancing. Nowadays, you can simply relax with a pint of Guinness and watch the world drift by on the adjacent canal.
THE AULD TRIANGLE 4.00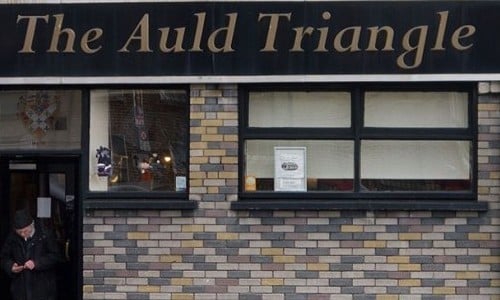 Famous for its mural dedicated to the 1981 hunger strikers, this unpretentious pub sits on the corner of Dorset Street and Temple Street in Drumcondra, not far from Croke Park Stadium. This authentic pub is ideal for a few quiet pints if youre in the area attending a sporting fixture, with some banter with the regulars thrown in.
DOWNEY'S (CABRA) 4.00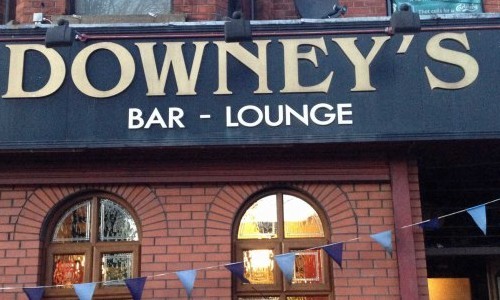 Downeys on the New Cabra Road in Glasnevin has an authentic feel thanks to its patronage by locals. Not far from Phoenix Park and Dublin Zoo, its known as a warm and welcoming place to stop for a pint or two and a spot of craic with the regulars.
THE LARK INN 4.10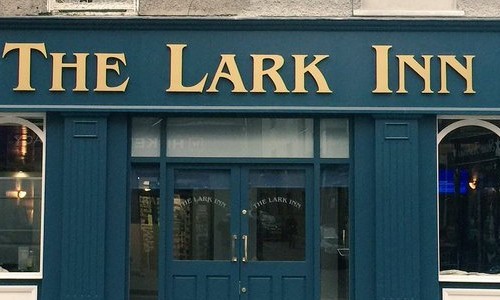 The Lark Inn is nestled in the heart of The Liberties, a historic part of the city where you can visit vibrant markets and galleries and one of Dublins top attractions, The Guinness Storehouse. The inn is an ideal place for a pit stop where you can enjoy simple, wholesome food and live traditional music on weekends.
DICEY REILLYS BAR 4.20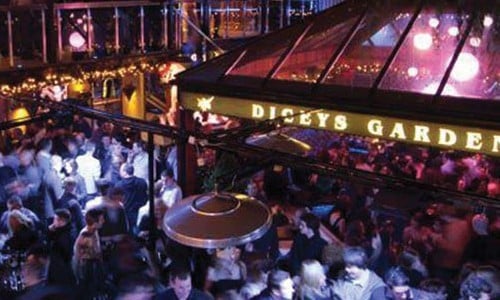 This famous Dublin bar is just moments away from St. Stephens Green, Trinity College and the main shopping area of Grafton Street. Its the perfect place for a break from the attractions of central Dublin. You can enjoy a carvery lunch or a barbeque by day and then party into the evening with Diceys late bar and DJ.
THE YACHT PUBLIC HOUSE 4.20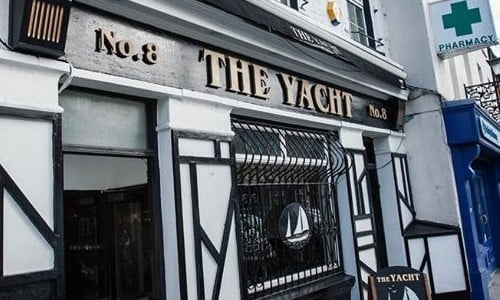 The Yacht is situated overlooking Dublin Bay. Its outdoor seating area provides the perfect spot to enjoy the quiet atmosphere and watch the water. Youll find the interior beautifully decorated with vintage touches and a tempting gastropub-style menu on offer.
KAVANAGH'S (STONEYBATTER) 4.20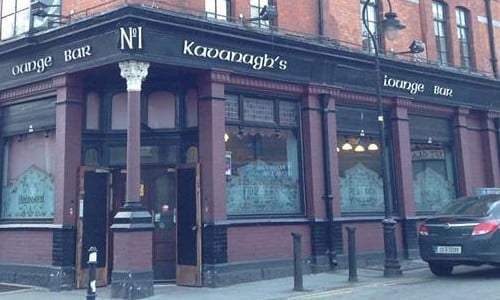 This historic pub is set in a turreted redbrick building and will enchant you with its authentic atmosphere and fine selection of beers. Its equidistant between the Jamestown Distillery and Dublin Zoo and Phoenix Park, and will offer you a glimpse into an authentic Dublin community.
THE BRIDGE TAVERN 4.20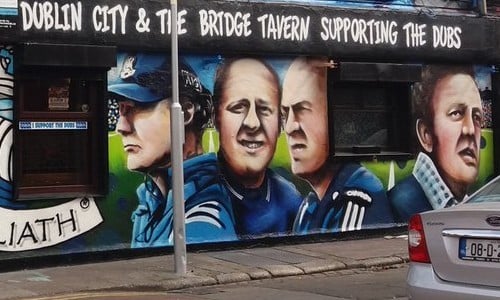 This cozy tavern near Croke Park stadium is hard to miss thanks to the colorful murals celebrating its proximity to Dublin's top sports venue. Sipping a pint at the bar is the perfect way to whet your appetite before a match. You can enjoy mixing with the current locals and those from past times whose portraits now adorn the walls.
THE CLOCK 4.20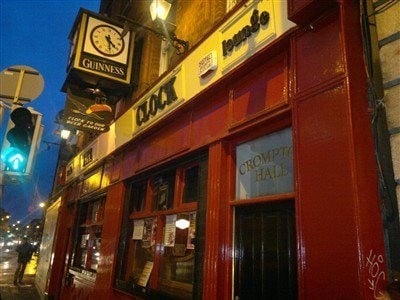 This quirky pub on Thomas Street in The Liberties district certainly lives up to its name with its collection of clocks. Frequented by more locals than tourists, youll also find a warm, authentic atmosphere and unusual touches such as an aviary in the back yard.
WHERE ARE THE MOST EXPENSIVE PUBS IN DUBLIN?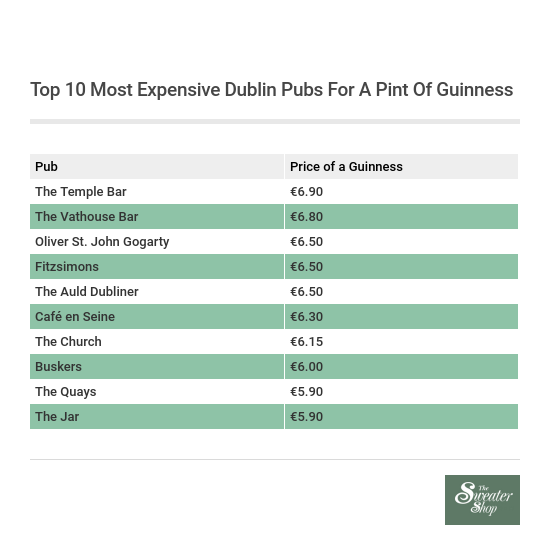 THE TEMPLE BAR - 6.90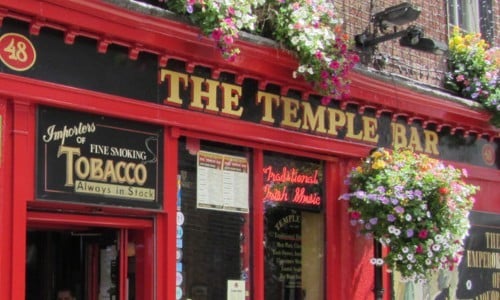 If youre visiting the lively Temple Bar area of Dublin, you cant miss the pub of the same name. You can enjoy the full Irish experience here with live traditional music, a range of whiskeys and beer, and local food including their signature dish of oysters, best served with a pint or two of Guinness.
THE VATHOUSE BAR, TEMPLE BAR- 6.80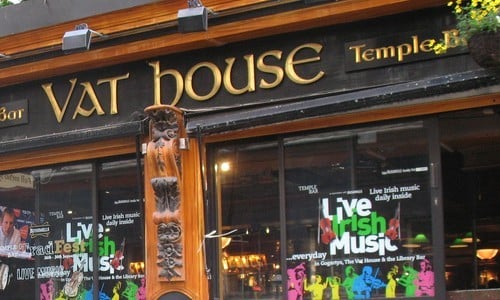 Located in Blooms Hotel, this lively pub in Temple Bar is named after the vat house at the Guinness Brewery where Irelands most famous drink is matured in big copper vats. The interior is living history with the wood on the floors salvaged from the citys old vat houses. Enjoy a tasty range of authentic food and drinks while soaking up the historic atmosphere.
THE OLIVER ST. JOHN GOGARTY - 6.50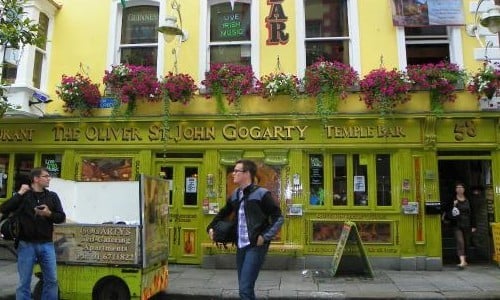 This bar named after the surgeon, playwright and poet is at the heart of Temple Bar. As you would expect, it offers a lively venue for enjoying Irish whiskeys, beer and food, as well as traditional music. Housed in two of Temple Bars oldest buildings, youll find a restaurant on the top floor where you can sample local dishes, many made from historic recipes.
FITZSIMONS, TEMPLE BAR - 6.50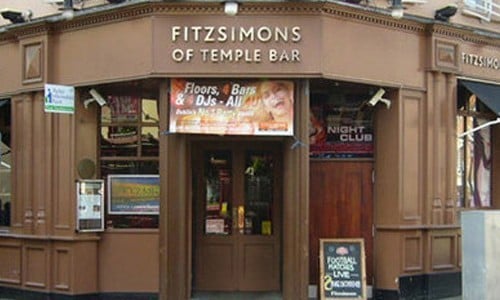 Fitzsimons Bar, situated in the hotel of the same name, is another Temple Bar gem. Arranged over five stories, you can enjoy live music in the main bar or relax in the heated rooftop beer garden with its fantastic views over the area.
THE AULD DUBLINER - 6.50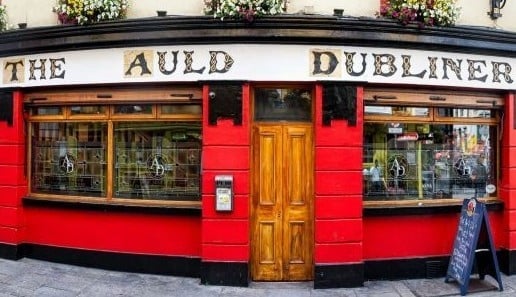 Traditional dcor and a warm welcome await you at The Auld Dubliner. This pub boasts a mouth-watering menu of traditional dishes such as beef and Guinness stew and Dublin Bay scampi with a backdrop of impressive live music acts.
CAF EN SEINE - 6.30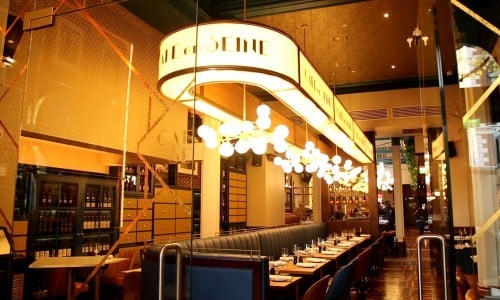 This spacious bar and restaurant centrally located on Dawson Street will impress you with its newly-refurbished elegant Art Nouveau interior. Youll also love the five-star service, sophisticated menu, and the dazzling range of cocktails and many other drinks waiting to be sampled.
THE CHURCH - 6.15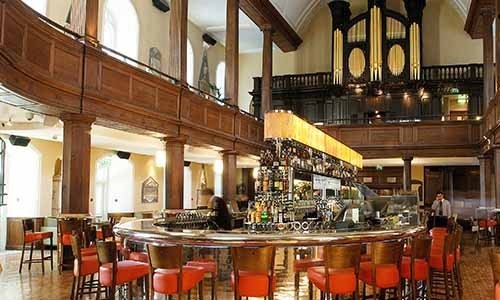 This unique venue at the junction of Mary Street and Jervis Street was converted from a historic church and comprises a caf, restaurant, and bar, with a beer garden and outdoor terraces. Not only does it serve great food, drink and craic, but you can also revel in the magnificent architecture and even take a tour of the burial crypts.
BUSKERS - 6.00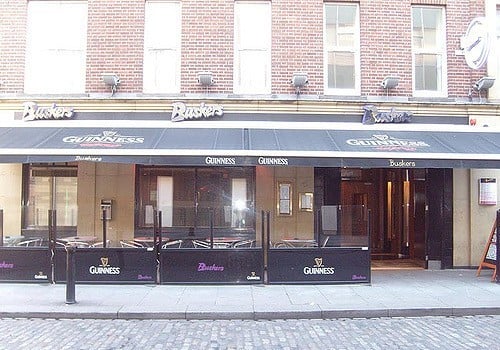 For a lively experience, visit Buskers Bar in Temple Bar, not far from Grafton Street and OConnell Bridge. The bar boasts live music seven nights a week. If the food and well-stocked bar arent enough to tempt you, you can join a cocktail making class provided by one of their resident experts.
THE QUAYS BAR & RESTAURANT - 5.90
The Quays Bar offers a full range of drinks and live music seven days a week, while the restaurant on the first floor will tempt you with local dishes such as Irish stew and Wicklow lamb shank. Conveniently located in Temple Bar, its the perfect place for experiencing the classic Irish craic.
THE JAR - 5.90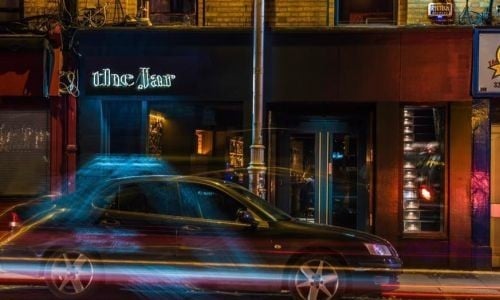 Situated on Wexford Street, a short walk from St. Stephens Green, The Jar offers more than just its extensive drinks menu. You can enjoy as much pizza as you can eat on Sundays from 3 pm, or try something different with a Paint and Prosecco session where you create your own work of art with a glass of bubbly to inspire you.
ABOUT US
The Sweatershop is a family run business in Ireland specialising in traditional aran sweaters.We are alsoproud to stock a wide variety of official Guinness merchandise includingGuinness t-shirts, hats, rugby shirts and hoodies and you can now get 25% off in our St. Patricks Day Sale! For true fans of the black stuff!