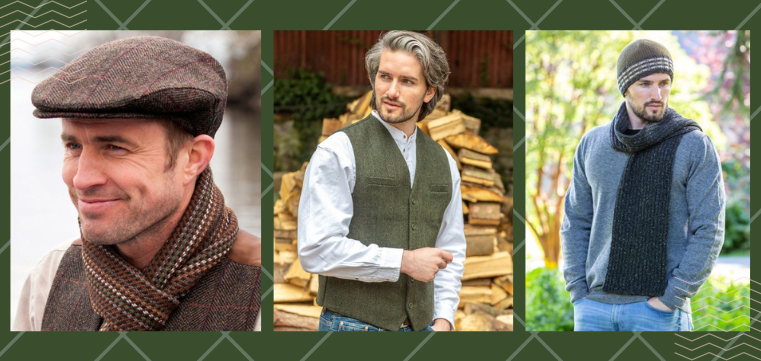 It's that time of year again - time to start thinking about what to get the special men in your life for Christmas. If you're stuck for ideas, look no further than this list of the top 10 Irish Christmas presents for men. From traditional Irish gifts like a nice bottle of whiskey to more unique items like a Gaelic-themed tie, you're sure to find something he'll love.
We've listed a number of Irish gift-for-men ideas that you'll surely love. We've listed 10 to make widen your gift ideas.
Cardigan - Most common Irish gift for men
Cardigans are a popular choice for Irish Christmas presents. They are available in a variety of styles and colours, so you can find the perfect one to suit your taste. A cardigan is a great way to keep warm in the cold Irish winter. It can be worn over a shirt or jumper, or even on its own.
Knitwear
Another great choice for an Irish gift for men is Knitwear. There are many different knitwear styles and colours to choose from, so you can find the perfect gift for any man in your life. You can choose a sweater, coat, scarf or hat. From beanies to fedoras, scarves to sweaters, you'll surely find one that goes with your overall outfit.
Grandfather shirts - One of the best Irish Christmas Presents
One of the most popular Irish gifts for men during the Christmas season is a grandfather shirt. These shirts are a great way to show your appreciation for your grandfather and show that you care about him. So if you're not getting your Irish man a sweater, get him this grandfather shirt.
Most grandfather shirts come in sizes small through XXL, so there's sure to be one that fits your grandfather perfectly. And since these shirts are such a popular gift, you can be sure to find them at a great price.
Hats - an Irish gift everybody appreciates.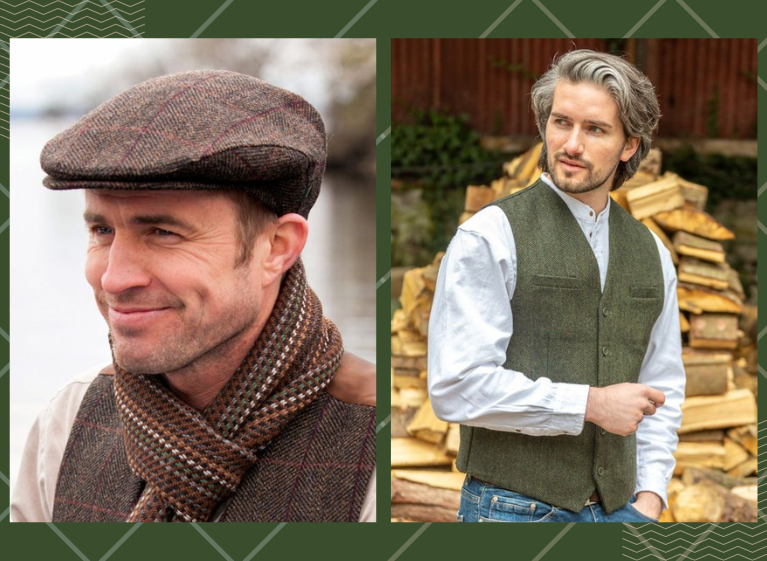 One great Irish Christmas present we can also recommend is an Irish hat. Hats are a great way to keep your head warm and stylish at the same time. There are many different styles and colours of hats available, so you will be sure to find one that suits your personality.
Waistcoats - One of the best Irish Christmas presents
Oh yes, this is one of our favourites - an Irish waistcoat. A must-Irish gift. A waistcoat is a very versatile Irish gift for men and a warm piece of clothing that can be worn anywhere from winter to summertime.
If you're not sure what kind of waistcoat to buy, don't worry. You can find many different types of Irish waistcoats online, and you can also ask your friends or family members for recommendations. Whichever waistcoat you choose, be sure to give your loved ones the best Christmas present they've ever received.
Wool Socks - Our favourite Irish Gift
Getting your man some sweaters? Don't forget to gift him a wool sock to boot. Not only are they comfortable, but they also add a touch of Ireland to any man's wardrobe. We think that if you're gifting your man this Christmas with an Irish touch in it, this is definitely a good choice.
Cashmere Socks - One of the most popular Irish Christmas presents
Another perfect Irish gift is a pair of cashmere socks. Cashmere is one of the warmest materials available, and it's sure to keep his feet cosy all winter long.
Shamrock-Design Clothing and accessoriesyou're looking for the perfect Irish gift is Shamrock-inspired clothing and accessories. There are a lot of amazing options out there, so it's hard to go wrong.
Blankets and Throws - not so-common Irish gift
Well, this is a not-so-common Irish gift for men but let's put it here anyway because we think we might be missing a good population of Irish men who actually like them. One of the best things to buy for a man during the Christmas season is a blanket or throw. Not only a blanket or a throw makes a practical Irish gift for men, but they can also be very sentimental. If you're looking for some great gifts for men, consider buying them something soft and cosy like a blanket or throw. Here are some of the top items to buy as men's Irish Christmas presents:
FAQs
What are sweaters called in Ireland?
Sweaters are also commonly referred to as jumpers in Ireland. The term sweater is typically used in America while jumper is used in British English. They are both used to describe a piece of clothing that is worn over the top of other clothing and typically has long sleeves. Sweaters are usually made from wool or cotton and are designed to keep the wearer warm.
What is a traditional Irish sweater?
A traditional Irish sweater is an Aran sweater. It's a type of sweater that is typically made from wool. It is often brightly coloured and knitted in a cable stitch. Traditional Irish sweaters are often worn on St. Patrick's Day or by people who are of Irish descent.