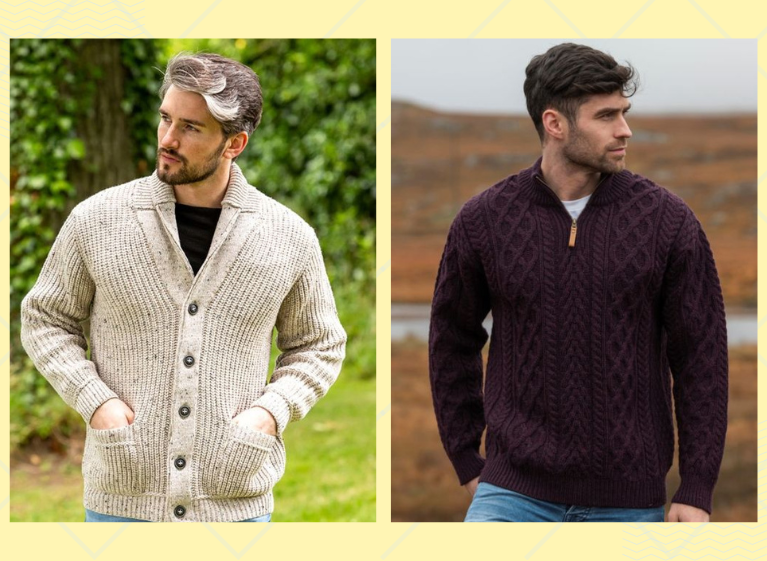 When the cold weather is upon us, there is no better way to keep warm than with a cosy men's cardigan sweater. There are a number of cardigan sweaters on the market. But, how many types are there in the market and which one is right for you?
From speaking with hundreds of men each week when they are buying sweaters, we came up with a definite list of the top 7 cardigan sweaters for men for any occasion.
Cardigan Sweaters
There's something about a cardigan sweater that just oozes sophisticated style. Maybe it's the way they drape over the shoulders or the fact that they can be dressed up or down depending on how you wear them. Whatever the reason, cardigan sweaters are always a good choice when you want to look your best.
Cardigan sweaters can also be mixed and matched or used to keep yourself warm but still look fashionable at the same time.
Pullover Sweaters
Pullover sweaters are a versatile and comfortable option for men. They can be dressed up or down, making them ideal for any occasion. Pullover cardigans can be layered over shirts or under jackets for extra warmth.
When choosing a pullover sweater, it is important to consider the fabric and fit. This is important because some fabrics are better suited for weather conditions or certain activities. Make sure the sweater fits well and is comfortable to wear before making a purchase. We personally think that a loose one is great for indoor use at events too when you want to look smart and casual
Crew Neck Sweater
Crew Neck sweater refers to a cardigan that has a high round neckline. A crewneck sweater is a must-have in any man's wardrobe. For people who are sensitive to the cold, this is a must-have. It's the perfect layering piece for chilly weather and can be dressed up or down for any occasion.
Both classic style and modern crewneck sweaters are best during cold weather although we think the more modern crewneck variety is more comfortable.
Crew Neck sweaters are made with cotton mixed with cashmere or wool. These are high-quality materials that make this type of sweater very warm during the cold season - and they last for years, too.
V-Neck Sweater
V-neck sweaters are a great choice for men who want to add a bit of style to their look. We personally think that they look good when worn on top of a collared shirt or a plain polo shirt - with collars sticking out of the sweater.
They can be worn with a variety of different shirts and trousers, and they come in a range of different colours and styles so it's good to have a few colour varieties in your wardrobe to mix and match with whatever pants you have available. You just can't go wrong with a v-neck sweater.
Alternatively, you also wear it with a button-down shirt. This can create a smart-casual look that is perfect for work or days out. You could also wear it with a t-shirt for a more relaxed look, or dress it up with a shirt and tie for an evening out.
V-neck sweaters are usually made from wool or cotton, so they are warm and comfortable to wear. They are also easy to care for – simply machine washes on a gentle cycle and then dry flat.
Turtleneck Sweaters
The Turtleneck variety is another fashionable type of men's cardigan sweater. There's something about a turtleneck sweater that just oozes sophistication. Maybe it's the fact that they're often seen on fashion icons like Steve McQueen and Pablo Picasso. Or maybe it's because they give off an air of effortless style. Whatever the reason, we can all agree that turtleneck sweaters are timeless classics.
What makes turtleneck another favourite sweater of mine is the extra tubular cloth in the neck region that gives extra warmth and comfort for anyone who uses it. This piece of cloth around the neck can be folded into a double layer once worn.
And while they may seem like they're only meant for cooler weather, the truth is that a good turtleneck sweater can be worn year-round. Simply pair it with a light jacket or shirt when it's warm out, and you're good to go.
Mock Turtlenecks
Mock turtlenecks, compared with regular turtlenecks, are garments of fashion with high collars covering most of the neck region. The only difference is that they are not high enough like the regular turtlenecks so they can be folded. If you want the fashion statement of a high-neck top like the regular turtleneck but do not like all the extra garments and all the folding, then a mock turtleneck is for you.
Mock turtlenecks are a great option for men who want a classic look with a modern twist. They can be worn alone or layered under a blazer or jacket for a more polished look. mock turtlenecks are available in a variety of colours and styles, so you can easily find one that fits your personal style. The classic turtleneck and the mock turtleneck are very versatile and can be worn well with everything.
Sweater Vests
Sweater vests are a classic piece of menswear that can be dressed up or down. They are perfect for layering over a shirt or under a blazer. Experiment with any coloured blazer and you'll instantly see just how versatile sweater vests are.
If you like the warmth of a cardigan but want your arms exposed for extra comfort, then the sweater vest is a great option for you. Sweater vests are also great to be worn under a sports coat. This type of cardigan is a staple among office workers, too.
We hope you liked this definite list and if you think we missed anything please let us know.