A Handy Size Guide to Women's Cardigan Sweaters
Many Aran wool fashion-lovers on both sides of the Atlantic tend to use the words 'sweater' and 'cardigan' interchangeably. While both will keep the chills out, they are actually quite different!
A sweater is one you pull over your head. Depending on the design, it might have a short zip towards the neck, but you still need to pull it over your head to wear.
On the other hand, a cardigan is still a sweater, but it opens at the front. Instead of pulling it over your head, you shrug it over your shoulders. It can have buttons, snaps, or a zip at the front to fasten it. Women's cardigans can also come without fasteners so that you just wear them hanging open at the front.
Now that you know the fundamental differences making traditional Irish Aran wool and cashmere cardigans a truly unique type of sweater, let us guide you on how best to choose the right fit to suit your own personal needs as you consider the various options from our fine collection of cardigans and determine which is the best fit - and style - for you!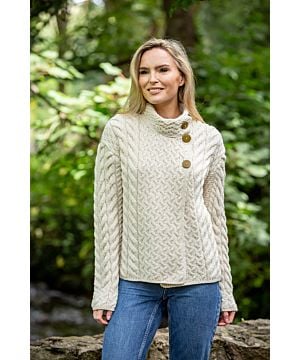 Which Cardigan Fits My Body Type?
The first question we get asked by female visitors in our stores and by those contacting our sales team for advice is invariably this one, and we can't stress enough to tell our customers that cardigans are incredibly versatile! So much so, that you can find a fine-kit cardigan sweater that goes well with different wear to suit contemporary trends and look the part for many different occasions.
These garments are transitional too - you can button one up for a conservative look or leave it open for a more casual, laid-back style, depending on your taste and preferences.
You also get cardigans in varying thicknesses and warmth, which makes it possible for you to wear cardigans year-round if you like, with lightweight summer weaves ideal on a cool summer night and heavier, hooded ponchos or oversized cardigan sweaters best suited to the harsh winter or those working in chilly air-conditioned office spaces!
If you are new to cardigans or just want to improve your cardigan game, here is a quick guide to shopping for the right cardigan by your body type.
Hourglass figure

Women with an hourglass figure can comfortably wear snuggly cardigans to emphasize their tiny waists. As such, you can give bulky, loose-fitting cardigans a wide berth as they tend to conceal that shapely silhouette.
Some of the best designs to show off your midriff are cardigans with a peplum shape. Their flared fit will bring out your shape rather nicely.
You can also go for any cardigan shape, including a loosely fitting one, then belt it up to cinch your waist.
Another option is a thin, stretchy cardigan. This, buttoned-up over skinny jeans or a skirt will follow your curves and add an element of glamor to the look.
Plus-size figure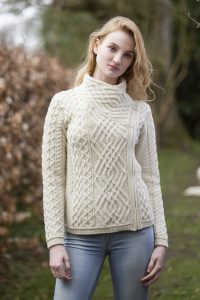 If you are curvy in all the right places, you need to find thinner cardigans. Thinner knits look better as they do not add unnecessary bulk to your silhouette.
If you want to create the illusion of a slimmer silhouette, go for plain blacks and navies. You can also put a belt over the cardigan to help your waist look nicely nipped.
Petite figure

Stylishly dressing a petite figure in a cardigan requires some creativity.
For one, you tend to look much smaller if you wear a cardigan that runs too long. A common faux pas that petite women make with cardigans is wearing very heavy fabric. Presumably to help them bulk up. Unfortunately, this works in the opposite way because a baggy fit only emphasizes your small frame.
So what's the way out? Get something on the shorter side that bears a slim cut.
You can also wear prints like polka dots and floral cardigans. However, choose small prints as huge prints might make you look tinier.
Pear-shaped figure
Pear-shaped ladies are fullest at the hips, and these areas tend to be the widest part of the upper half of their bodies.
If you are pear-shaped, stay away from cardigans that stop at the hip area. Such cardigans create a line across the broadest part of your body, which is not flattering at all. Instead, opt for a cardigan that stops above your hip bones.
Another thing you can do is go for bulkier garments that create more volume on the upper part of your body. This helps bring more symmetry to your silhouette.
Other excellent options are cardigans with vertical stripes, as these add length and slim you down by visually minimizing width. Long cardigans that drop close to or past the knee are also ideal.
Heart-Shaped Figure
A heart-shaped body is when you are fuller at the bust and shoulder area, but then your silhouette tapers out downwards.
One of the trickiest parts about a heart-shaped figure is that cardigans with zippers or buttons might not fit well enough in the chest area. If they fit too tightly, the bust area appears even more prominent.
The best cardigan for this body type is an open cardigan. Then, you will not be struggling to make anything fit, and your bust won't look smothered.
Another safe bet would be a waterfall cardigan. This should be smooth and plain at the top, then flare out from the waist area. This will add more build to your bottom half, effectively helping create some proportion.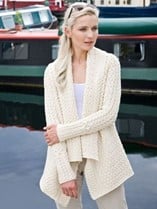 Should You Size Down In Cardigans?
Size down in longer cardigans, or get a snug fit. Slouchy, oversized cardigans tend to add visual weight, and yes, they can make you look frumpy.
However, certain styles and fashion trends support the oversized or baggy cardigan look. These are exceptions and are okay as long as you are confident that you can pull off the look.
As you evaluate a look, people tend to focus on the front. When shopping for long cardigans especially, check the rearview and ascertain that you like what you see before making a purchase.
Taking Care of Women's Cardigans
If you go through all the precautions of finding the best fitting and most flattering cardigans for your body frame, it's only natural that you would want to maintain them in tip-top shape.
Here are quick tips to help you achieve this:
Fold your cardigan instead of hanging it
Hand wash your Aran cardigan whenever possible
Roll your cardigan(s) in a towel and squeeze instead of wringing them
Use a lint remover and bobble remover to keep the external surface of your cardigan neat, tidy, and every wear - washing after every 4-5 outings should suffice for a well-maintained cardigan.
Unless you are around smoke, have sweated a great deal, or spilled something on your cardigan, it's unnecessary to wash it after every wear - washing after every 4-5 outings should suffice for a well-maintained cardigan.By following this advice and the tips covered in our guide to caring for an Aran sweater, you can make your lovely cardigan last for years with the right levels of TLC for your new wardrobe addition!
Shop Ladies Cardigans in Style with The Sweater Shop
At The Sweater Shop, we are keen to design cardigans made from organic fabrics sourced locally and ethically in the Aran Islands that flatter different body types and bring out the best in every woman. We also ensure to have a range of sizes from XS to XL across all collections and we can arrange for other sizes to be ordered on request.
This means we have you covered whether you want your exact size or prefer to size up or down. Please browse through our catalog of cardigans for women in a range of stunning styles and colors and other fine sweaters for women and find some fabulous designs to add that finishing touch of handknits, Irish warmth to your closet!
As with all wool garments, the sizes may vary however check out our general size guide here and if you want any more information just email us on [email protected] and we will be happy to help you.