Your Guide to Grandfather Shirts
A timeless classic on the men's fashion scene for generations, the men's Irish grandfather shirt, or 'Sunday shirt', as it's also known, has made its way back to many men's closets recently. And what's not to like about it? This shirt offers versatility and comfort and is a classic addition to any closet.
The name grandfather shirt (or 'grandpa t-shirt' as some call it Stateside) shouldn't put you off either, as this shirt works for different ages and can be styled in multiple ways to suit all but the most formal of occasions!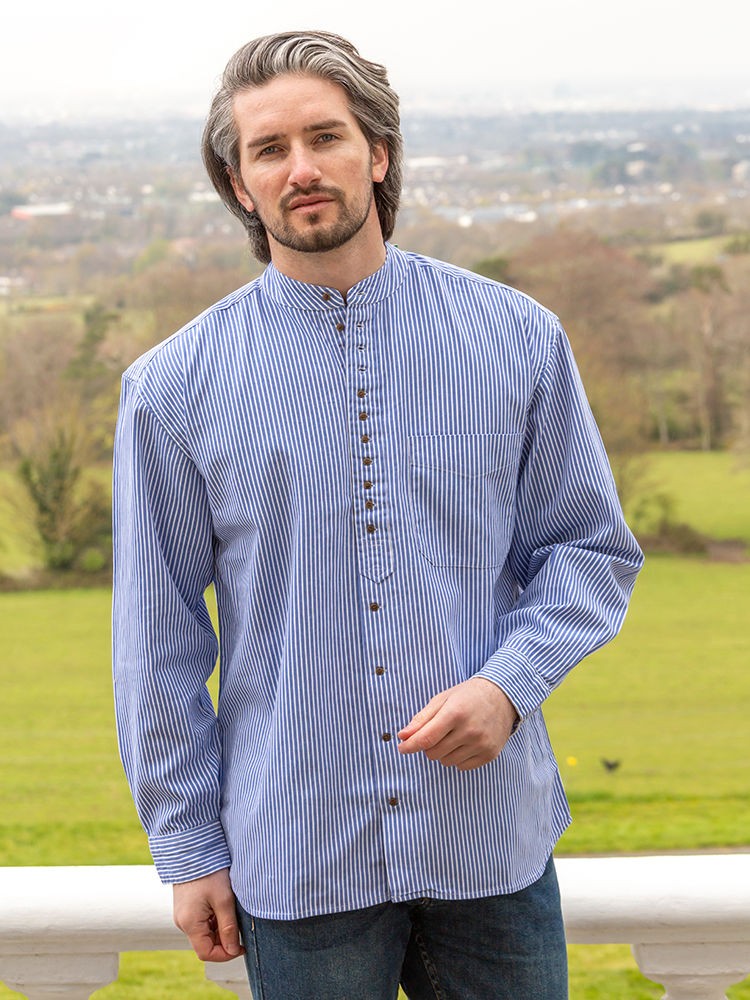 The History Behind the Grandfather Shirt
Aside from the iconic Aran sweater, the grandpa shirt is yet another clothing item people think of when evaluating Irish clothing that has made it through the years.
It's difficult to confuse the grandfather shirt for anything else. In fact, people that don't know its name admit to having seen one at one point or another.
This collarless shirt is either long or short-sleeved and its most unique feature: it bears no collar. The design alone clarifies one thing; this was not a shirt worn by bankers or other executives in large cities.
Instead, the Sunday shirt was worn by tenant farmers and laborers working on land in rural Ireland. Many of these workers didn't need to wear work ties, so the formal collar was unnecessary.
As for the name, the Sunday shirt was worn mainly by the eldest breadwinner in a household. It then became known as such, even though adults of all ages wore it.
Back then, men would have children early and would still be working by the time they had grandchildren. Ireland is small, and life back then was dotted with very closely-knit family units. This made grandparents part of any nuclear family; hence grandfather shirts were a common citing within the household.
Features of the Grandfather Shirt
So the most prominent feature of the grandfather shirt is the lack of a collar.
That aside, you're also likely to notice the buttons lined up at the front. Unlike other shirts, grandfather shirts have numerous buttons, and you can count up to 15 buttons on one shirt.
These tend to be evenly spaced at the bottom with 4 to 5 regularly spaced buttons. These then tend to grow smaller as you advance towards the collar and the spacing gets much narrower. With this arrangement, it's possible to have up to 11 buttons right up to the neck area.
The original grandfather shirts were likely made from materials easily found in Ireland. Ireland does not enjoy a tropical climate. Therefore, the likeliest materials would have been linen, cotton, flannel or wool. Cotton, flannel and wool were excellent options as they would do well in the Irish climate.
The traditional shirts were chiefly cream and white with some possible striped options. Today, these come in a much wider array of bold colors and prints.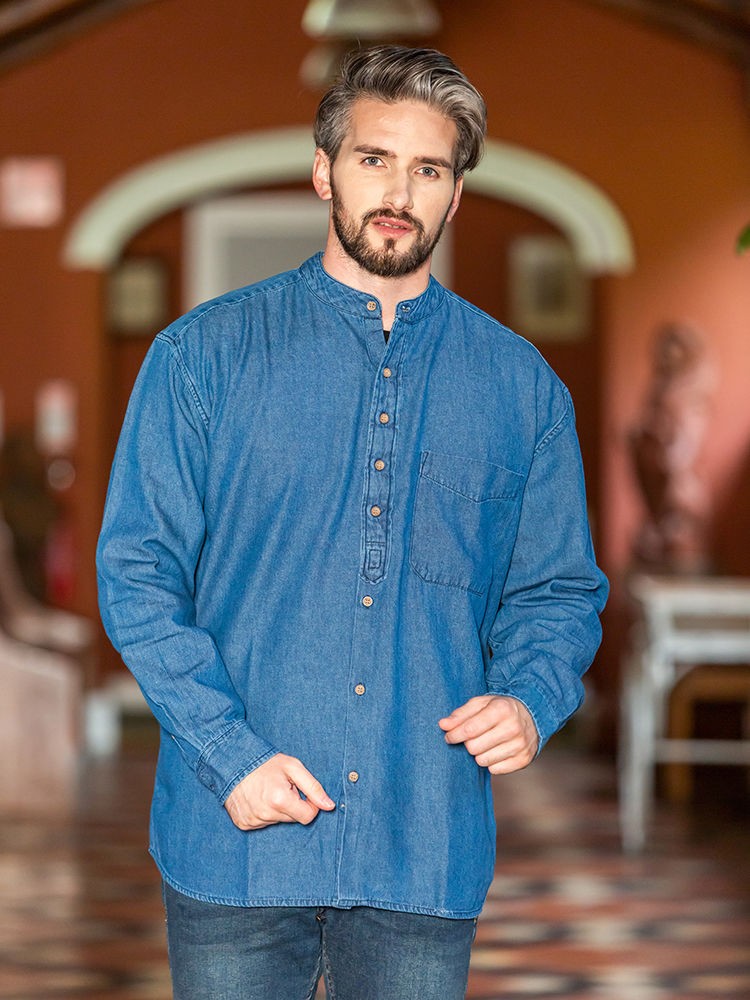 Buying a Grandfather Shirt
If you do not already own one, it's time to add an authentic Irish-style men's grandfather shirt to your fashion repertoire!
Here are some pointers to help you get the right one.
Sizing
This will be especially important if you are shopping online and don't have the option of trying out different shirts for size.
However, paying attention to sizing should help you get the perfect fit.
Here is an Irish grandfather shirt sizing chart:
XS S M L XL 2XL 3XL
CM CM CM CM CM CM CM
Chest 56 59 62 65 68 71 74
Body 79 80 80 80 81 81 81
Neck 13 13 13 15 15 16 16
With proper body measurements, you should be able to shop online very easily. Also, remember that a grandfather's shirt fits a bit snuggly around the color.
Make a bit of an allowance for this when taking your measurements. You want a good, comfortable fit.
Material Used
This should primarily be guided by function and the weather in your country.
For example, cotton is breathable, comfortable, and natural. This makes cotton garments an excellent choice for hot summers. It's also just as comfortable in winter as cotton is good at heat retention.
On the other hand, linen is great for hot summers but will not provide much warmth in winter. Linen also requires a bit more attention, like ironing, as it creases pretty easily. As such, if you travel a lot and have no access to an iron or don't want to be constantly ironing, a linen shirt would be a poor choice.
A cotton-linen blend can give you the best of both worlds; less maintenance, maximum comfort, and durability.
Durability
Being traditionally a workman's shirt, the grandfathers' shirt was designed to last. This quality came from the fabric of choice, which made cotton and cotton blends excellent choices.
While a grandfather's shirt today is a fashion statement, not necessarily a work garment, you still want value for money.
Some of the attributes you want is a shirt that will not shrink or stretch. Be sure to read the care instructions carefully once you find a shirt in the fabric you want. This should also help you maintain it properly, which gives you more wear.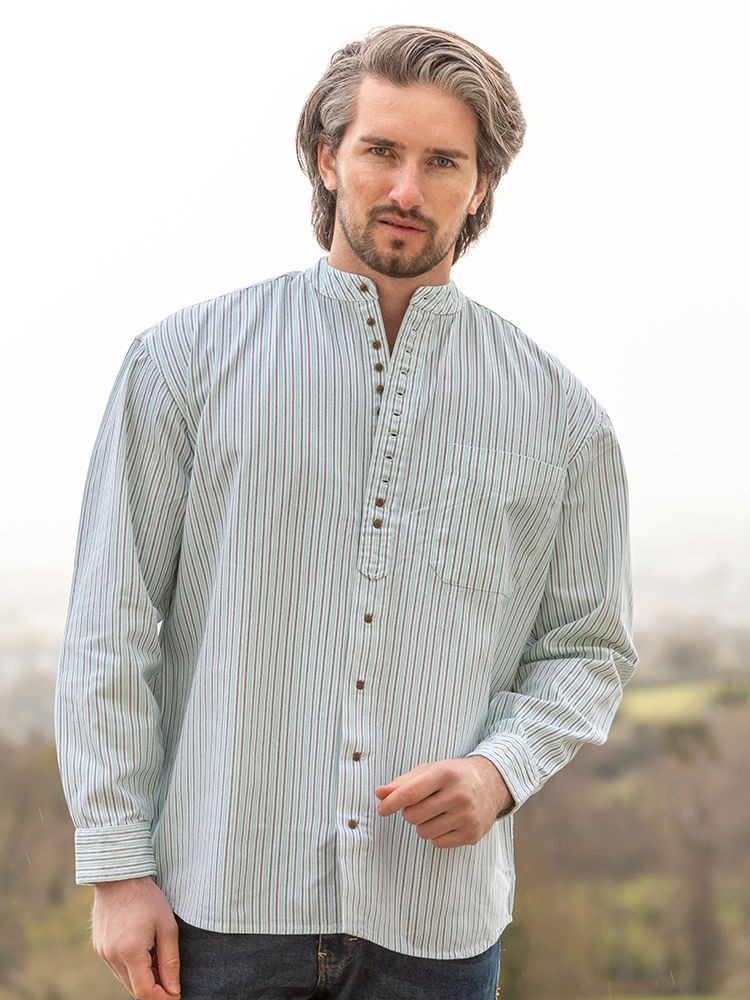 How to Wear Your Sunday Shirt
Try pairing your grandfather's shirt with black pants and a jacket for a casual, laid-back look. This offers an unconventional look while maintaining the jacket's formality with the shirt.
Black loafers would round off this look very stylishly.
Pair the shirt with a suit and smart oxford shoes for a formal look. This gives you a clean, formal look, albeit with a twist.
For a totally laid-back look, go for a denim grandfather's shirt. You can wear this with khakis or denim pants and casual shoes. You can also button it down with a tee inside for a super casual weekend look, run errands, or hang out around the house.
A denim collarless Irish grandfather shirt pairs beautifully with chino pants and even minimal white trainers for the summer months.
Want One?
Do you want a high-quality, perfectly fitting grandfather's shirt? Look no further than The Sweater Shop. We've become a reputable brand in authentic Irish wear over the years and stock exceptionally durable and stylish grandfathers' shirts.
Browse our Grandpa Shirt & Waistcoat collection here and grab a few timeless shirts for yourself or that special man in your life!