Halfzip Sweater Lambswool A227
Halfzip Sweater Lambswool A227
Here's a cozy sweater to keep you warm this winter. The Half Zip Sweater Lambswool A227 from the Sweater Shop is perfect for winter weather. This classic knitwear piece is made of 100% Merino Wool and is sure to offer warmth and comfort without sacrificing style and durability.
The piece is an authentic Irish product expertly handcrafted by Irish family producers in Ireland. So you know you're getting a genuine, high-quality piece of art while supporting the local Irish businesses.
What makes this sweater so special is the half-zip detail. This is an excellent add-on for those cold days when you need an extra layer of warmth. The half-zip detail makes it easy to wear and take off your sweater.
The sweater is also machine-washable, making it easy to care for. This means you won't need to struggle to hand wash or follow strict care instructions. So if you're looking for a classic Irish sweater that will keep you warm and stylish all winter long, this piece from the Sweater Shop is a perfect choice. Other outstanding features of the garment include;
Contrast neck detail for a classic look
The merino wool won't smell, itch or crease much
Find your perfect fit from sizes ranging from S to XXL
The sweater won't lose its shape thanks to the quality merino wool
Available in various beautiful colors, including green marl, forest green, navy marl, and charcoal
Size Chart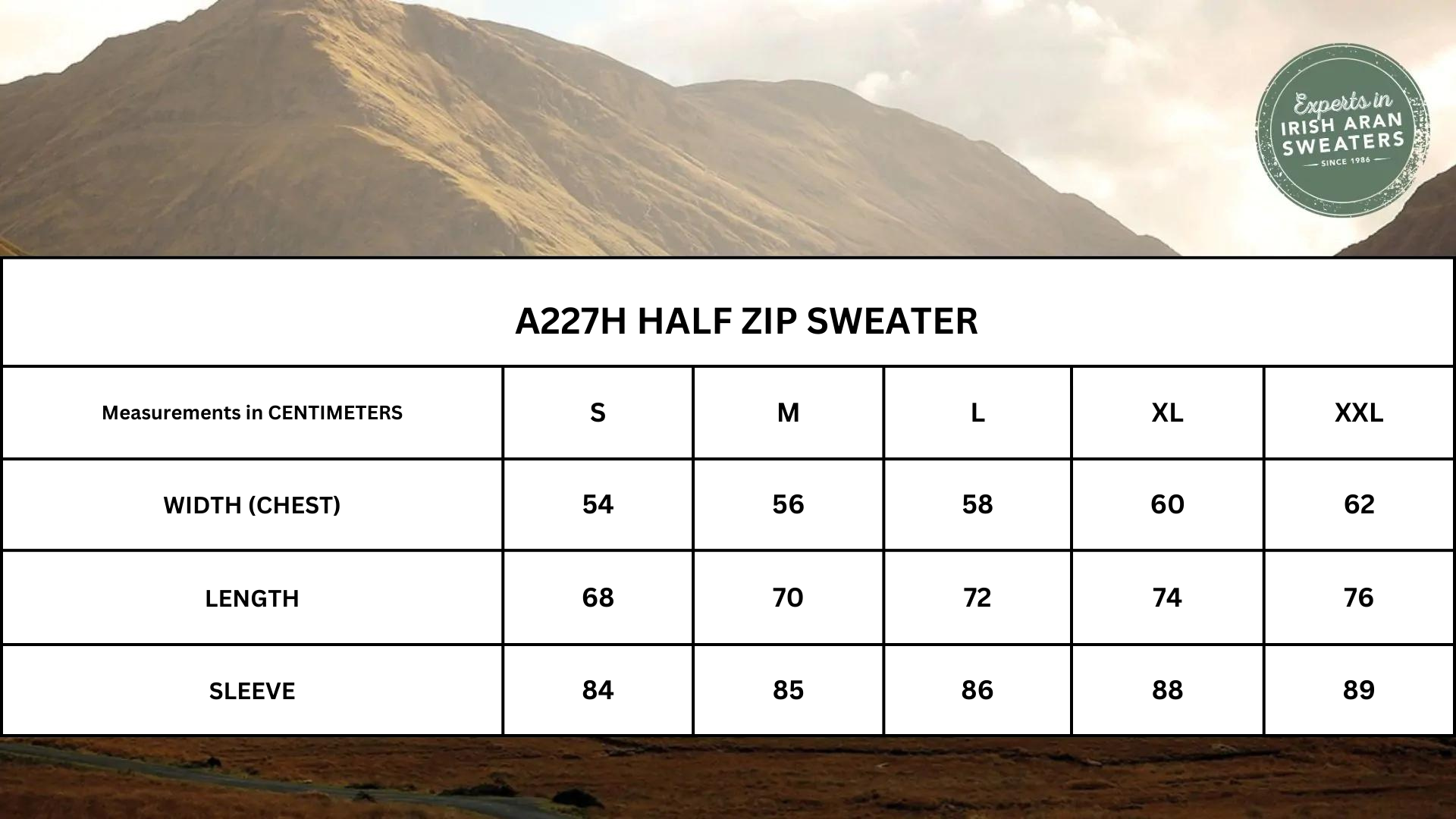 Wash Care
While our sweaters are a great choice, because they are warm and durable, proper care should be always taken to protect your garment. We recommend all of our sweaters and wool garments are gently hand washed with a mild wool detergent, reshaped by hand and dried flat. If soaked for too long, the wool may shrink and become hard.
Alternatively, most of our sweaters can also be dry cleaned but always check the care label first. Under no circumstances should you machine wash or tumble dry your sweater or any other wool product. Remember, when you give your sweater great care, it will last you for a long time.
Our Customers Rate This Product