IrelandsEye Knitwear Thistle Cable Knit Sleeves Cardigan Beige Marl
IrelandsEye Knitwear Thistle Cable Knit Sleeves Cardigan Beige Marl
Stand out in the family portrait in this thistle cardigan that has a gentle moss and cable pattern stitch. The lantern sleeves balloon from the dropdown shoulders and then gather around the wrist to give you that timeless look and elegance steeped in the Irish tradition. The relaxed style of this front button cardigan will give a casual look but also be classy enough to be paired up with a blouse for that formal meet—up.
This jumper is made from a blend of our exclusive yarn, Donegal Luxe Melange, comprised of 67% virgin merino wool, 23% cotton, 5% cashmere, and 5% silk, and is crafted to be trans—seasonal. This blend of ingredients offers lightness and premium smoothness while keeping you warm. The wool in the yarn makes the garment durable due to the fiber structure, while the cashmere gives it a chic feel.
IrelandsEye Knitwear is a family-run business that has been making knitwear for over 30 years. They combine traditional Irish knitwear heritage with their unique twist to churn out this masterpiece which is carefully finished by hand. Other aspects of this cardigan include:
Wool is moisture—wicking to absorb sweat
The yarn combination makes it incredibly soft and breathable
The gentle moss pattern and cable stitching give a touch of elegance
The simple design makes it perfect for those who want the understated look
Size Chart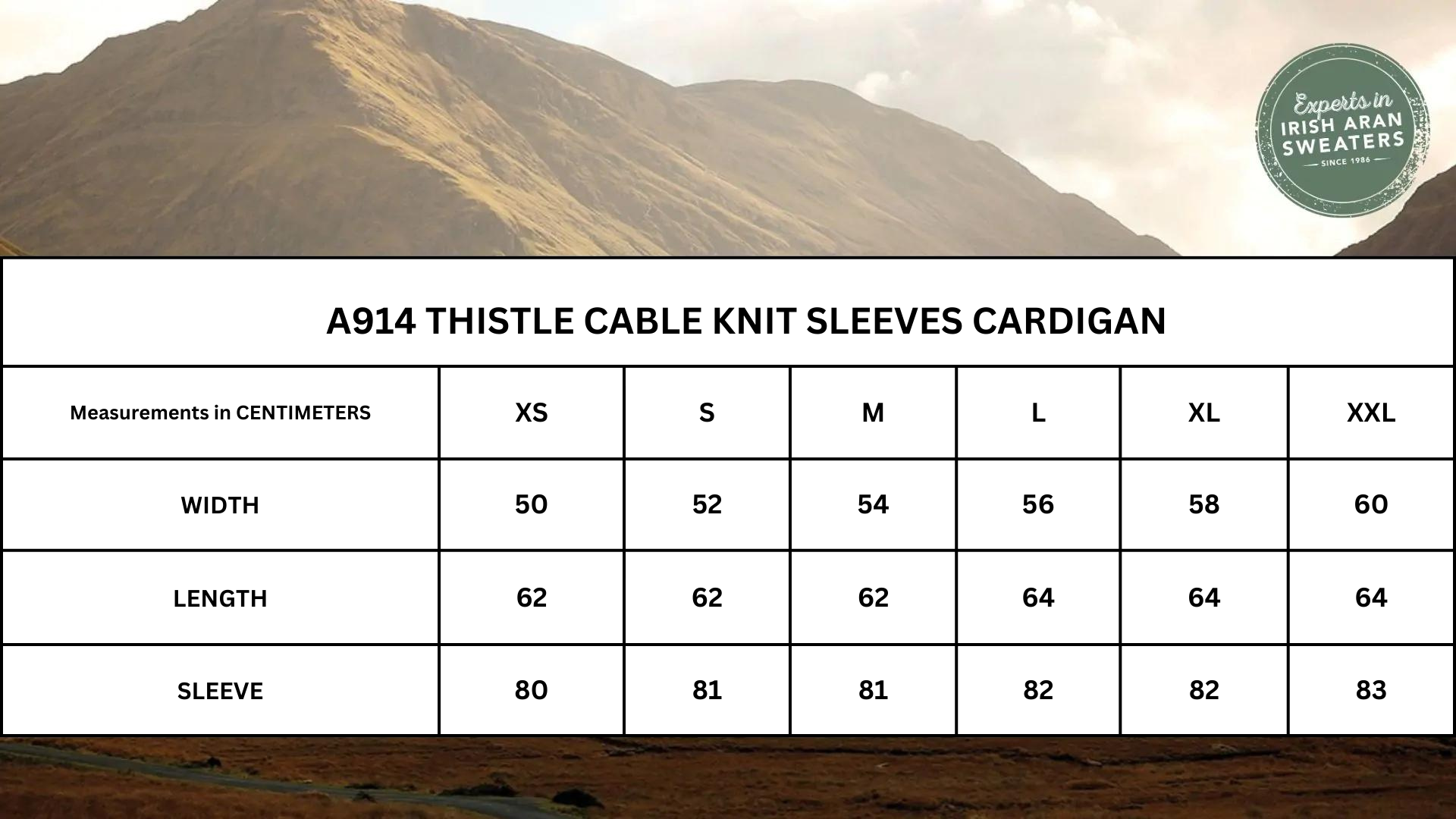 Wash Care
While our sweaters are a great choice, because they are warm and durable, proper care should be always taken to protect your garment. We recommend all of our sweaters and wool garments are gently hand washed with a mild wool detergent, reshaped by hand and dried flat. If soaked for too long, the wool may shrink and become hard.
Alternatively, most of our sweaters can also be dry cleaned but always check the care label first. Under no circumstances should you machine wash or tumble dry your sweater or any other wool product. Remember, when you give your sweater great care, it will last you for a long time.
Our Customers Rate This Product