Womens Merino Wool Aran Coatigan
Womens Merino Wool Aran Coatigan
This Irish aran coatigan is perfect for someone who feels the cold! It is made of 100% merino wool and has a large collar around the neck to keep you warm.
It is perfect for throwing on over your favourite sweater for extra warmth. What we love most about it is that you don't have to wear a jacket while wearing this, therefore allowing you to show off your Irish Coat even in the coldest conditions!
This Aran coat is 3/4 length is style so covers you middle area, down to your knees or lower thighs depending on how tall you are! Great for someone who loves the outdoors and still wants to look fashionable! It comes in two stunning colours- navy and silver - both are gorgeous colours and suit the style so well.
Perfect for someone who loves comfort - either inside or outdoors! Made in Ireland with merino wool, it is sure to keep you cosy all day long.
How does it fit?

This coatigan is meant to be worn quite fitted to show off its unique and beautiful style. It has an A line shape so it goes out slightly towards the bottom. It is true to size therefore we suggest taking your normal size.
How to wear

This piece is perfect for jeans as it is 3/4 length. Team the blue coatigan with a fitted top or blouse, your jeans and winter boots for an extremely fashionable, trendy and cosy day time look. The silver is ideal for wearing with black jeans / trousers for a slightly dressier look that could take you into the evening.
Size Chart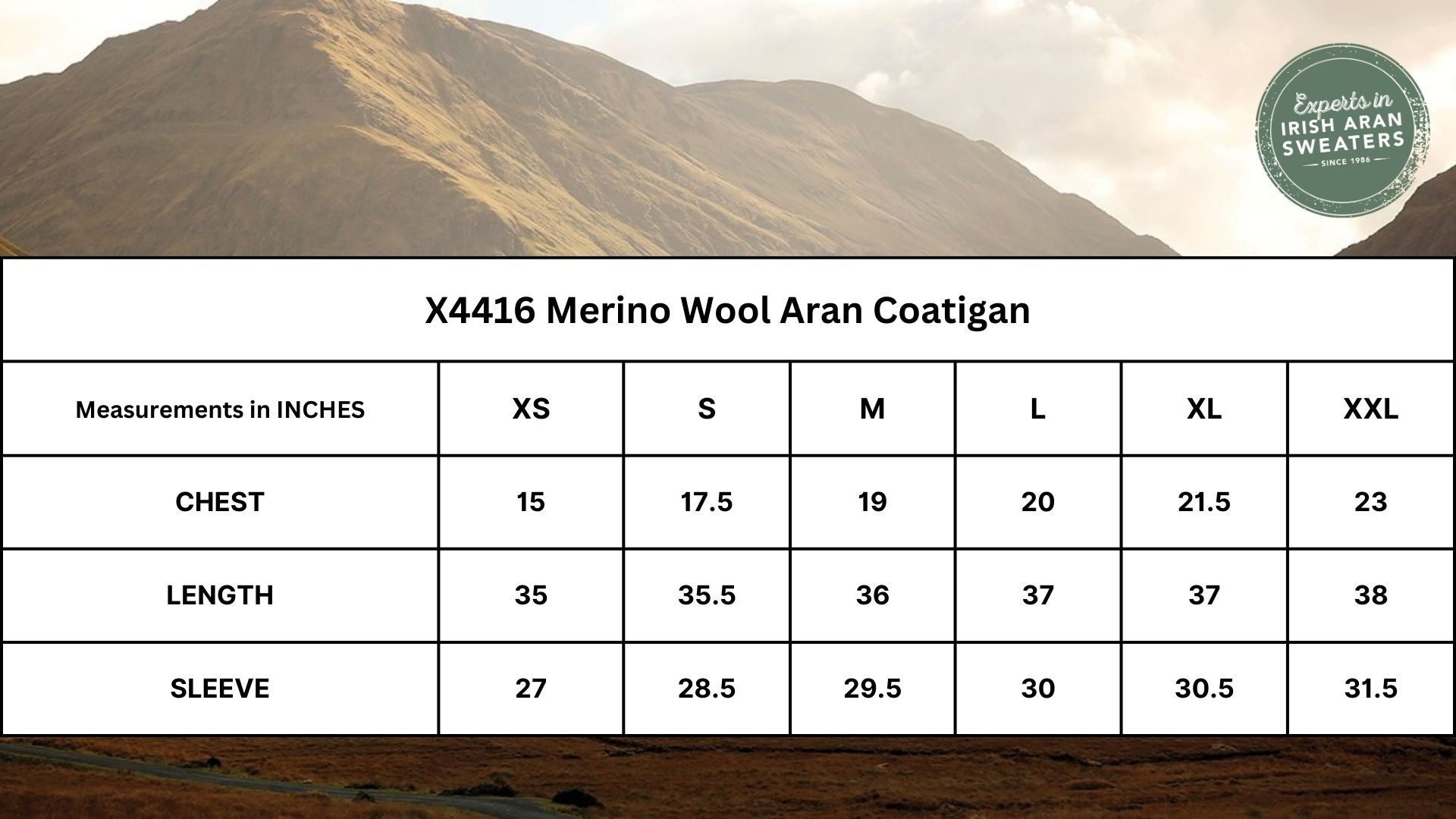 Wash Care
While our sweaters are a great choice, because they are warm and durable, proper care should be always taken to protect your garment. We recommend all of our sweaters and wool garments are gently hand washed with a mild wool detergent, reshaped by hand and dried flat. If soaked for too long, the wool may shrink and become hard.
Alternatively, most of our sweaters can also be dry cleaned but always check the care label first. Under no circumstances should you machine wash or tumble dry your sweater or any other wool product. Remember, when you give your sweater great care, it will last you for a long time.
Our Customers Rate This Product