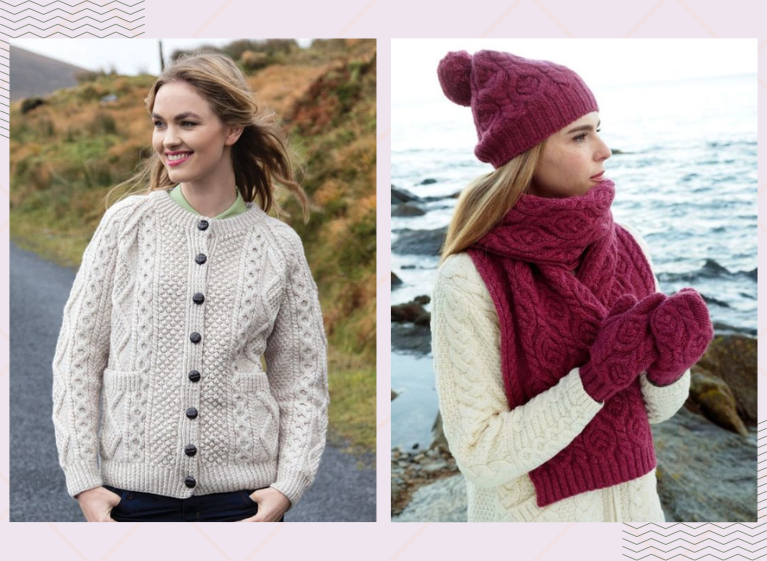 It's that time of year again - the days are getting shorter, the temperatures are dropping, and everyone is gearing up for the festive season. Still haven't figured out what to buy for your partner yet? Then, consider buying them some Irish-made gifts. Here are the top 10 Christmas presents made in Ireland for women that will put a stop to in-store scouring to find that perfect holiday gift.
These top picks are fun, functional, and practical. You can use them all year round and will definitely add value to your wardrobe. This list is based on the product availability on our website and overall practicality - and a personal preference for what our team thinks will be popular this year.
So whether you're looking for something practical like a new scarf or something more frivolous like a gift voucher to buy a gift to someone from our website, we've got you covered.
Hand Knit Sweaters
Our team employs traditional and modern stitches to create the most stylish and comfortable . There are a variety of different patterns to choose from, and they make the perfect addition to any wardrobe.
Dress up a sweater with a collared shirt underneath or you can somehow experiment with a blazer on top. You can also try going casual by pairing your knit sweater with plain old jeans and sneakers.
Loose or fitted sweaters are available to suit your preference: choosing fitted to still look stylish and sleek and bulky styles for those who want to stay indoors.
Cardigans
Cardigans make the perfect gift to your woman to keep her warm all winter long. There are many different types of cardigans available, so it's sure to fit her personality and style.
Not only are cardigans chic and stylish, but they can also be really warm and comfortable. There are many different styles and colours of cardigans available, so you'll be able to find one that suits her personality and style.
Pair it with straight-leg jeans or a plain shirt. Make sure to invest in a fine knit version for durability and an overall high-class look. You can never go wrong with high-quality fibre. Belt it over a midi skirt - a powerful look.
Ponchos, Capes, Wraps
Everything looks good with ponchos, capes, and wraps. A simple shirt can magically become chic by throwing in a wrap or poncho. Capes, ponchos, and wraps make great holiday presents for women of all ages.
Ponchos are the perfect gift for anyone who loves the outdoors. They can be used as rain gear, sun protection, or just a way to stay warm on cold days. Cape-wearing ladies will love being able to keep their hair and makeup dry while out in the rain.
Wraps are another versatile gift. They can be worn as a cloak, scarf, or bandana. Irish wrap gifts are sure to put a smile on any woman's face this Christmas season. Pair it with skinny denim along with some flats or sneakers or warm boots.
Also, try putting on a hoodie underneath your poncho to give that extra warmth on the coming cold days. We know we all want to look pretty even during the cold season but try to stay warm at all costs.
Hats
I know you care if you buy me some pretty hats. The cold season can be unforgiving but who says we should look like a woman in a sack?
Try out our natural white Aran trellis pullout hat or our inviting blue Aran cable peak hat.
On our website, there are a number of different styles and colours of hats to choose from, so there's sure to be a hat that fits everyone's personality.
Some popular women's Irish Christmas presents to buy include beanies, twisted band hats, fedoras, and beanie babies. We have all of them on our website so be sure to check them out. These gifts can be personalised with a special message or ornament. If you ever need gift cards sent to your friends or family, contact our customer support to arrange this.
If you're not sure what type of hat your loved one would like, don't worry. Our experts are waiting over the phone to give you the best fashion advice.
Raincoats
Raincoats are not particularly stylish yet we think otherwise. Ireland's western coast is particularly prone to torrential weather conditions so it's important to bring a raincoat if you're headed to that part of the country.
Our raincoats for women are fashionable, stylish, and practical. Irish raincoats are also some of the most popular Christmas gifts for women.
Not only do Irish raincoats keep you dry and comfortable, but they also come in a variety of colours and styles. Whether you're shopping for a casual day out or an elegant dinner party, there's likely to be a raincoat that fits your partner's needs.
Plus, if she loves spending time outdoors in the rain, a new Irish raincoat will make her happy. We particularly love this pink Beachcomber raincoatbut feel free to choose one that best fits your personality and preference.
Aran Scarves
An Aran scarf is another great gift idea for Irish women. Aran scarves are made from wool and are often decorated with colourful ribbons or pom poms. They can be worn as a scarf or wrapped around the neck like a shawl.
Scarves come in all shapes and sizes, making them perfect for anyone. They can be worn as a fashion statement or as a necessity for cold weather climates. The idea that you can never look stylish during the winter months is a myth. Stay pretty at all costs or we lose our man. Kidding aside, we won't complain if anyone would sport a green pom pom aram scarf look.
Remember that it's freezing cold outside, so fashionable scarves and hats are a MUST to stay warm.
Bags
It's game over when one chooses bags as gifts for Irish women this Christmas season. You'll never go wrong with bags. Throw in a good beanie and boots and all the holiday blues are solved right off the bat.
There are countless options for bags, from small handbags to large backpacks. Bags make the perfect gift for Irish women. Not only will they be able to use it for everyday items, but they can also use it as a storage of important items like makeup.
There are many different types of bags available, from simple totes to designer bags. If your friend or loved one is into fashion, they'll love getting a designer bag. Alternatively, if your friend is more practical, they'll love a simple backpack.
Choose a colour that goes with your current colour palette of your woman's sweaters, cardigans, or tops. Ask her if in doubt.
Bags enhance the look of any woman and any outfit. Choose from a more traditional Irish design or a rugged yet elegant flair. In any case, you'll never go wrong with bags.
Gloves
One of the top women's Irish Christmas gifts to buy is gloves. You can choose from either Aran or wool gloves. These gloves will come in handy during the cold winter months. They will keep your woman's hands warm and protected from the elements.
They are also a great gift for women who tend to get cold easily. Plus, they can add a bit of glamour to any outfit. Hand Warmers or the fingerless variety are also another great option if you want to veer away from the traditional gloves that cover the entire hands and fingers. You can also go for Christmas gloves or Irish-designed shamrock gloves to throw in a country flair.
Slipper boots
Slipper boots are perfect for delicate feet that need warmth and protection from the elements during the winter season. These unisex merino wool green slippers are our favourite. Our boots come in a variety of colours and styles, so you're sure to find the perfect pair for your loved one.
If your woman wants something to keep her feet cosy, boots are a great choice. And if you're worried about what to get her as a present, why not consider buying her a voucher so she can choose the right colour for her? This is something that she'll definitely appreciate.
Wool socks
Wool socks are a classic Irish Christmas present, and they're a great way to keep your feet warm and toasty. They're also a great gift for anyone who loves Irish culture. Our current style lineup is made from the finest wool material that is biodegradable and ethically sourced. They also come in different colours to suit your woman's taste.
Some people prefer to buy wool socks in bulk so that they can give them as gifts to many people. Others buy them as individual gifts so that each person can choose their own favourite colour and style. Wool socks are a versatile present that will be appreciated by everyone who receives them. These Irish Aran Walking Yellow Socks are our personal favourite, and so does the Luxury Ladies Cashmere Blend Socks- Bright Red.