From Ireland with Love: 10 Handpicked Handbags for a Distinctive Irish Look
The bag of a woman initially says a lot more about her personality than you might think. At first sight, it may seem like a bag with a nice pattern or a matching accessory to the outfit. But the bag offers the woman a lot of confidence and security.
With humble origins back in the 19th century, traditional Irish handbags signified a form of self-expression and portable canvases showing the maker's craftsmanship. People began carrying drawstring pouches embellished with ornate embroidery and jewelry.
Nowadays, bags are made from a wide range of materials. Both men and women carry their bags over their shoulders, in their hands or under their arms to store all their necessities of modern life. The modern woman is busy with her career unlike in the past when a woman was viewed as a domestic worker-at this time she hardly needed a handbag due to her confinement.
Handbags are more than just a functional accessory – they are a fashion statement, a symbol of style and sophistication, and often a reflection of one's personality.
With the growing demand for personalized fashion, the European handbags market is poised to grow at a CAGR of 5.25% by 2027. What does this signify? There is a need for a constant supply to meet the current market demand.
Bags that feel like they've already lived a lifetime is a common theme resonating among designers, and you can see them come to life on everything from soft crinkled leather totes to slouchy shoulder bags.
Every woman needs a handbag to compliment their look. Right? In this blog, we will explore 10 handbags handpicked just for you (or as the perfect Irish gift for that special someone in your life) to give that distinctive look you (or they) deserve. Let's dig in!
Stylish Irish Handbags Crafted with Love
With handbags available in all shapes and sizes, choosing which one to go for - especially online - is not easy, and we can all admit to having great misses with this art a couple of times.
The below recommended Irish handbags from our stunning collection will get you sorted, whether traveling or simply out and about during your daily routine.
1. The Emily Irish Tweed Bag
Made in Killarney by Mucros Weavers, the Emily Irish tweed bag is an example of fashion and class in design. It features a multicolored plaid pattern with bright colors. Although it features short straps, a long strap is also included. It also features zip pockets and secure zip fastening to protect your belongings.
It's an ideal bag that can fit a wide range of most of the necessities needed to carry around. Priced at $104.90, this is a great option to begin your Irish bag collection.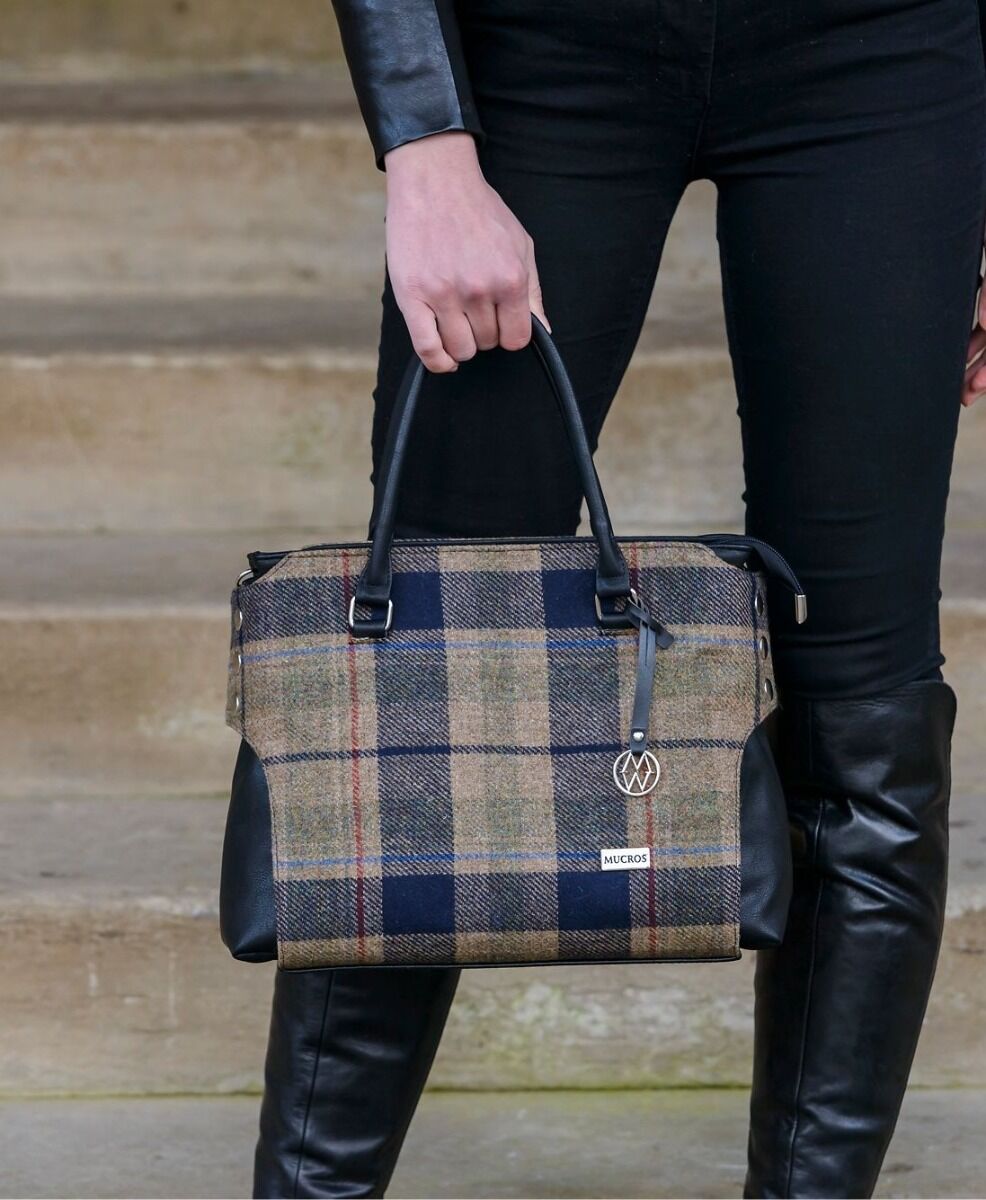 2. Tweed and Leather Satchel Bag
Who doesn't need a classic shoulder bag? Truthfully, it is a style that never goes away. And if you're the kind that wishes to lighten their load, this satchel handbag would be a good match for you.
It is beautifully made and practically built so it marries style and functionality perfectly. Inside there is one large stand-alone pocket, a phone pocket and a pen pocket so is ideal for storing and organizing all your items safely. There is a handy handle on top and the strap adjusts to a maximum of 50 inches in length.
This is a long-lasting beautiful piece you wouldn't want to miss in your wardrobe. Grab one at $94.40 from our shop.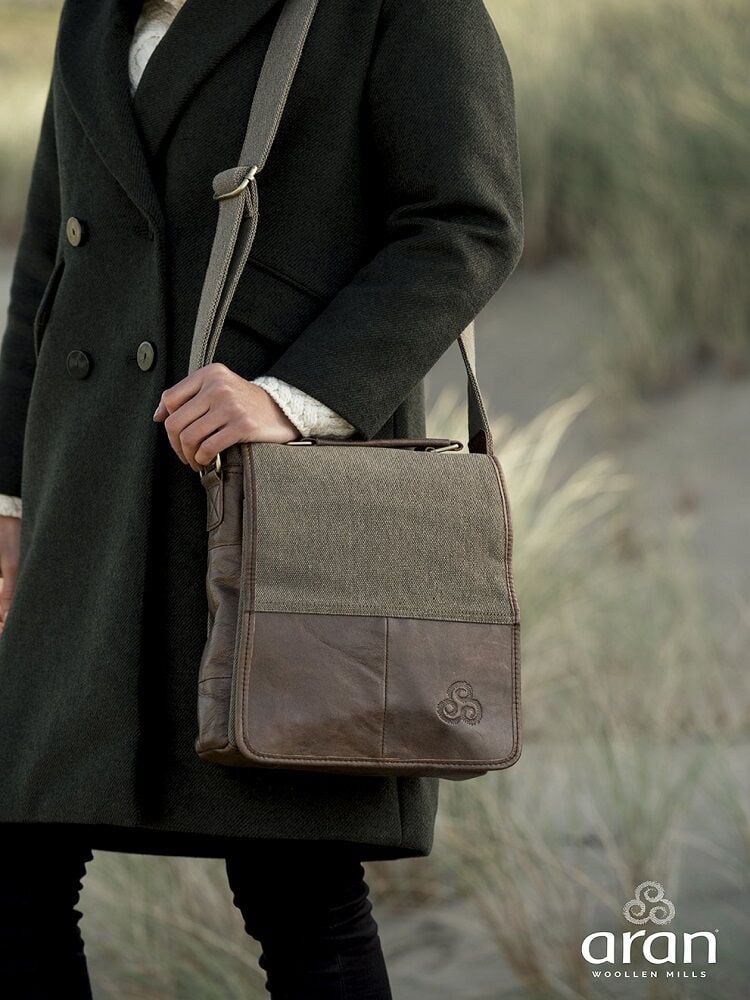 3. Aran Knit and Leather Bag
If you are the type that enjoys the fashionable combination of luxury and quality, then this Aran Knit and Leather Bag is for you.
Made in Ireland, this stunning handbag features merino wool Aran stitching and leather features and binding, making it one of the more practical and elegant Irish leather bags on the market.
It's a unique-elegant everyday bag that can be worn with any outfit. Its design portrays Irish heritage bringing out sophistication and style in modern fashion. It's readily available, currently retailing at just $52.40.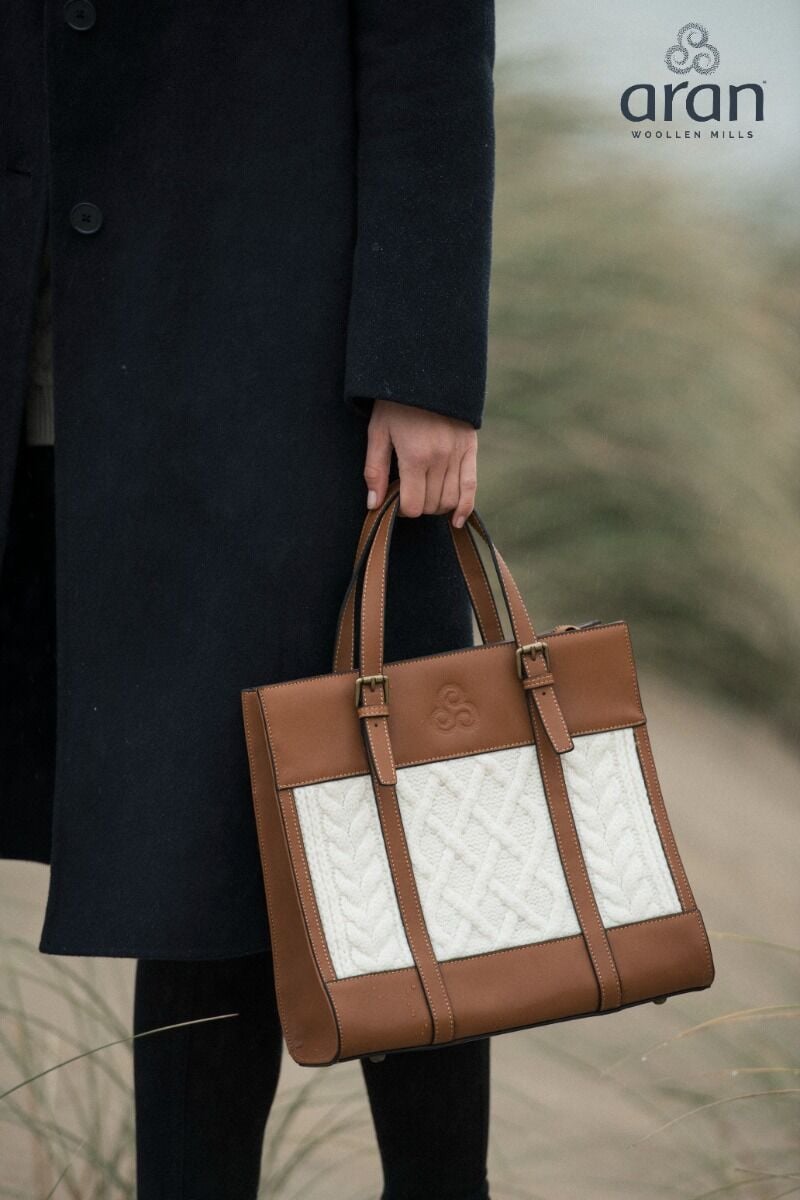 4. Kerry Tweed Satchel Bag
A handbag, just like your clothing, must have a comfort level that you're happy with. One can either use their hand or shoulder while carrying Kerry Tweed Satchel Bag.
Comfort is added by way of a wide shoulder/cross-body strap and zip detail pockets for your safety. Its size offers the perfect fit for tablets, phones, and keys.
It's easy to reach while out and about. For a $80.75 investment, you make this bag a staple piece in your wardrobe.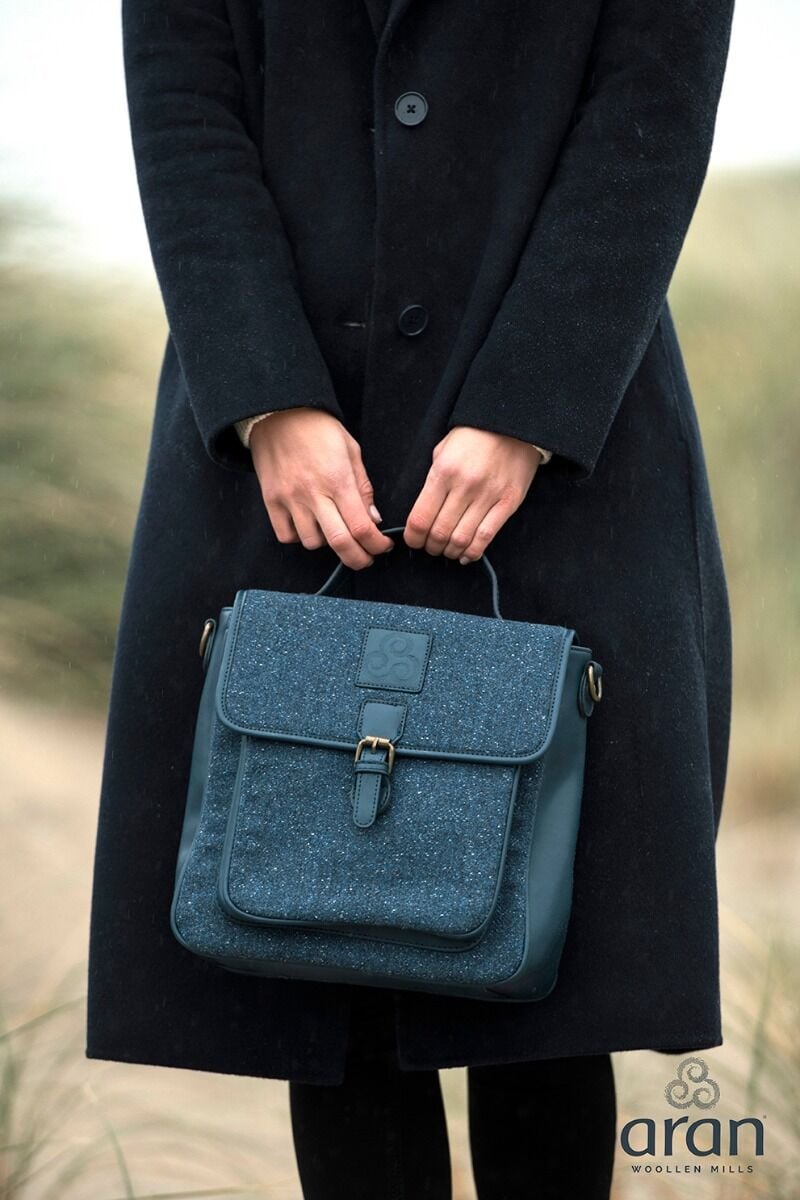 5. Mucros Weavers Tweed Wallet Grey Herringbone
You could be the type that likes to walk hands-free yet carry along your necessities. This expertly finished purse has a detachable leather wrist strap, which allows you to carry the wallet in lieu of a purse while keeping your hands free.
Mucros Weavers Tweed Wallet Grey Herringbone is a stunning wool and genuine leather wallet from Mucros Weavers made from 100% wool tweed and features a beautiful herringbone pattern throughout. It has plenty of storage with twelve card pockets, two pockets, and a zippered coin pocket dividing the main space into two
It is also available in several colorful Mucros tweeds to match the existing collection of Irish handbags and hats. Are you the less accessorized type? For just $62.90, this bag becomes part of you.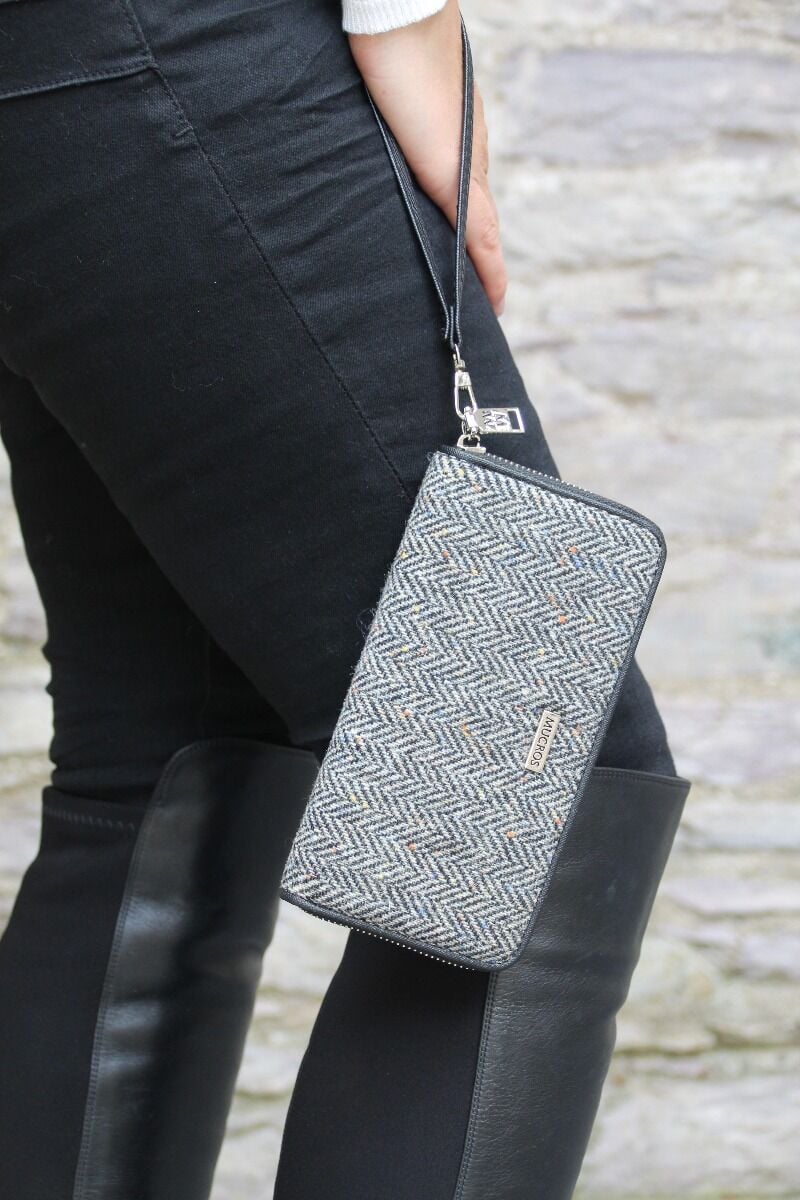 6. Green Tweed Herringbone and Leather Irish Mini Handbag
For keeping things minimal and simple, this mini handbag serves the purpose. It is worn over the shoulder or cross body while featuring comfort and security double zip back and inside, with flap leather front.
It's a beautiful and practical everyday shoulder bag, made with genuine tweed and soft leather. This bag is priced at $104.90,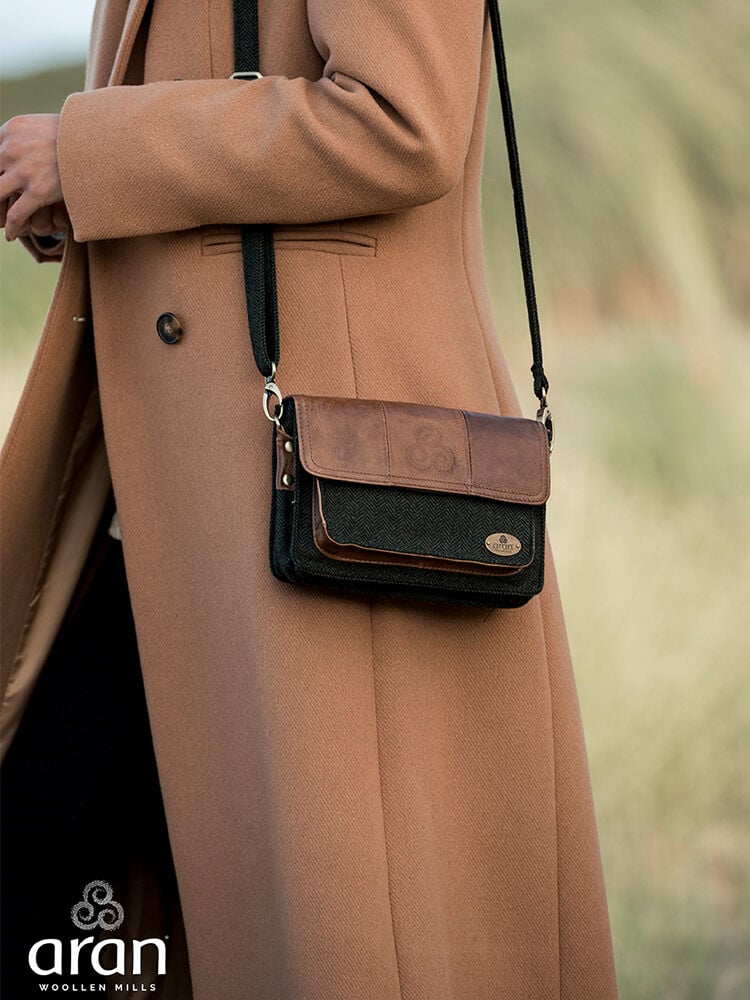 7. Traditional Celtic Bag
If you are interested in the ancient times of the Celts, you will surely like our beautiful traditional Celtic bag.
The Celts are common ancestors of most Europeans, and their stylish, timeless designs are world-renowned.
Celtic bags are made from high-quality leather and inspired by historical originals. They are hand-made from quality kinds of leather. They usually are belt bags with loops where one has to thread the belt through these loops.
Perhaps the most sought-after quality of a luxury handbag is that it is timeless. This leather crossbody bag does not go out of style and hence remains functional, and fashionable. Grab one today at the sale price $52.40, down from $104.90 while stocks last.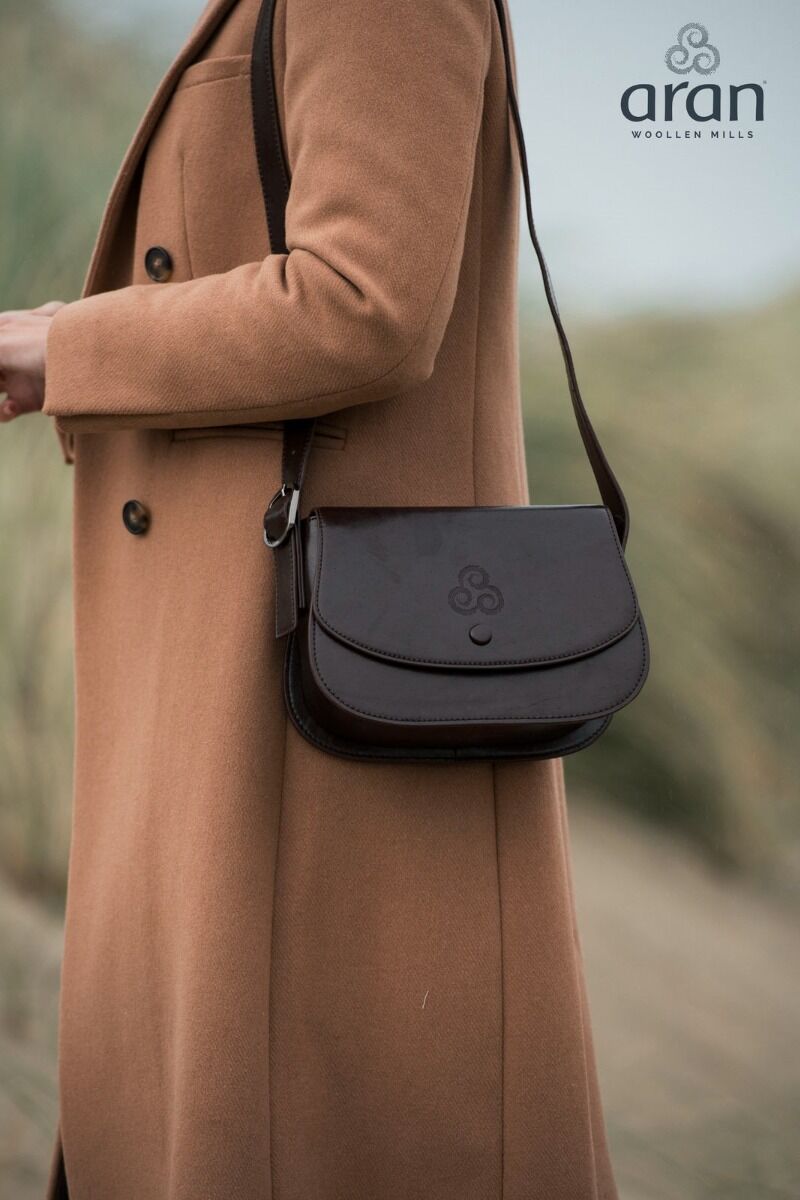 8. Irish Celtic Tote Bag
This classy leather tote bag is crafted with a beautiful pattern of tweed wool with authentic leather to accent. With lots of roomy space, this bag is quite exceptional and convenient for those on the move. If you're looking for a traditional Irish accessory, look no further! It will aid you to accessorize in classic Celtic style for just $52.49.
9. Irish Celtic Doctor Bag
The unique structured frame of this Irish Celtic Doctor Bag allows it to open widely.
Handy for doctors in an emergency, certainly, but also pretty useful when you need to arrange your necessities on the go. It's stylish and incredibly well-made for safety measures, retailing at just $52.49.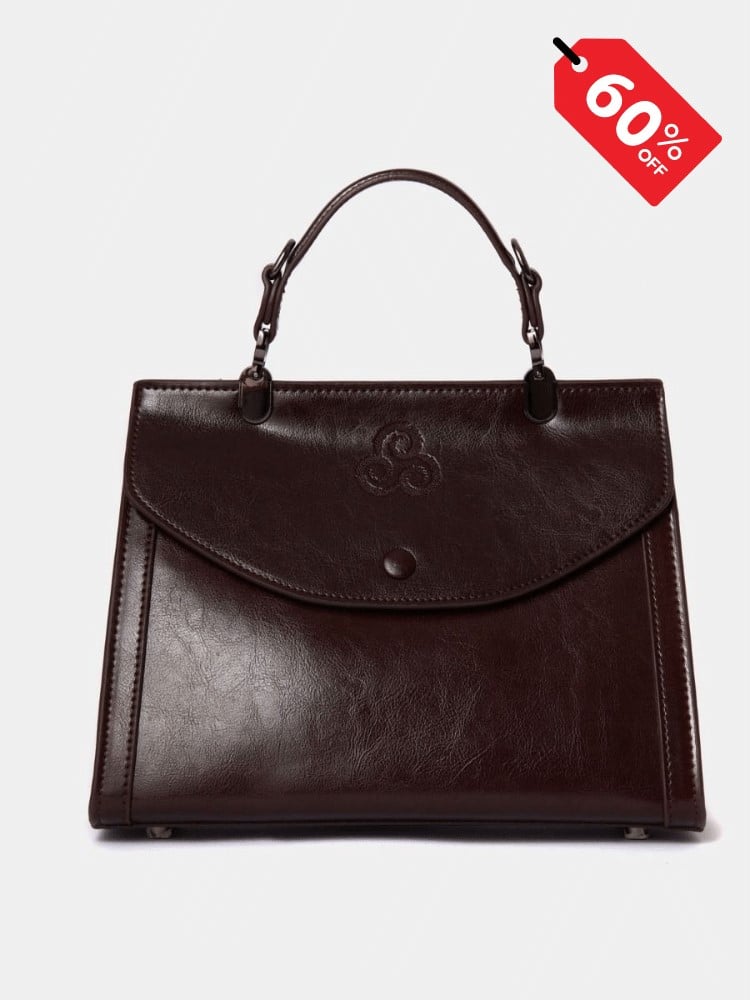 10. Kerry Tweed Handbag
Kerry Tweed Handbag is the perfect accessory to compliment your wardrobe. It has a triskelion symbol on the front of the bag and an adjustable shoulder strap, so it's both eye-catching and useful.
The bag has a zip-top, two open inside pockets, a zip inside pocket, and a zip pocket at the back, which gives enough room and functional usage.
It's perfect for personal use or to give to a loved one as a gift from Ireland at only $87.05.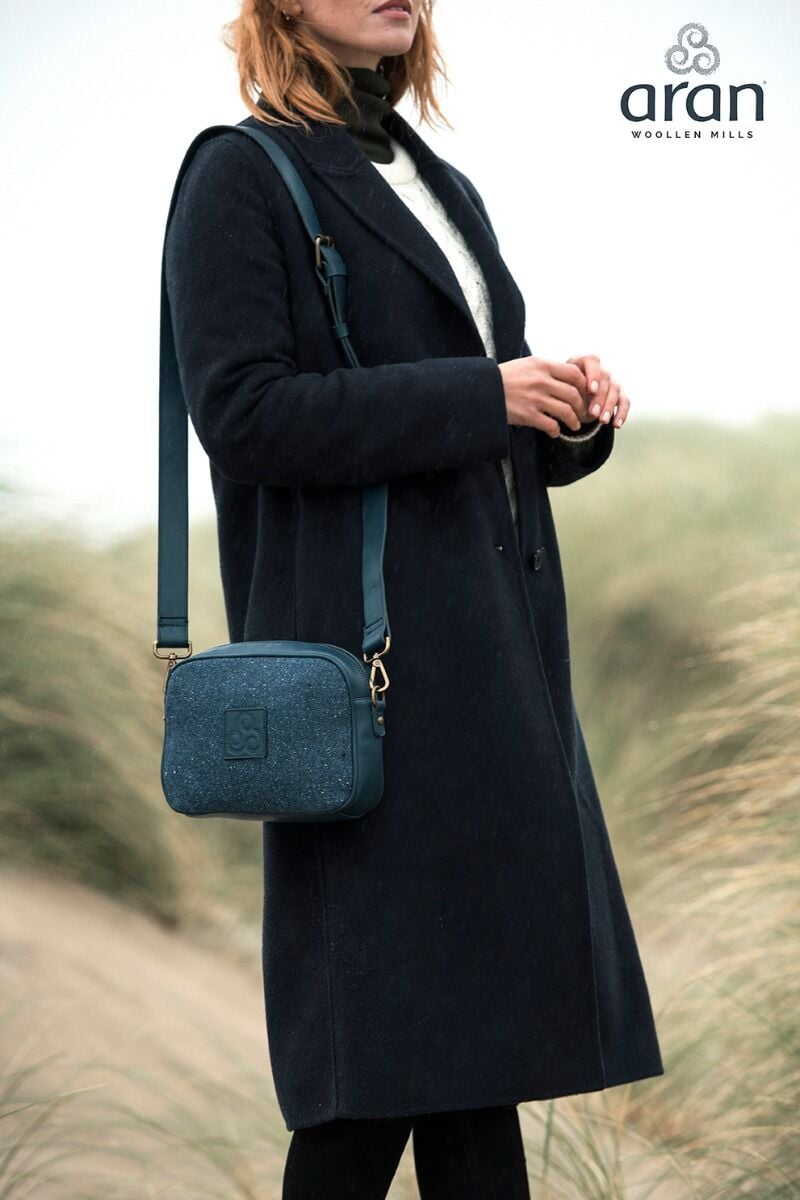 Tips for Choosing a Comfortable and Stylish Handbag
All our handbags are made in Ireland. They are eco-friendly creations, crafted to have a minimal footprint on the environment and are made from natural fibers like organic cotton.
Not every handbag, however, will be fit for your daily need. One is required to choose a bag that compliments the look of the day. The trick is finding the one that fits your situation best because we all tend to shine differently.
Size, closure, color, and materials are all critical factors to consider when choosing a bag. Pay attention not just to colors, but to the aspects of the bag as well, specifically metallic details or a chain strap, and make sure your jewelry matches.
So, you should take the time to evaluate these aspects, especially when it comes to investing in a quality piece that will last you for a lifetime.
Bag Yourself a Stylish Piece of Irish Heritage from the Sweater Shop
As the world becomes increasingly conscious of its choices and their impact, this fusion of high fashion and responsibility is poised to become the norm rather than the exception. Our handbags represent the perfect blend of luxury, style, and ethical, sustainable fashion.
Are you looking to add a bag to your collection or even on the hunt for high-quality and well-made handbags? If you're looking for the perfect gift or keen to treat yourself, browse our beautiful line of smart, handbags and many other authentic Irish products.
We are renowned for our commitment to quality at a reasonable price throughout our supply chain, outstanding customer service and a keen eye for both style and modern contemporary fashion.
You may also want to tell us which bag has caught your eye. If there is a handbag that you love and could be missing from the list above, kindly contact us today and let the conversation roll!