Embrace Sweater Weather in Style with 10 Timeless His and Hers Sweaters
When the chilly breeze of fall and winter rolls in, there's nothing better than wrapping yourself in a soft, cozy sweater. Sweater weather is a beloved season for fashion enthusiasts, offering a chance to showcase stylish and comfortable outfits.
Whether you're a fan of The Neighbourhood's mildly meloncholy song or not, we'd never hold back on telling you about something 'cause it's too cold!
Instead, we're claiming the term for ourselves given our expertise in the field (of sweaters, not songwriting, unfortunately) we know a thing or two about sweater weather too!
A good, solid sweater is one of the most common wardrobe items for both men and women, so it's perhaps surprising that it has only been worn as fashion since the 1950s onwards in the US and globally, beyond the Emerald Isle. From then on, the sweater has taken many styles and been used by designers to make statements that go beyond the need for warmth and comfort.
Whether you're pairing a button-up cardigan over your favorite dress or wearing a chunky cable knit sweater with denim pants, it's all about showcasing your individual style. Don't be afraid of prints or color, just because it's cold, it doesn't mean you have to look drab! Sweaters are the ultimate cold-weather staple but can look flat if incorrectly styled.
In this guide, we'll reference the traditional Irish clothing item we know best - Aran sweaters. As well as being closest to our hearts from all of our inventory, they represent the perfect choice for winter weather, made of 100% wool, which makes them extremely warm and durable.
We're naturally a little biased when it comes to covering this topic but on reading this, we hope you'll agree that Aran sweaters are also very stylish and can be dressed up or down depending on the occasion!
Below are ten well-selected timeless sweater weather designs for both Him and Her, giving a little something for everyone to choose from (we also have kids ranges too if you're interested).
One thing's for certain, regardless of who's wearing them (or their musical taste) - our wide collection of sweaters never disappoints, so let's take a look at how best to prepare for sweater weather in style!
5 Timeless Sweaters for Him
Dromore Aran Troyer Sweater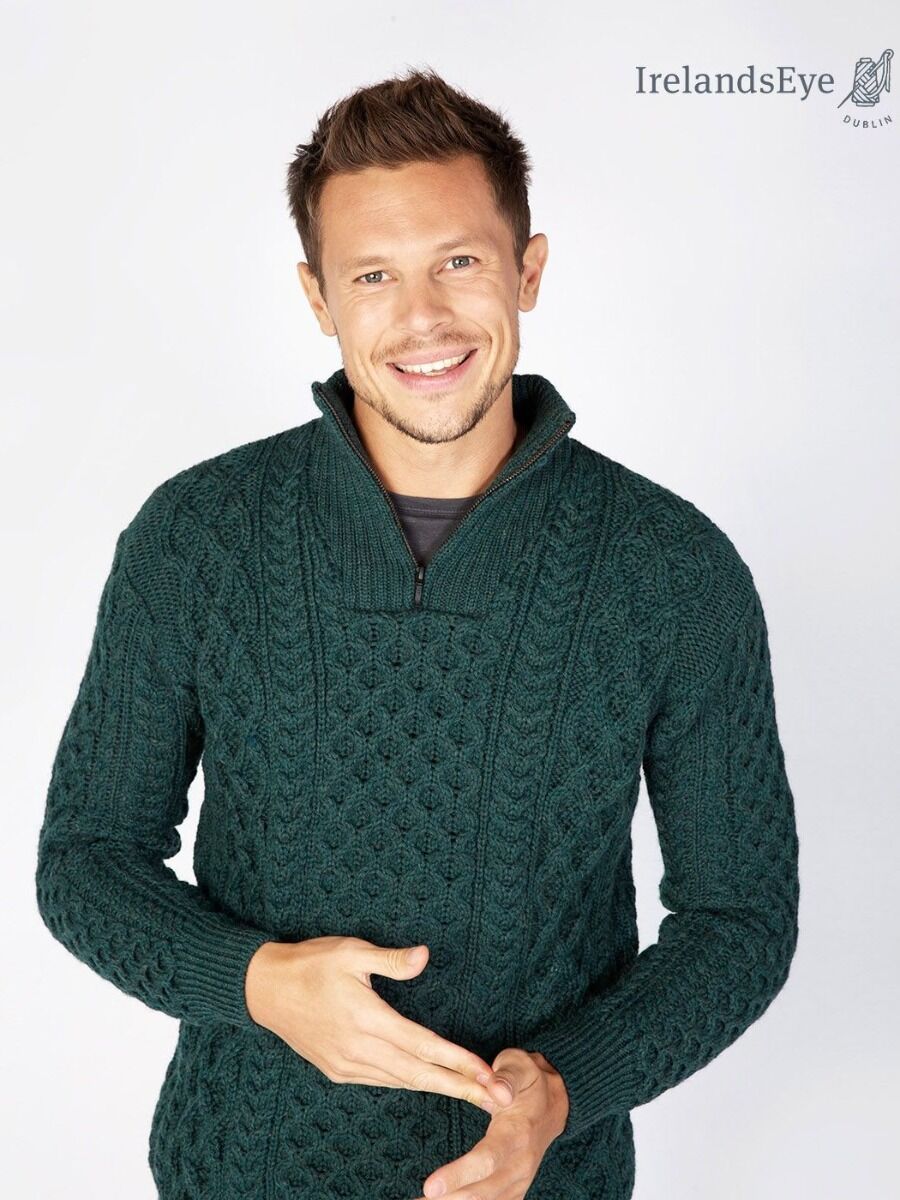 Are you looking for a garment that will complete a look, and can easily be taken off? The collared sweater is the one for you. With the flat knit edges and rib-knit body, you will want to add this effortlessly chic piece to your everyday style.
Made of 100% wool, this sweater features the traditional Aran honeycomb and lattice cable stitches and a ribbed zip-high neck. The Sweater is a timeless classic, featuring a simple rib stitch and zip neck collar for added warmth and comfort. It pairs great with jeans for a more casual look, or you could dress it up with a pair of custom slacks.
Mens Fisherman Merino Wool Sweater Natural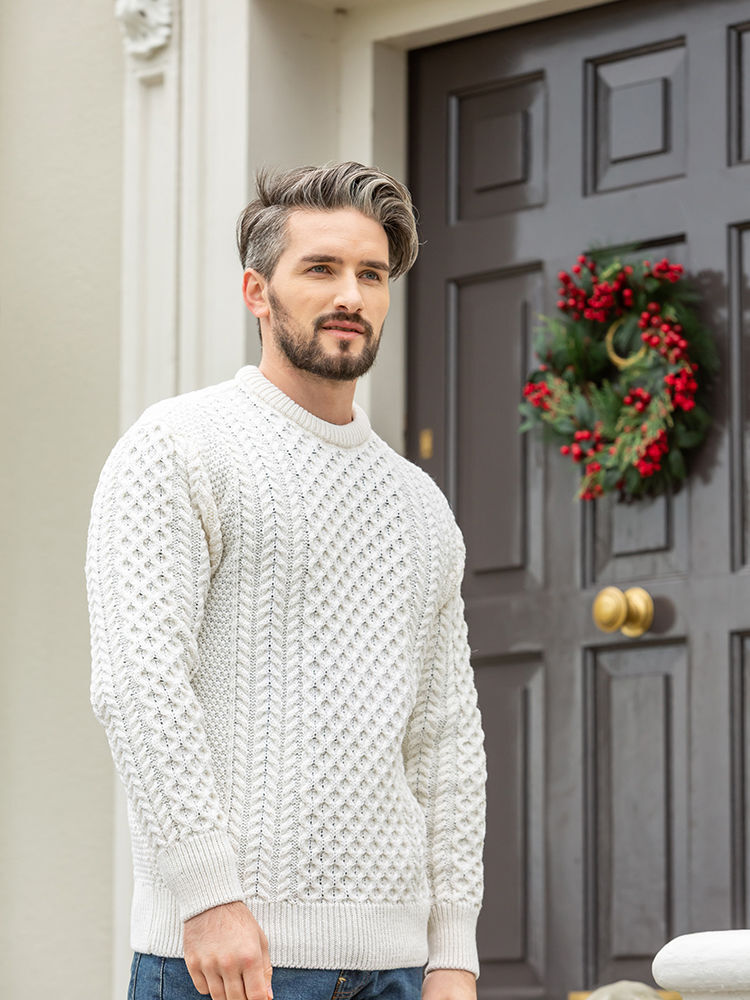 The fisherman's wool sweater is knitted using the traditional rib stitch. The rib is knitted using a large stitch pattern and therefore this garment is exceptionally warm. In the past, it was worn by fishermen while out on the rough seas.
We suggest wearing it with one of our soft wool scarves and an Irish cap to keep you toasty and stylish for the Winter!
Aran Shawl Neck Sweater Denim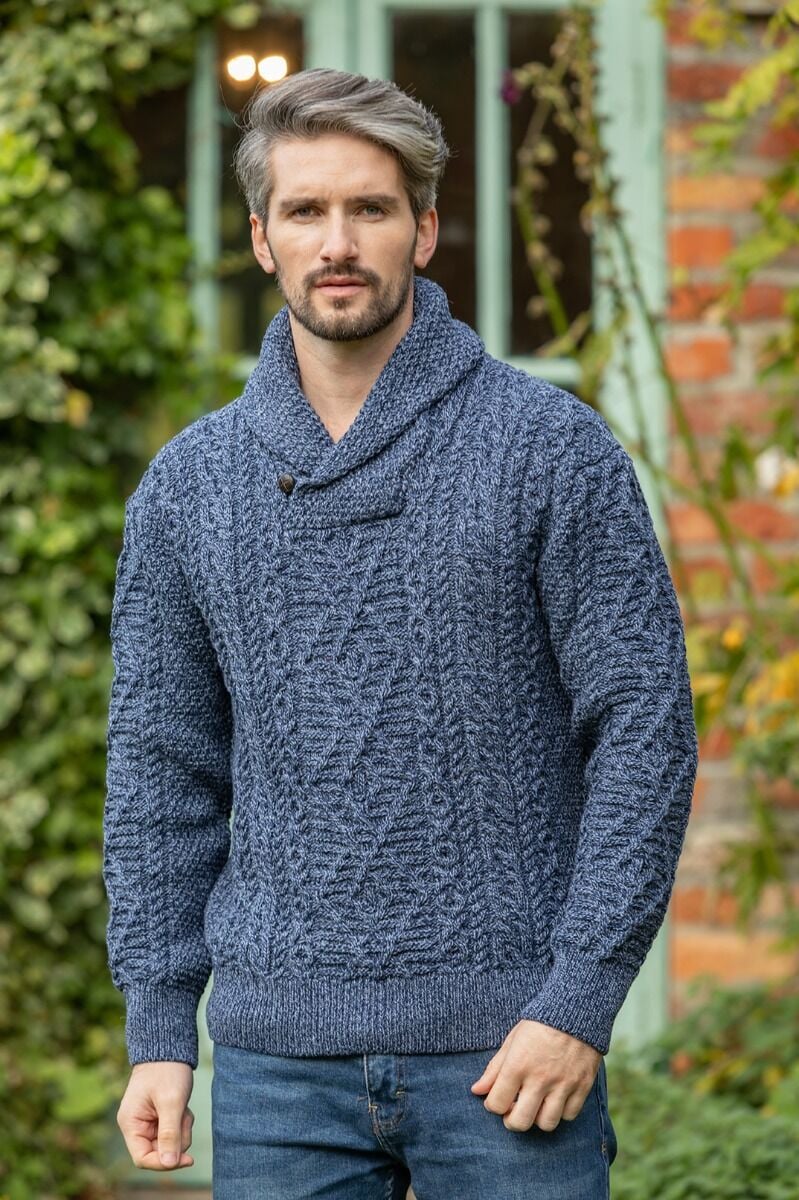 This Aran shawl is knit using traditional knitting patterns from Ireland. The "V" neck shawl collar is the main feature of this Irish sweater. It is completed with the use of an old-style button closure. The diamond knitting pattern along the body is said to represent wealth and success.
Made from 100% Soft Merino Wool, it comes in different vibrant colors that will lighten up your occasion.
Men's Full Zip Lined Cardigan Navy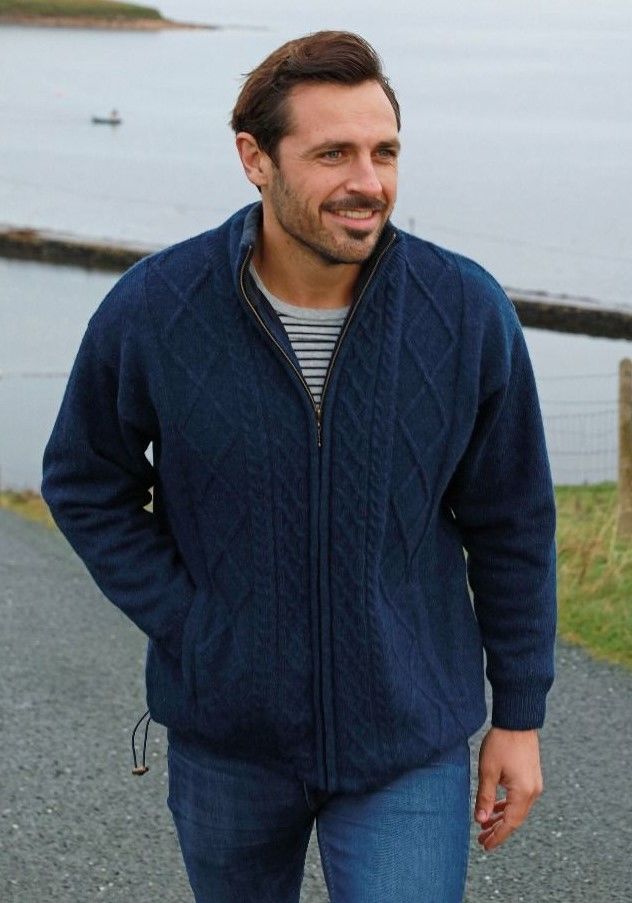 This timeless town and the country piece is a long-time favorite. Its classic design consists of a midweight men's zipped cardigan with intricate cable and diamond stitches on the front. Fully lined (including sleeves) with cotton jersey for comfort, it features set-in sleeves, 2 side pockets, and a cozy polyester fleece neck lining.
For customizable fit, a tubular hem contains an adjustable elasticated toggle pull, complete with antique brass-colored toggles and a metal zip, embossed with an AWM logo. The toggle elastic is dyed to match the yarn color, while a single 1x1 rib finishes the collar and cuffs.
The navy men's cardigan is lined with windproof fabric and it is 100% wool on the outside of the cardigan making it perfect for someone who loves warmth but may be sensitive to wool being directly on their skin.
Mens V Neck Cardigan Army Green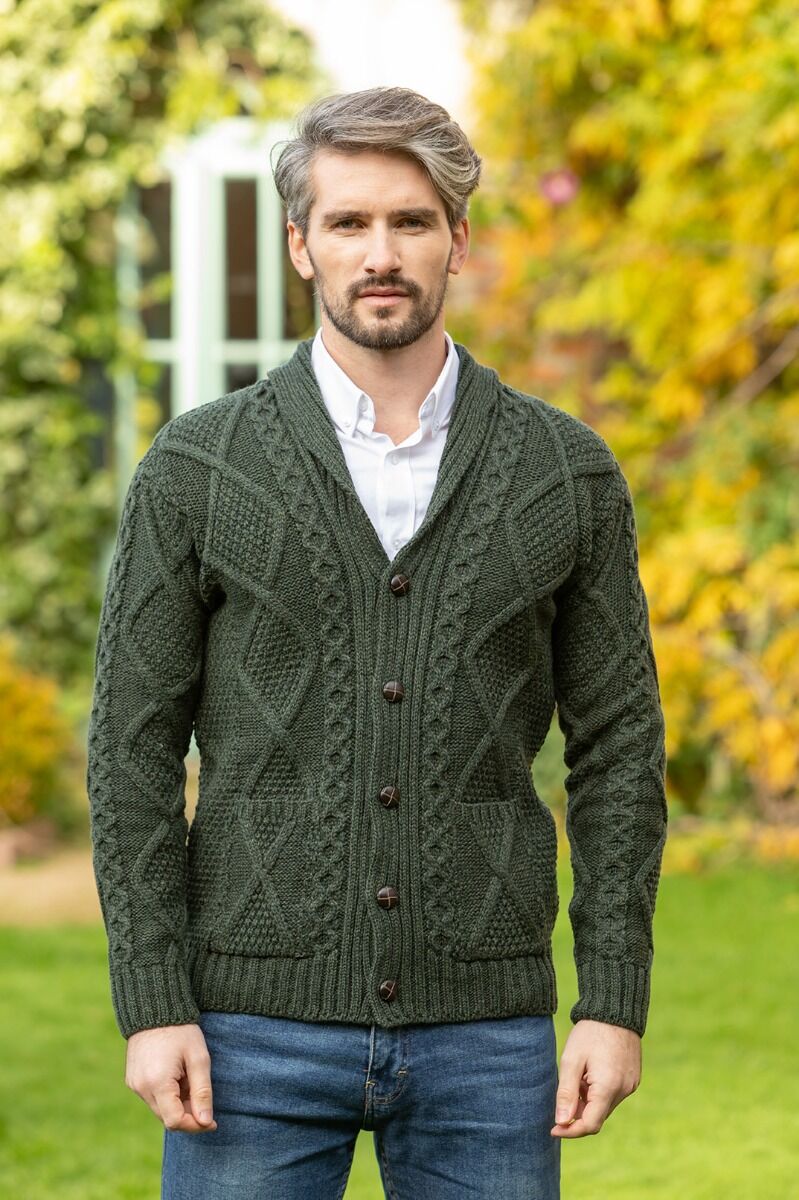 Look your best in this V-neck Aran Cardigan - Army green, crafted with 100% Merino wool. This stylish cardigan features a shawl collar and traditional football buttons, along with two classic Irish Aran stitches - the Cable Stitch and the Open Diamond Stitch.
Guaranteed to keep you warm, its lightness and comfort make it the perfect choice for any occasion. Soft, stylish and available in different sizes with traditional leather buttons.
Now that's the men covered (both literally and figuratively), let's take a look at some of the very best picks for women to consider as sweater weather descends upon us!
5 Timeless Sweaters for Her
For luxurious and cultural fashion, shop across our collection of women's Irish sweaters, cardigans, jumpers and knitted accessories.
You can always wear them with one of our gorgeous Irish scarves to keep the cold weather at bay.
Cable Knit Side Zip Cardigan Royal Blue

This cardigan features a side zip with a Celtic design zip-pull. It has practical side pockets to hold your essentials safely in position as well as for extra comfort. Are you in search of style as well as considering warmth for the fall season? Worry not, this sweater weather has considered all that.
Made in Ireland of 100% soft Merino Wool, it comes with a signed & stamped Certificate of Authenticity, keeping you unique and classy.
Clover Cropped Cardigan Sunflower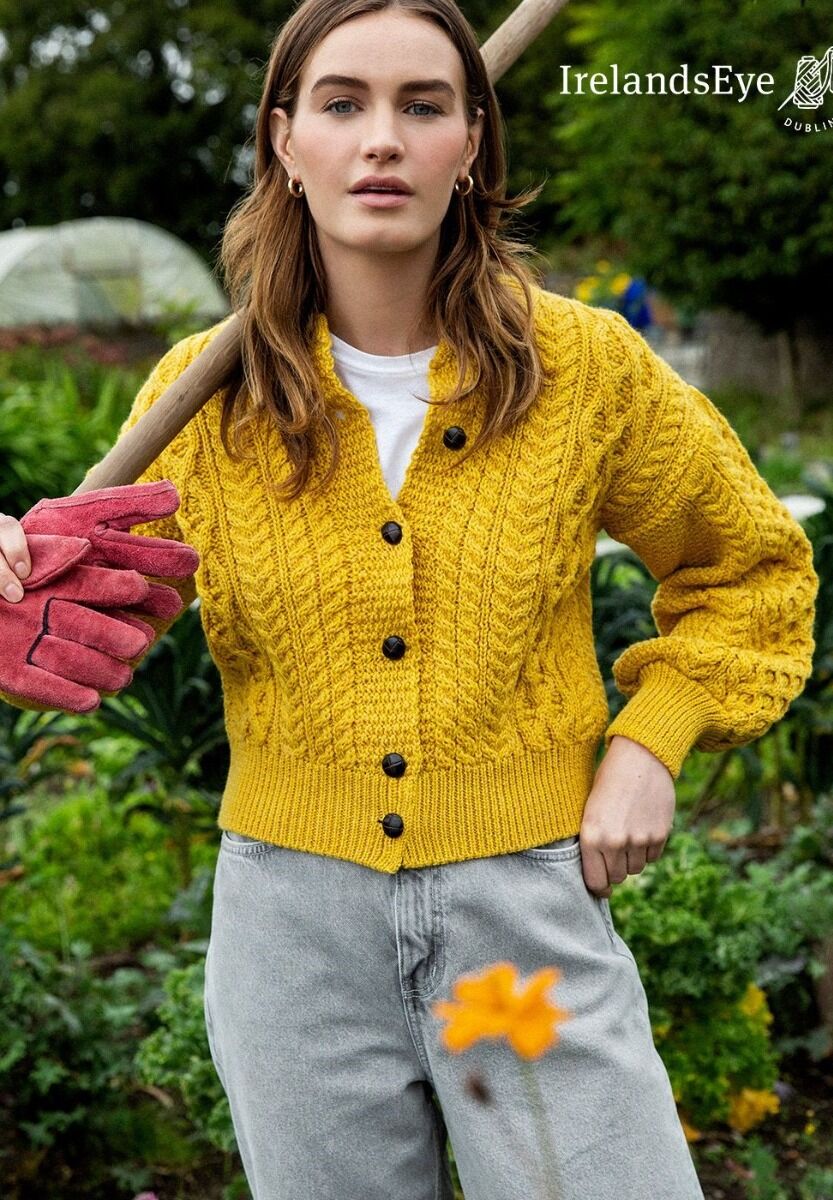 You can never go wrong with a classic cable-knit sweater. The style is usually thick and warm and always looks chic during the cooler months. This one in particular is mostly made of merino wool ensuring sufficient coziness.
It features a 6-button cardigan with generous, lantern sleeves and an Aran pattern of gentle moss, honeycomb and cable stitches. Please note that button colour may vary slightly from image.
Merino Wool & Cashmere High Neck Silver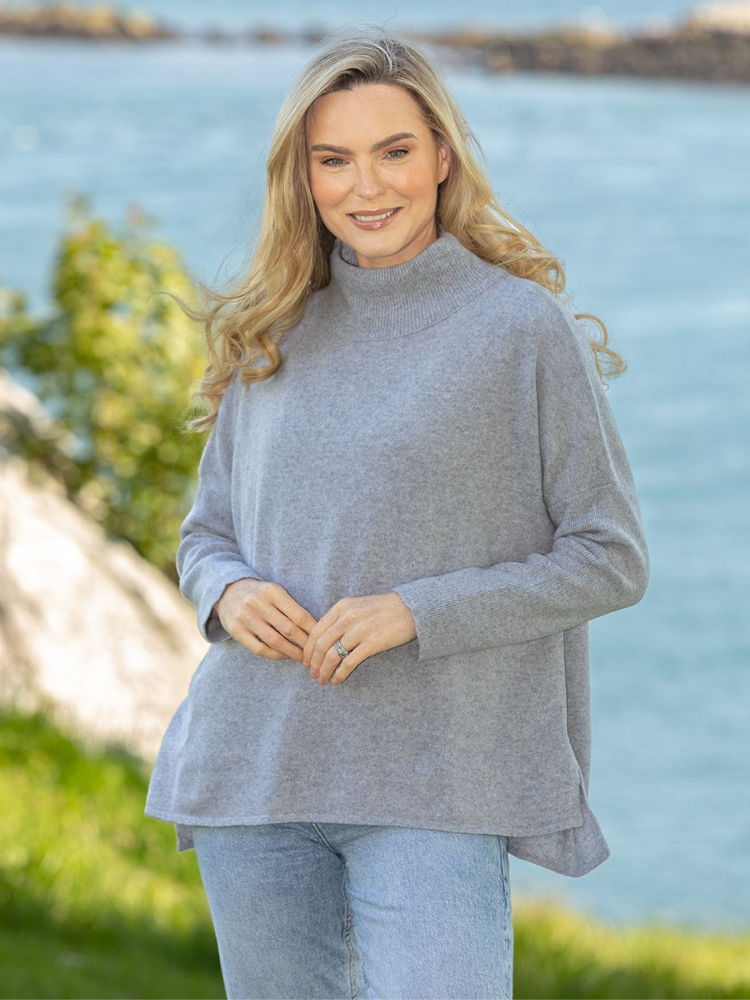 A sweater only becomes splurge-worthy when it offers a unique cut and design without being a momentary trend piece. For every minimalist who wants a mildly eye-catching detail, the flowy fitting around the waist area on this sweater gives you just enough admiration without being overdone. This cozy sweater features long sleeves for extra warmth and is perfect for wearing on its own on milder days or layering up with your warm winter coats.
The sweater is lightweight, making it ideal for most of the occasions you may think of. It comes in different stunning colors from mustard, royal white, graphite, silver and denim to choose from.
Trellis Crop Vest Bramble Red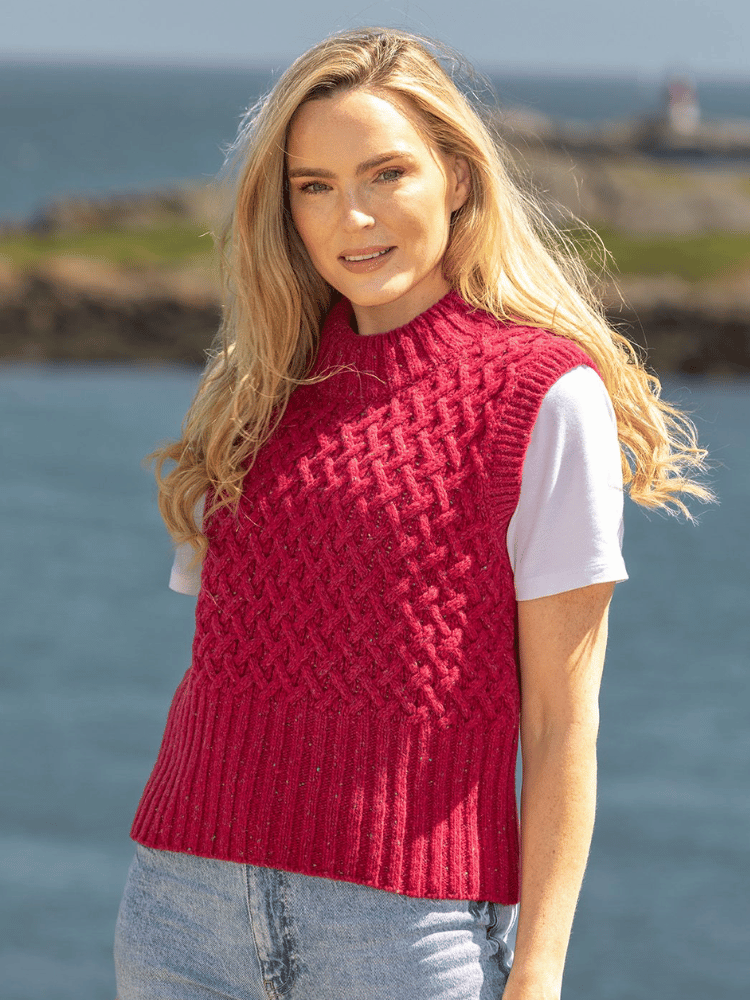 Featuring a cable-knit pattern on the front, this cropped vest is a modern, boxy garment with chunky ribbed trims. Depending on how you style it, it can go from a casual addition to your athleisure ensemble or a preppy addition to your skirt and loafers.
Needless to say, there's a lot that can be done with this sweater vest now that you have a wide variety to choose from, right from red, green, blue and chalk.
Women's Traditional Fisherman Sweater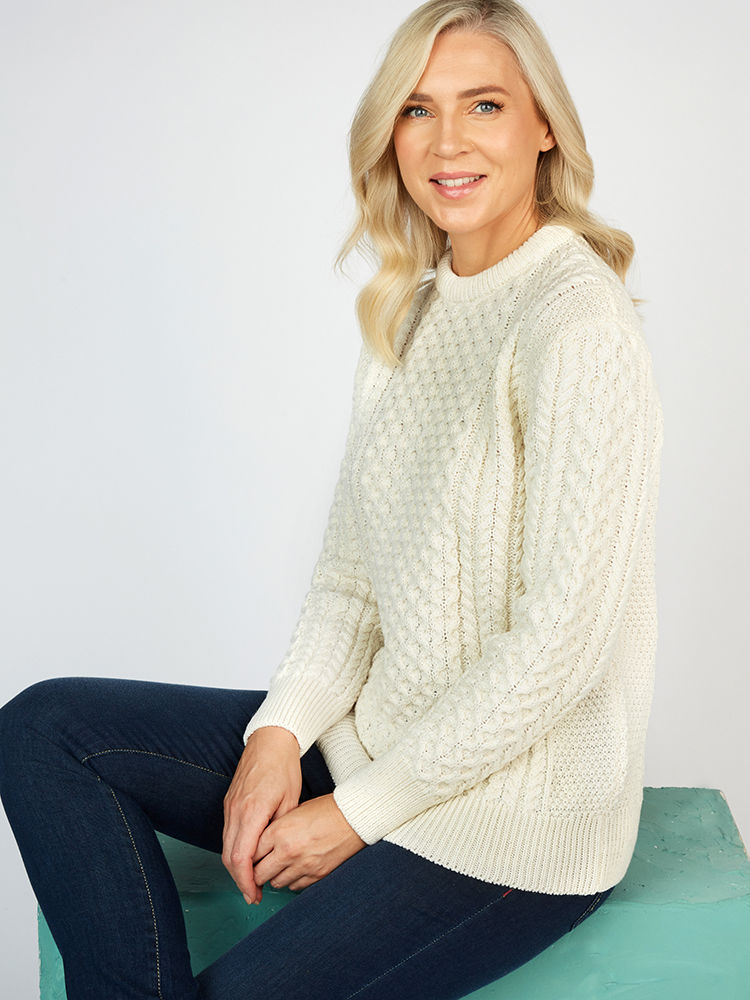 When it comes to cable knit sweaters, most people look for that vintage, borrowed-from-your-father look. This piece from Co. Dublin by Ireland's Eye Knitwear delivers just that. And the best part? It comes in 3 different colors, neutral, red and blue 100% merino wool.
It is an ideal choice for fashionists who wish to maintain tradition as well as rock in style.
Oversized Shawl Collar Sweater Ice Blue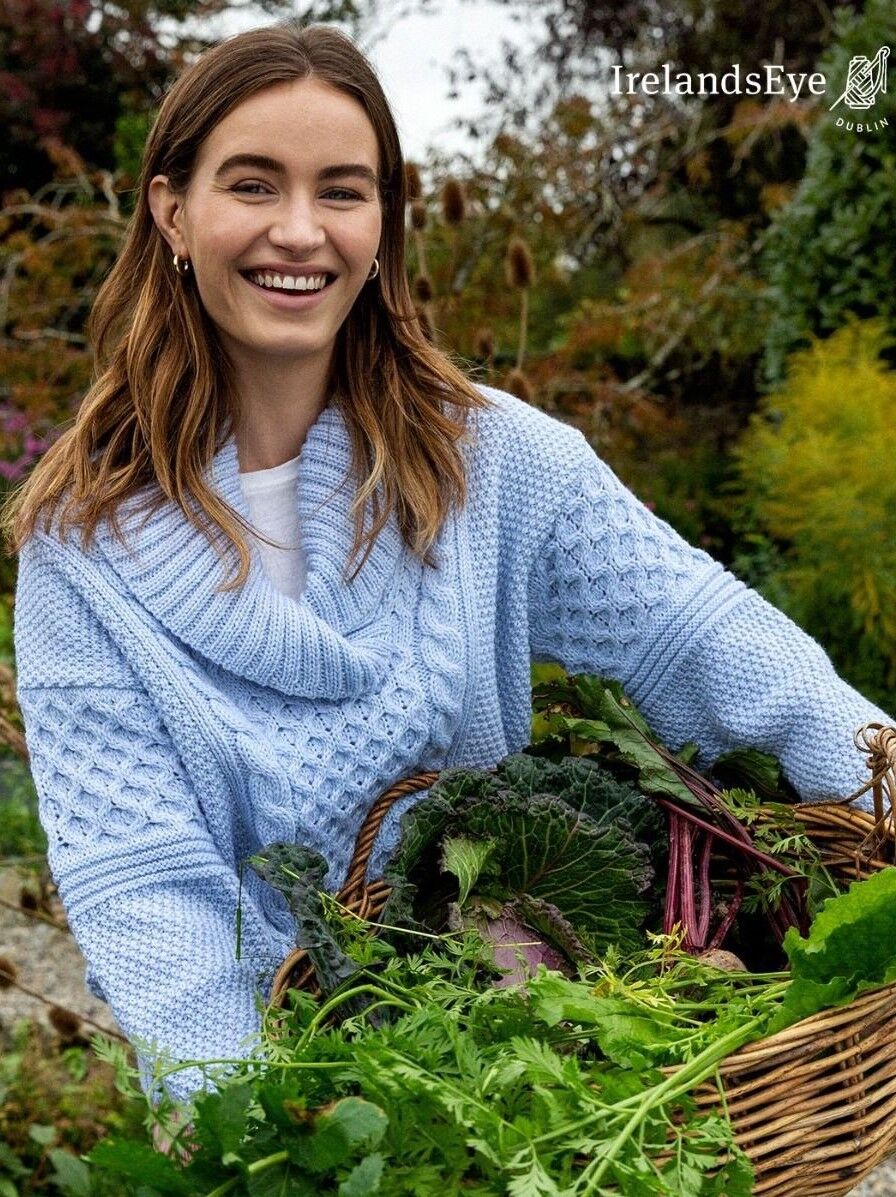 If you are the type that loves to go all out, then this oversized shawl will definitely blow you up. This sweater has a wonderful stretch and thickness to it that actually keeps you warm. It comes in an oversized fit, which is ideal for layering.
Dropped shoulders and shawl-like neck make it appear relaxed and effortless. It's available in a variety of vibrant colors to cheer you up - the perfect fall sweater, if we may so so ourselves.
How to Style Yourself for Sweater Weather
Having sampled our sweater weather collections above, it would be in order to know how you can mix and match for that perfect look by following these tips:
1. Accessorize Thoughtfully
Bring some personality to a plain sweater with the right accessories. For ladies, accent a turtleneck or a deep V-neck with a chunky statement necklace, bold earrings, or a silk neck scarf. Belt an oversized sweater with a thick, embossed cumberbund to add shape.
2. Balance Your Outfit
It's important to plan your outfit around the shape of your sweater, keeping in mind that the pieces should balance each other properly. Pair a chunky oversized sweater with form-fitting bottoms such as pencil skirts or skinny jeans. Style a fitted sweater like a ribbed knit turtleneck with looser bottoms like straight-leg jeans or corduroys.
3. Try a Casual Look
Curate a casual sweater outfit that still showcases your personality. Classic styles like Fair Isle or cable-knit sweaters complement modern, edgy pieces like faux leather or patterned leggings. Style an all-black classic look with a fitted sweater, structured blazer, distressed black denim, and classic black penny loafers.
4. Try Layering
Add warmth to your sweater outfit with a couple of chic layers. Style a chunky knit cardigan over a fitted, long-sleeved dress. Layer a cashmere V-neck over a T-shirt or button-down. Wear a suede or faux fur vest over a slouchy sweater for a trendy look.
5. Wear a Sweater Dress
Cinch the waist of a long crewneck sweater to turn it into a dress. Wear this style with white sneakers, over-the-knee boots, or booties with statement hardware.
Care Advice for the Embracing the Sweater Weather
Take maximum care of your aran sweater garment to keep its value and longevity. It's advisable that all of our sweaters and wool garments are gently hand-washed with a mild wool detergent, reshaped by hand and dried flat. If soaked for too long, the wool may shrink and become hard.
In addition, some other sweaters can be dry cleaned though one has to carefully check the care label first. Never wash your sweater using a machine or tumble dry your sweater or any other wool product. A rule of thumb is that once taken care of, it can last you for generations.
Gear Up for Sweater Weather with a Piece of Timeless Aran from The Sweater Shop

As showcased above, our sweaters represent the perfect blend of luxury, style, ethical, and sustainable fashion.
Are you looking to add a sweater to your collection or even on the hunt for high-quality and well-made sweaters?
If in need of the perfect gift or are keen to treat yourself, browse our beautiful women's and men's sweaters and many other authentic Irish products.
We offer a wide selection of sweaters for purchase online and you can find various different sizes, colors, and designs on the website. You can even browse and purchase the products from the comfort of your own home.
We're renowned for our commitment to quality at a reasonable price throughout our supply chain, outstanding customer service and a keen eye for both style and modern contemporary fashion.
You may also want to tell us which sweater has caught your eye. If there is one that you love and could be missing from the list above, kindly contact us today and let the sweater weather conversation roll!