Unisex Merino Wool Green Marl Irish Sweater
Unisex Merino Wool Green Marl Irish Sweater
The history of the Aran sweater is fascinating, and this Green Marl sweater captures the essence of that history. This traditional sweater is a must—have for any Irish person worldwide. This stunning, quintessential sweater is made of 100% merino wool and promises comfort. It will keep you cool in the summer and warm in the winter.
Merino wool is antibacterial and absorbs sweat to keep you fresh all day and night. Wool also regulates temperature and humidity by capturing air within the fibres, creating a thermal barrier. Wool also has moisture—wicking properties to keep you dry day and night.
This sweater comes in various sizes from XS to XXL and is generally worn loose. Christened as the fisherman's sweater, it adorns Arans cable stitching for style and an additional shield from the cold. This green marl unisex sweater is an excellent choice if you want a subdued look. Its muted colour can be paired with dark denim jeans, a matching scarf and gloves.
It is also light and suits someone who lives in a hot climate but likes something comfortable and stylish to wear at night. Other features include:
A wide range of sizes for all.
Makes a great gift or souvenir.
Aran cable stitching adds a touch of elegance.
It is hypoallergenic and ideal for all skin types.
Thermoregulating properties for comfort in winter and summer.
Size Chart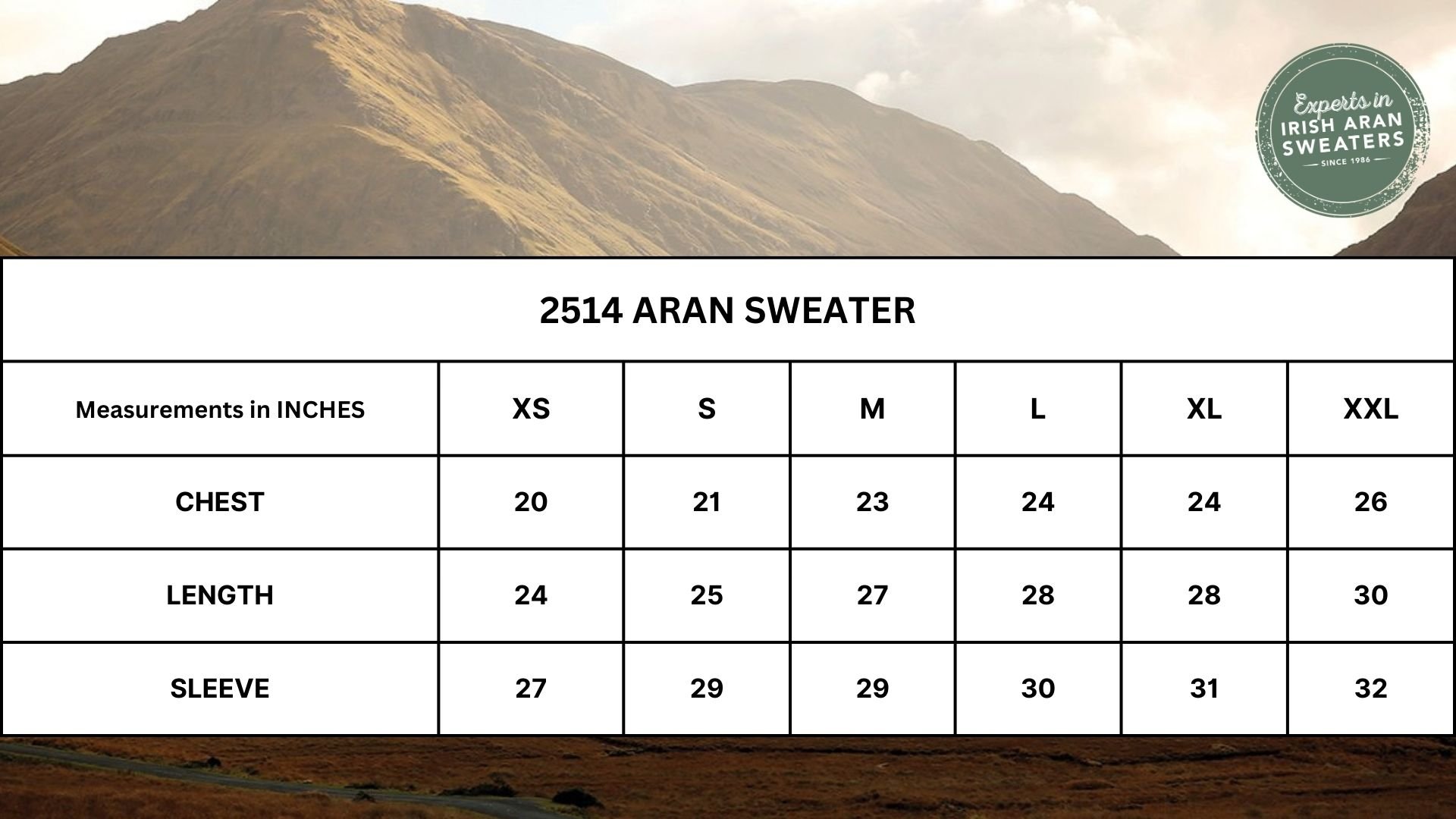 Wash Care
While our sweaters are a great choice, because they are warm and durable, proper care should be always taken to protect your garment. We recommend all of our sweaters and wool garments are gently hand washed with a mild wool detergent, reshaped by hand and dried flat. If soaked for too long, the wool may shrink and become hard.
Alternatively, most of our sweaters can also be dry cleaned but always check the care label first. Under no circumstances should you machine wash or tumble dry your sweater or any other wool product. Remember, when you give your sweater great care, it will last you for a long time.
Our Customers Rate This Product