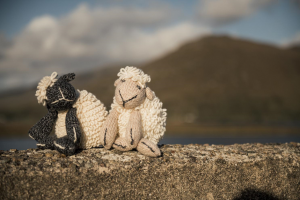 Are you in search of the perfect Irish knitwear item as a Christmas gift for your kids or grandkids? Now is high time for such a purchase since Christmas is just around the corner and it'd be wise to buy a gift well in advance to allow for increased holiday shipping times!
At the Sweater Shop, you'll find a variety of knitwear for children and adults alike, to view our full children's collection, please pay a visit to our catalog.
Below, we take a depper look at some of the finest examples of Irish knitwear that you can buy online from us this festive season!
Top Irish Knitwear Gifts for Children
This handknit merino cardigan is the perfect gift for younger kids. Available in three sizes, the Kids Merino Cardigan is a wonderful choice for ages 6 to 18 months. Follow our sizing guide on the product page to choose the correct size.
Made of merino wool, this cardigan will keep children cozy and warm throughout winter. Given that Christmas will likely be followed by harshly cold months, a gift like this is a very practical choice.
Like much of our knitwear, this merino cardigan has been handmade in Ireland.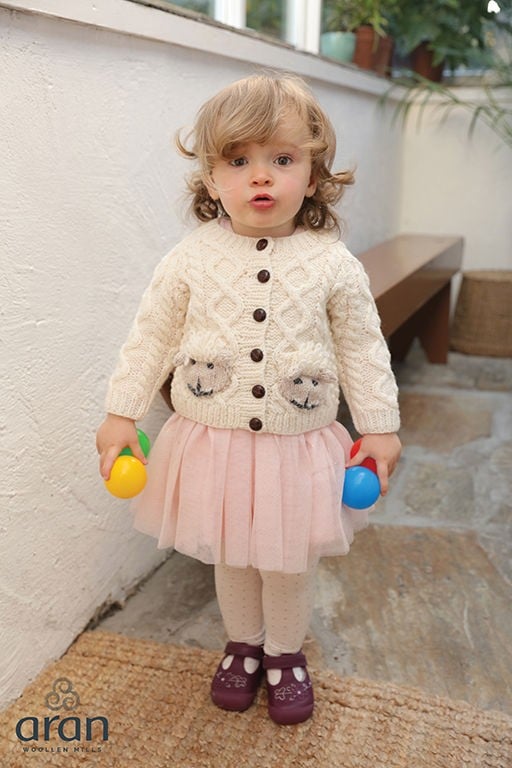 2. Kids Handknit Merino Sweater
This is a traditional merino sweater with a little twist – three buttons at the left shoulder. The side buttons bear no practical purpose and are only there for detailing and to make the sweater stand out from traditional sweaters that have crowded the market.
The Kids Handknit Merino Sweater is again made of merino wool to keep children nice and cozy as well through the winter and fall months.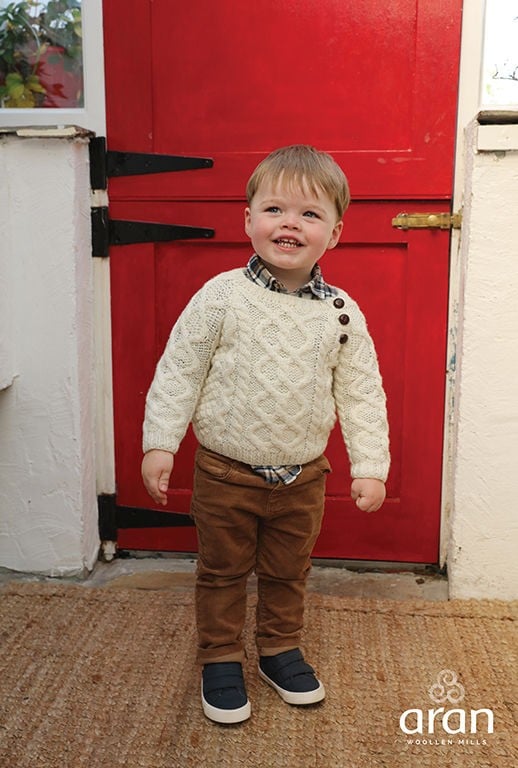 This unique Kids Aran Coatigan is a wonderful choice for stylish girls. It's available in rich ruby color, but we may add more colors in the future – stay tuned for product updates!
Made of 100% Merino wool, this coatigan will keep kids warm on walks during autumn or winter colds as well. The tall collar does a great job of protecting the neck area from wind too. Featuring a double-breasted design, this coatigan also has two sets of functional buttons – very practical!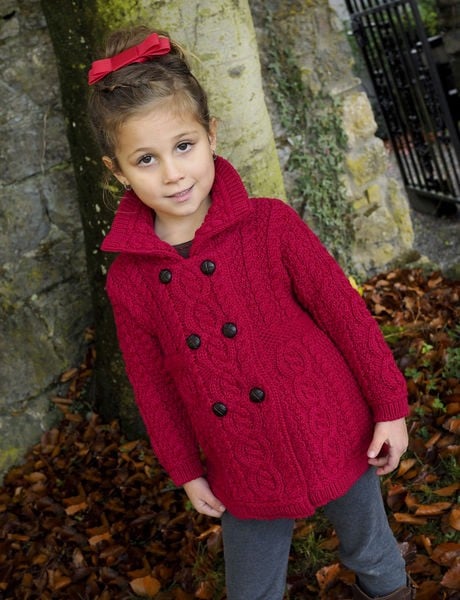 A firm Sweater Shop favourite each year, our Kids Aran Cardigan is available in a number of colors and features traditional Aran detailing. The Basket stitch in this cardigan symbolizes good luck, while the cable stitching brings hopes of a fruitful day.
The cardigan's style is extremely simple yet boasts remarkable grace. Thanks to the wide range of colors, you may also easily match the Aran cardigan with the style of your grandchild. The white-colored cardigan will work wonderfully with more neutral attire, while the pink or purple options do a great job of accentuating girlishness.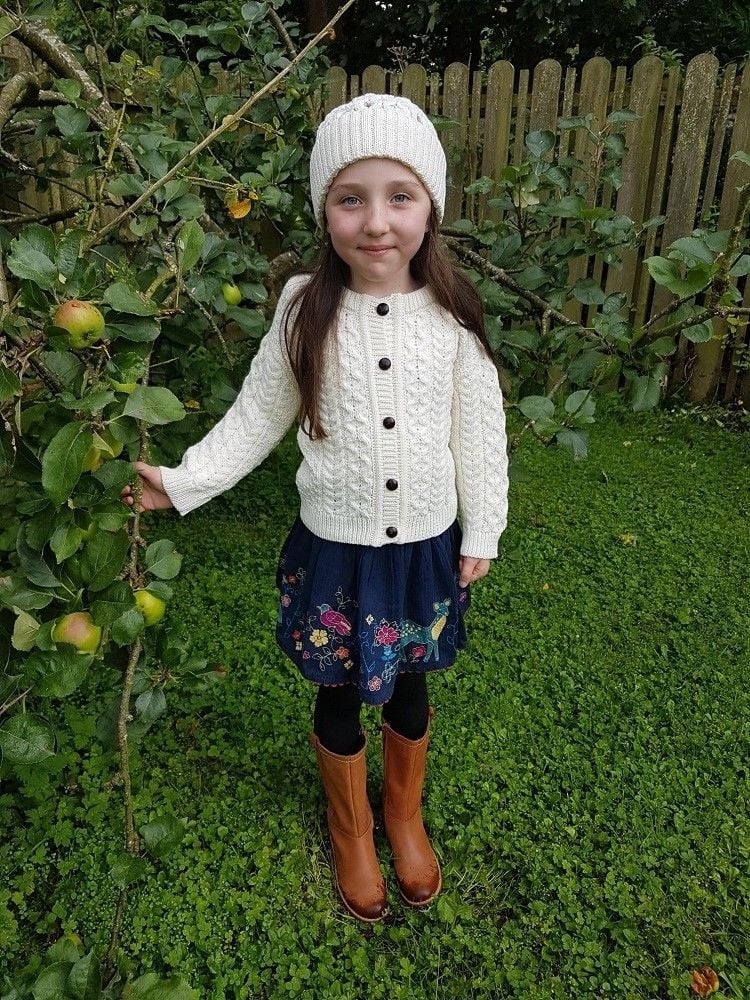 5. Kids Aran Sweater
If you want a 'proper Irish' sweater for your grandchild, then this lovely green Aran sweater is a wonderful choice. The Aran sweater is made of 100% merino wool and is available in a wide range of sizes and colors. The sizes for this sweater are given in years, so you should be able to easily choose a size for your grandchild's age.
This sweater features an Aran pattern and is excellent if you want something more restrained and traditional. The Natural color option is particularly fitting for the modest aesthetics of this sweater, although there are Purple, Green, and Raspberry colors available as well if you want a little more pop.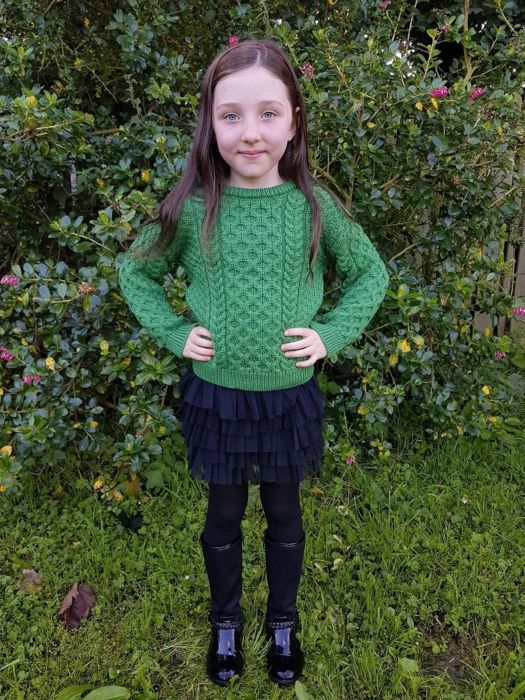 6. Kids Half Zip Aran Sweater
The Kids Half Zip Aran Sweater is a garment with a remarkable formal vibe to it. The addition of a simple half zip at the collar makes this gorgeous sweater a fine addition to boys' wardrobes.
What's even better is that the Kids Half Zip Aran Sweater is available in a wide range of sizes for kids aged 1 to 12 years. Our color selection is no less rich, allowing you to precisely match the aesthetics of the sweater to the personality of your grandkid.
7. Aran Wool Baby Blanket
Our super-comfy Aran Wool Baby Blanket is a wonderful choice for keeping children warm and snug. Made in the traditional Aran style, this baby blanket is an excellent gift for children.
In terms of style, this baby blanket features a simple design enhanced with a clover pattern. Some people may find the clovers excessive, but we think that they wonderfully contribute to the look of the baby blanket.
What's particularly nice about the Aran Wool Baby Blanket is that it's a multifunctional garment. Aside from accentuating the style and beauty of the wearer, the blanket also does a great job of keeping children warm.
Like our other garments, this product is brought straight from Ireland as well and makes an ideal gift for newborns to feel that safe, warm embrace of home, wherever they may be.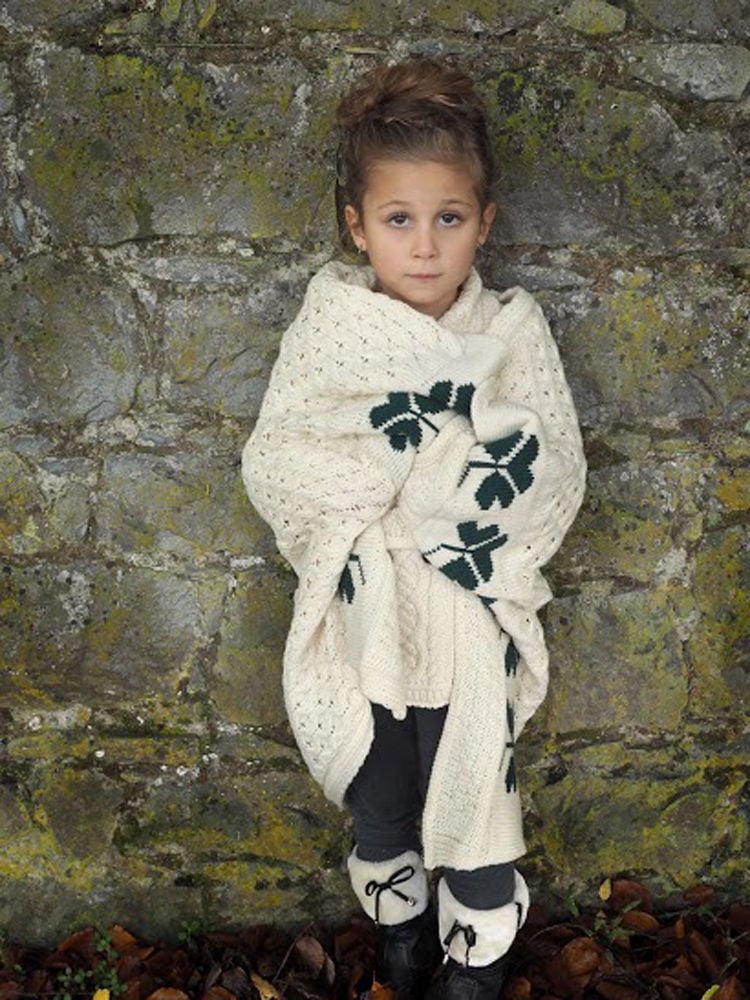 8. Kids Aran Poncho
This Kids Aran Poncho is excellent for layering in winter. Made of 100% merino wool – as nearly all of our Irish garments – this poncho will have no issues at keeping children warm. Not only that, but the Aran poncho is gorgeously stylish and combines seamlessly with any style.
The pink color makes this poncho a great choice for girls too, while the Aran cable stitching throughout the poncho adds an Irish touch.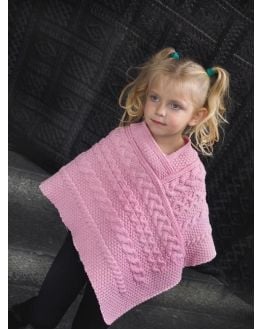 9. Girls Handmade Ribbed Hat
A 100% merino wool hat would be a wonderful addition to your grandchild's wardrobe. This particular hat is an excellent gift for girls, and it's available in a range of colors to suit your grandchild's preferences better.
What we particularly like about the Girls Handmade Ribbed Hat is its color. This uniquely Irish hat isn't of one solid color – rather, it features a gradient scheme, with bright shades seamlessly flowing into darker tones.
Our Girls' Ribbed Hat range also comes in several color options, ranging from green to pink/purple mix.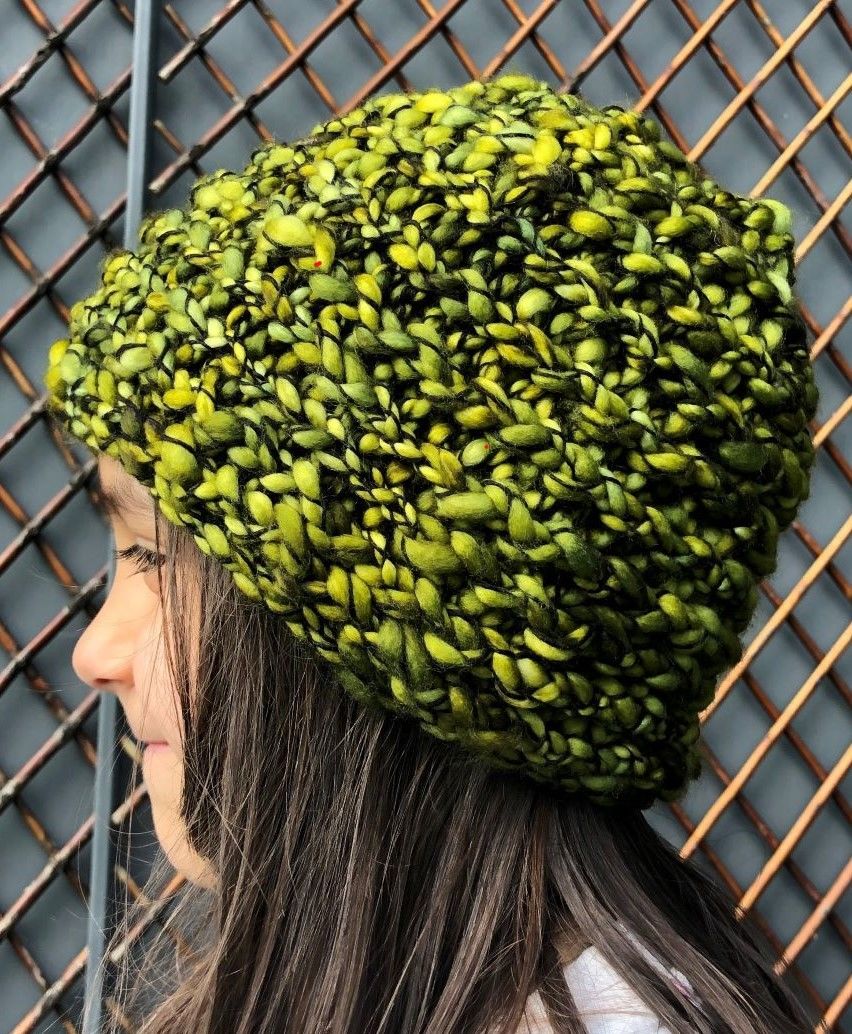 10. Handmade Super Soft Merino Wool Flower Hat
If your grandkid is into flowers and cute garments, then the Handmade Super Soft Merino Wool Flower Hat is a wonderful choice for a Christmas gift. Anna, the manager of our Dublin store, has designed this hat with softness in mind. The knitted flower on the side adds a cute touch to the hat as well, but it may also be removed if the girl doesn't like it.
The Super Soft Merino Wool Flower Hat certainly isn't as flashy as the Ribbed Hat on the #9 spot. With that said, it's a perfect addition to the wardrobe of those girls who love simplicity. The range of colors for the Flower Hat is extremely wide too, including Blue Marl, Green, Turquoise, and Purple.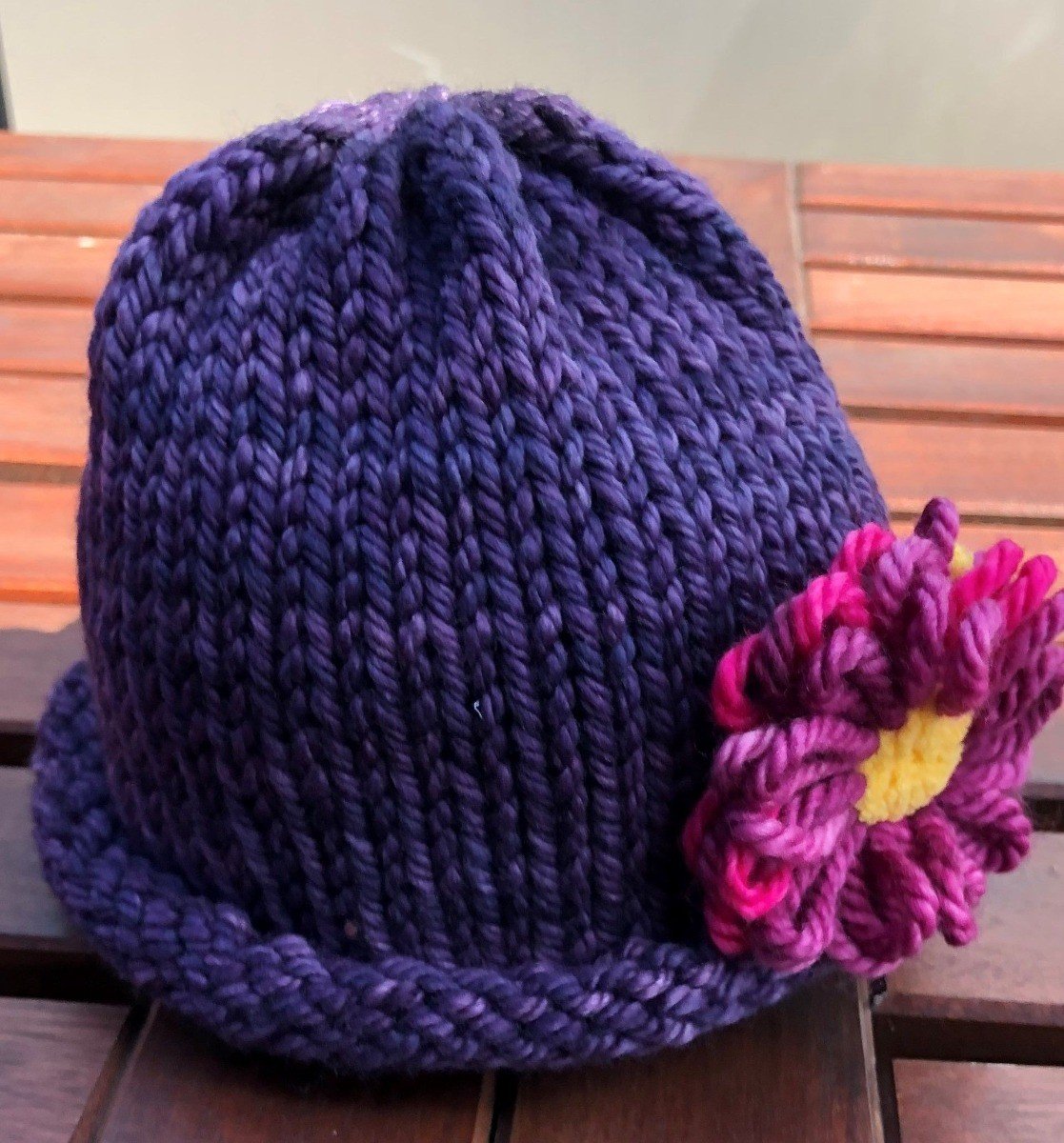 How Do I Pick Irish Knitwear at The Sweater Shop?
The main consideration for choosing Irish knitwear as a gift is the preferences of the person you are going to give it to. Children can be very picky about size and appearance, so be sure to do your homework before choosing anything. Color and patterns are key for making a great Christmas gift.
Aside from that, size is a very important thing to pay attention to as well. We provide sizing charts on the webpages of our products, so you should be able to buy the right knitwear without issues.
Most of our kids' knitwear products are sized based on age, so you don't have to do any measurements to choose correctly, you simply need the age of your grandchild.
Once you've ordered, you can sit back, relax and let our elves do the packing and shipping to bring that special piece of Ireland to your special loved one this Christmas!
If you'd like to browse our other Christmas buying guides, please visit our blog where we regularly post new and exclusive guides such as our 2020 Christmas Gift Guide and much more!