Are you still on the lookout for the perfect gift this Christmas? If you are in search of something a little different, rest assured we've got a great idea in store for you!
Guaranteed to keep you warm and cozy this winter, our unique and affordable collection of traditional Irish Aran sweaters might just be the gift for you!
What are Aran Sweaters?
Aran are a group of islands located on the West coast of Ireland, the origin of the traditional Irish Aran sweater. The sweaters are crafted using the highest quality merino wool, great for insulation and long-lasting quality.
Steeped in tradition, there's a long and fabled history of the Aran sweater which we're extremely proud to showcase here in Ireland!
Gifting of Irish Sweaters
Traditional Irish sweaters make the ultimate Christmas gift thanks to their quality and meticulous design. Using the original stitching methods to create sweaters in a range of shapes, sizes, and of course styles.
At The Sweater Shop, we have women's, men's, and children's collections of the traditional Aran sweaters perfect for this Christmas. Great design, quality and affordability are the core elements to our offering, and we ensure to make our selections available to everyone who wishing to own the ultimate Irish Sweater.
Whether you are looking for your wife, girlfriends mum, niece, or a friend the Aran sweater is a great gifting idea for Christmas. All made using traditional Irish stitching method for an authentic feel. Our world-famous women's sweater ranges come in S, M, L as well as the unique plus size collection.
The Irish sweaters come in different styles from cardigans to jumpers, high neck to V-neck to ensure we cater to the needs of everyone. All our clothing is easy to style with jeans, skirts, or trousers for a casual or smart look. If you are searching for something a little more luxurious, then discover our range of Aran sweaters, carefully crafted using a blend of merino wool and soft cashmere. Offering additional warmth, softness and can be dressed up for an evening out with friends.
For a little extra gift, discover the unique line of ponchos and coats, perfect if you are wanting that extra layer to keep you warm as well as looking smart and sophisticated this Christmas.
The Sweater Shop offers an array of colors from red, blue, cream, black to pink enabling you to gift the perfect sweater with long-lasting quality.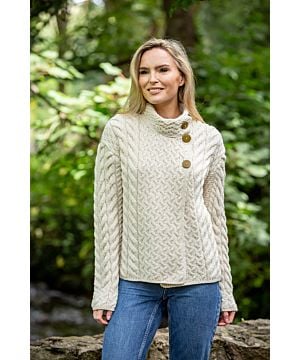 Men's Fisherman Sweaters
For a family walk through the woods or countryside this Christmas, the Irish sweater collection for men brings together class, warmth, comfort, and style. The perfect present for all male members of the family, the selections come in a classic jumper fit or in a cardigan. Like the ladies, the use of merino wool is a must have to keep you warm this winter.
Sizes range from S-XXL and are in available in a winter palette of colors from traditional blue, burgundy, black, grey and many more.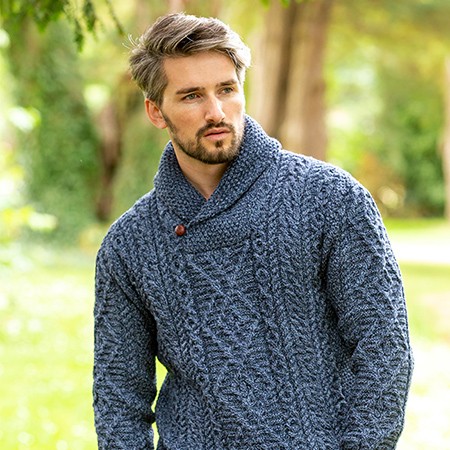 Kid's Aran Sweaters
For babies and little ones up to 10 years, we want children to keep stylish and warm hence, the Irish Sweater this Christmas is the ultimate gift to add to their wardrobe. Made using the strong merino wool, the sweaters are designed to counteract rough wear and tear.
Our unique childrens' Aran sweaters come in a wide range of cardigans and sweaters for both girls and boys. They can be easily worn with jeans, trousers or skirts as the style offers fantastic versatility.
Ultimately, an Aran sweater is the must-have gift for the family this Christmas. Ensured to keep you warm whilst offering great style as well as long-lasting quality. The Sweater Shop's ladies, men's and kids ranges are all available in sweaters and cardigans to ensure you can find the ideal gift this festive season.
So, what are you waiting for? Discover the range of Irish Sweaters for the ultimate Christmas Gift!
If you'd like to browse the rest of our Christmas buying guides, please visit our blog where we regularly post new and exclusive guides such as our Christmas Gift Guide, Gift Ideas for the Grandkids and much more!