Top Things to Buy While in Ireland
Ireland, with its jaw-dropping landscape, rich history, inclement weather and thriving culture, is quite popular among travelers of all ages, creeds and nationalities, with US News ranking it 23rd in its overall 'best country' rankings in 2022.
Visitors get to hike the majestic mountains of Wicklow, sail and stroll the shores of beautiful lakes like Lough Erne and Lough Leane, or take in stunning views of the Wild Atlantic Ocean from the country's westernmost coastal cliffs.
Those who desire something more cultural enjoy the music and festivals of Dublin, Galway, and Killarney, Dingle and Kilkenny (the Jewel of Ireland's Ancient East).
Speaking of Dublin, where most international journeys to the Emerald Isle begin and end, the architectural and literal heritage of the city are simply magnificent. Voted #7 in Lonely Planet's Top 10 Cities to Visit in 2022, Dublin's charm is unrivalled.
The endless rows of well-preserved Georgian homes and eclectic mix of shops and their throngs of shoppers pacing the cobblestone streets create a tourist experience like no other.
But in between the sights and sounds, you'll also realize that Ireland is a treasure trove of artisan and heritage products. The numerous shops make the country a favorite among lovers of local souvenirs. And even if you're not one of those, there's bound to be a thing or two that interests you enough to earn a spot in your suitcase back home.
That said, here's our pick of the wares found all over the island of Ireland, from Dingle Bay on the Ring of Kerry to the Giant's Causeway in Northern Ireland - there's something for everyone from fun souvenirs to those wishing to connect with their rich Irish roots.
The Best Irish Items and Souvenirs
With so many amazing Irish souvenirs and quality gifts to choose from, it's been a tricky challenge to condense our favorite Irish goods into one refined list, but here's the pick of the bunch which we highly recommend you try at least once when visiting Ireland!
Irish Chocolate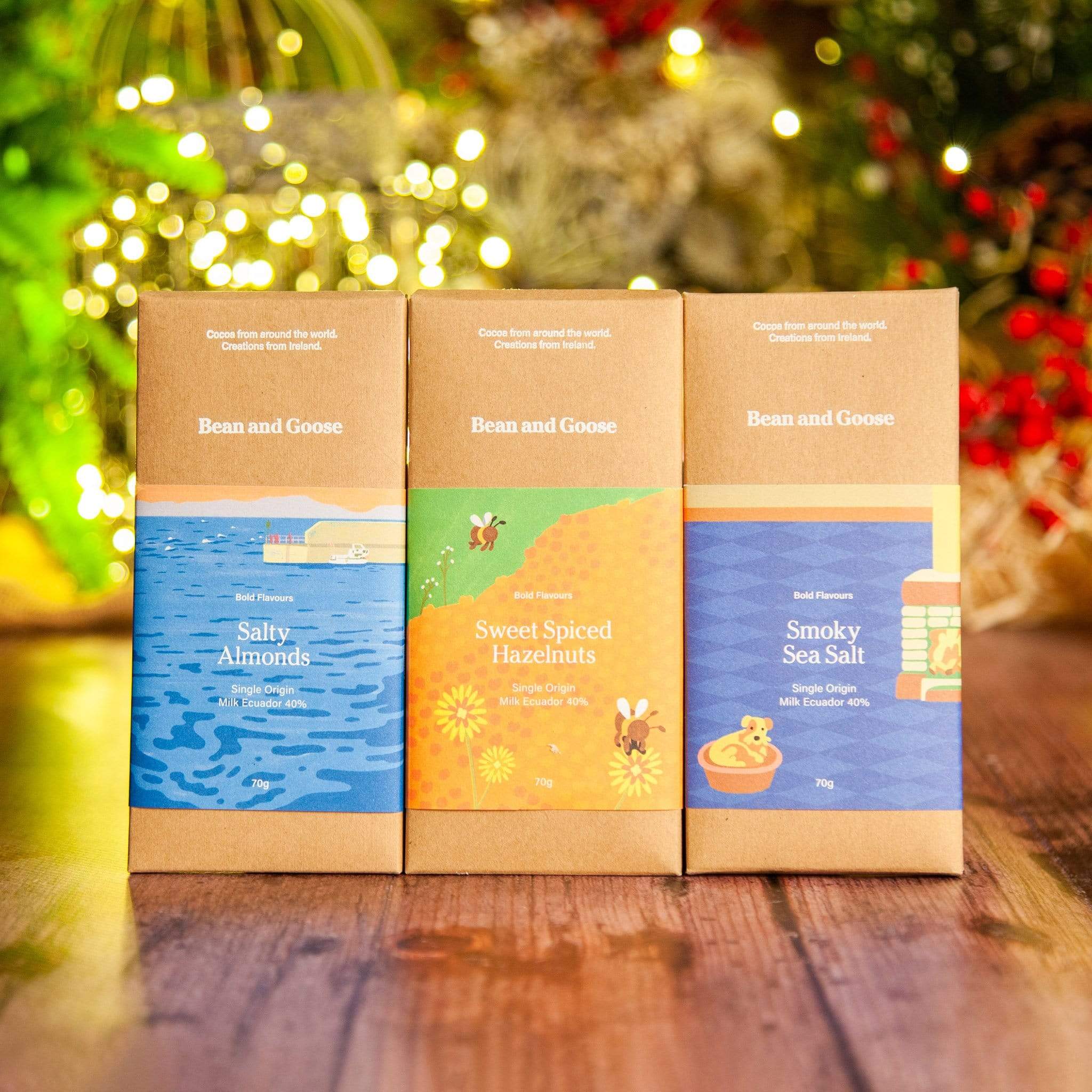 This seems like a rather obvious choice given Ireland's thriving dairy industry. But seriously, if you're there, you don't want to miss out on the chocolate. The country is home to some of the best small-batch craft chocolate in Europe.
You definitely want to try chocolates by Bean and Goose, prepared purely from local ingredients. Even Cadbury, a global brand, is different here than in the rest of the world. Irish Cadbury is made with 100% local Irish milk so it tastes different; deliciously different!
Some other fine artizanal Irish chocolate brands to entertain your taste buds include Grá Chocolates, Hazel Mountain Chocolate, Lorge Chocolatier, and Wilde Irish Chocolates. Extra points if you can save some for your friends and family back home!
Irish Cheese and Butter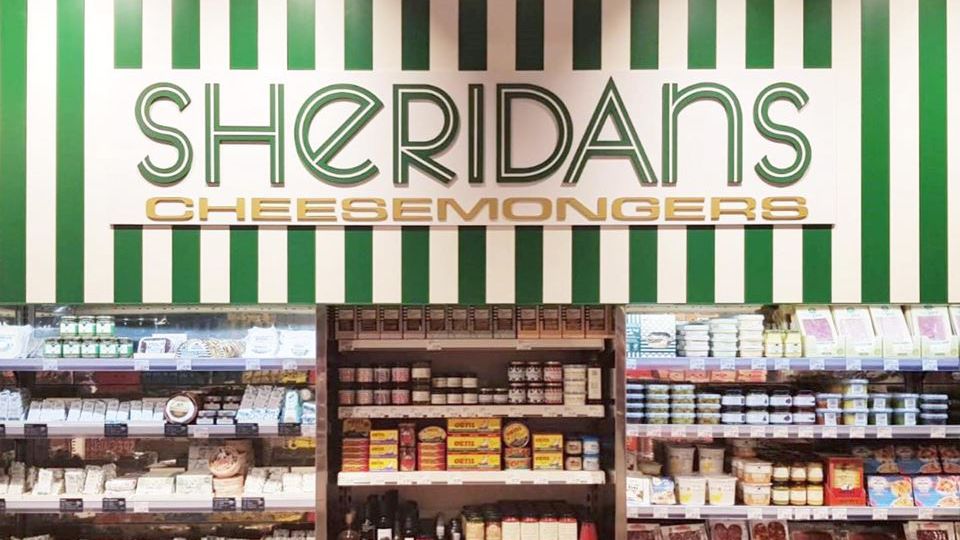 Cheese is another one of Ireland's popular dairy products. In fact, the Irish are world-renowned for making delectable cheeses, making the country a haven for cheese and cheddar fans.
There are numerous cheesemongers spread out all over the country where you can enjoy delicious local cheese options, with Sheridan's our pick of the bunch in Dublin and The Little Cheese Shop in Dingle well worth a visit if you're in Munster!
Although not as popular as cheese on the domestic culinary scene, Irish butter is also excellent. You've probably tasted it too; Kerrygold butter, a common feature of US supermarket shelves, is made using milk from the cows of Ireland's verdant hills. So, if you want to treat your family to some authentic Irish dairy product, don't forget to pack in some cheese and butter during your trip back home!
Irish Bee Products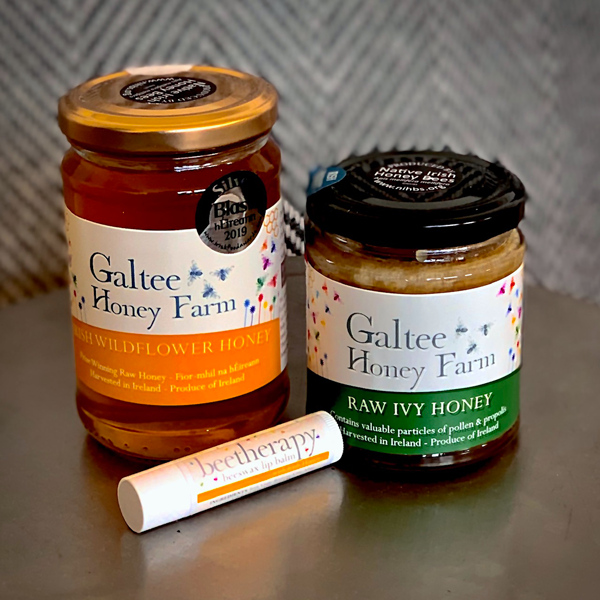 Beekeeping has been part of the Irish tradition for centuries. Today, the country maintains a thriving bee industry famous for its rich clover-flavored honey. So, holding a honey spoon is something many visitors to Ireland enjoy. But it's not the only thing.
Key players in the local Irish gifting industry like Galtee Honey and Brookfield Farm use bee products in clever ways. These include candles, lotions, and even lip balm, which make for excellent souvenirs. And if you're all about that alcohol, you'll want to try some uniquely Irish honey liquor from Boann Distillery!
Waterford Crystal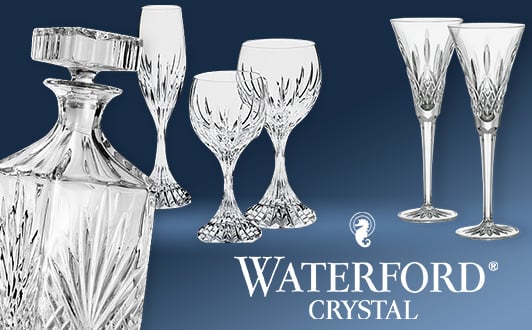 The famed and fabulous Waterford Crystal is now available globally, though much of it is now made in Slovenia following the closure of the flagship production factory back in 2010. However, it all started in Ireland. In fact, Irish crystal making primarily began in Country Waterford in Ireland's 'Sunny Southeast', in the early 18th century.
Some three hundred years later, Waterford Crystal has risen to the top spot in the world. Their chandeliers hang in Westminster Abbey in London and every year, they create the New Year's Eve Ball that's dropped in Times Square.
Their House of Waterford Crystal headquarters in Waterford remains home to the largest collection of Waterford items worldwide. Some of these are exclusive to the visitor center and gift shop, so a visit here may earn you a unique and truly lovely souvenir!
Aran Sweaters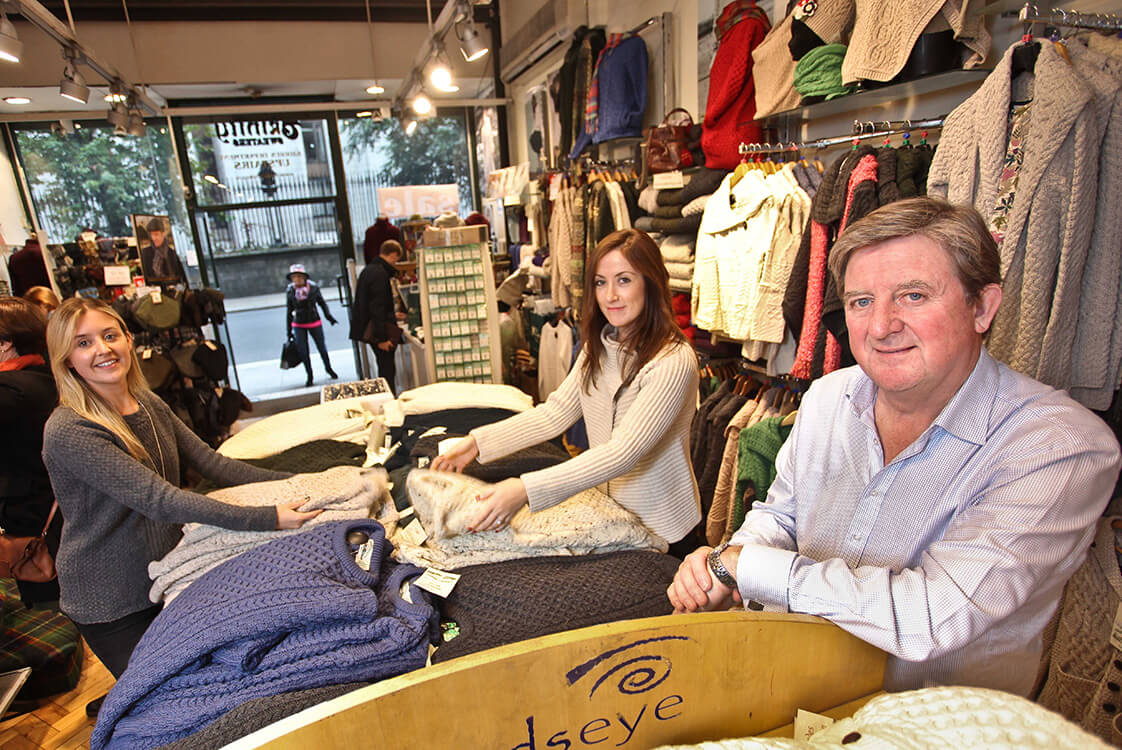 No surprises for guessing we're huge proponents of this particular item! Aran sweaters, also known as the 'fisherman sweater', are among the most iconic items to come out of Ireland. They are the symbol of a centuries-old tradition passed down through Aran fishermen and the weaving communities that supported them. To this day, they remain a warm, trendy, and elegant, perfect for any weather and occasion. They come in various stitches and patterns, each signifying something unique.
You might even have one in your closet. But what better place to add one to your collection than from the source? You can grab one from one of the many dedicated sweater stores throughout the nation.
It gets even better if you can visit the Aran Islands and pick a homemade one, though as a general word of warning, the more authentic the sweater, the higher the price tag in some of the tourist hotspots!
However, don't fret if you can't grab yourself an Aran jumper during your brief expedition. The Sweater Shop is home to 100% authentic Aran sweaters sourced directly from the traditional weaving communities of Ireland - check out our men's, women's and kids sweater collections online today, with fast international shipping to anywhere in the world!
Other Irish Knitwear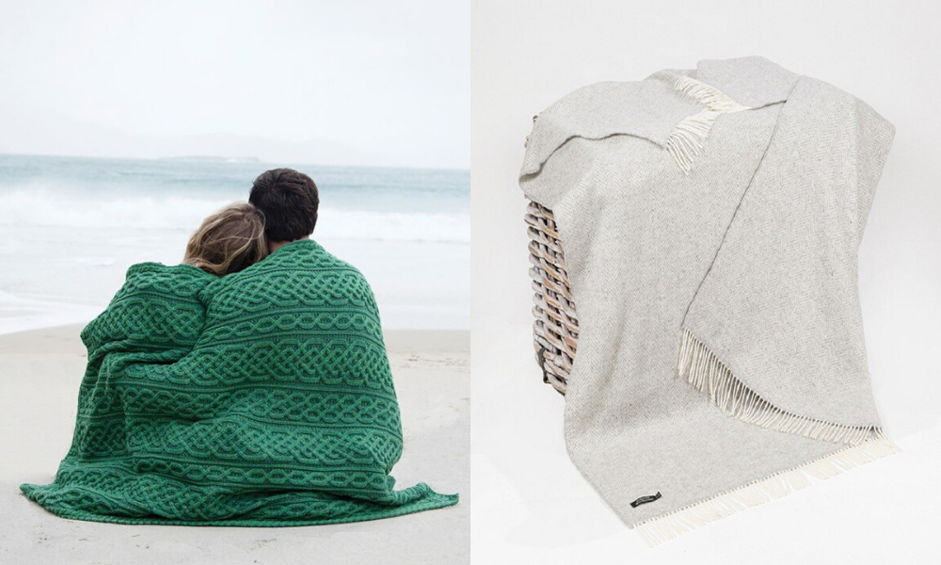 Aran jumpers may be the most popular clothing out of Ireland, but they're not the only ones. Traditional Irish wool blankets and throws also make for excellent souvenirs. These handmade items carry the embrace of Ireland's magical location in a warm and beautiful package.
Donegal tweeds are another traditional Irish outfit you'll want to buy while in Ireland. These have been a part of the culture for ages. They were designed to keep Ireland's brutally cold and rainy climates at bay. Today, most of the tweeds come from County Donegal, home of the famed Magee, Molloy and McNutt mills.
This Magee weaving mill was established in 1866 and is the largest remaining one in the region. You can also find handmade Donegal tweed produced in the homes of local artisans. And although they can be pricey, they make for an excellent traditional Irish look.
That's not all. You can also buy authentic cardigans and grandfather shirts or go for smaller items like iconic Irish hats of different shapes and sizes, plaids, and scarves. All in all, if you want fashion, Ireland won't disappoint.
Irish Yarn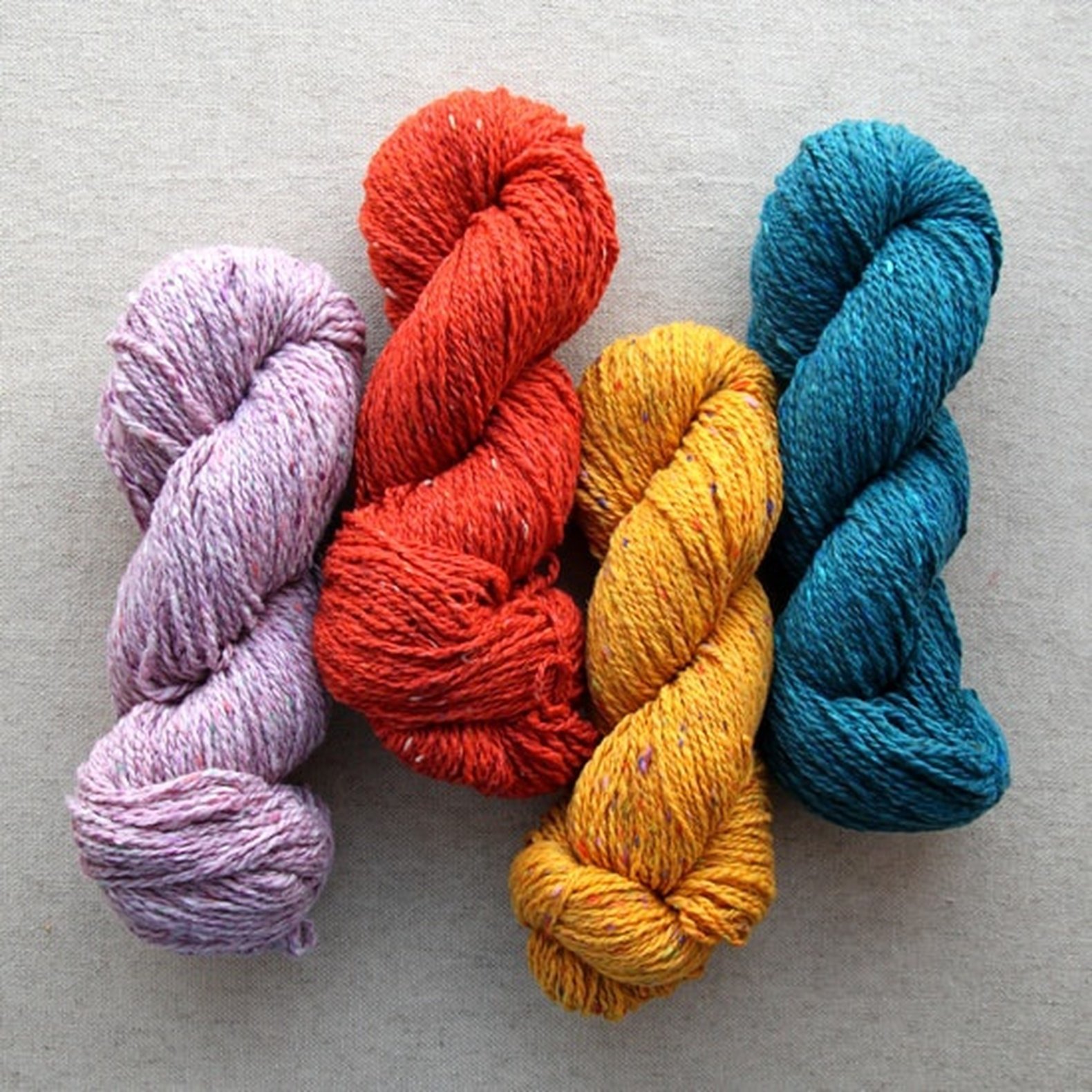 Now that we've mentioned knitwear, maybe you're a knitter yourself or have a close friend/family member that's into knitting.
If that's true, what better souvenir to take out of a country full of sheep and a thriving knitting and weaving culture than yarn? Ireland has no shortage of quality yarn and high-quality aran knitting wool, and this is a shopping experience you'll enjoy immensely if you're a fan of DIY knitwear!
Irish Books and Literary Works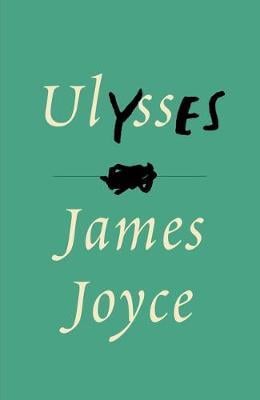 Did you know that some of the world's favorite literature and poetry come from Ireland? Famous authors like Oscar Wilde, James Joyce, William Butler Yeats, Seamus Heany, and so many more were Irish.
Dublin has such a big literal legacy that it earned a UNESCO City of Literature designation back in 2010. Book lovers from all over the world come to the city to follow the paper trail of wonderful literary works.
And if you're one of these, why not grab yourself a book from one or two famous Irish writers? There are numerous used book stores in the country where you can get classic books at affordable prices.
If you're looking for a pretty notebook to scribble down your poetry, there is Duffy Books. Located in Dublin, this is the oldest, continually operating bookbinder in the country. It produces a fully customizable range of handbound notebooks that you won't find anywhere else and Ulysees Rare Books gives it a good run for its money as cozy retreat and a must-visit for true book lovers!
Guinness Merchandise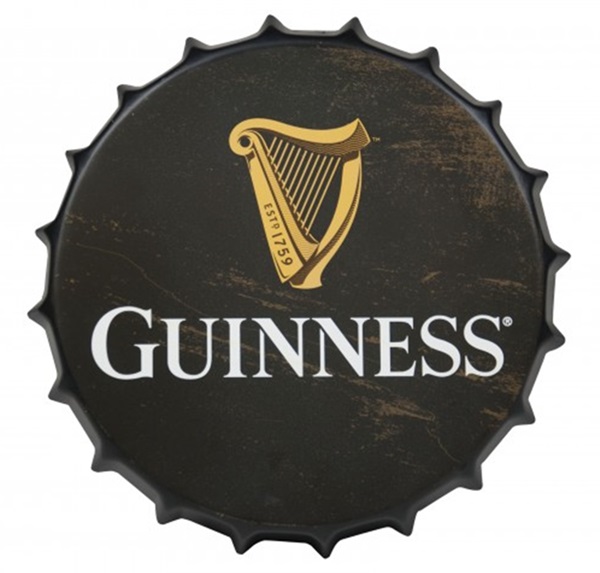 Ireland may pale in comparison to Scotland when it comes to hard liquor. But if you're a beer or stout person in Dublin, you'll feel right at home. The city is home to the spiritual home and original Guinness factory that makes for an exciting visit; the Connoisseur Experience is a particular highlight worth booking if you're that way inclined!
There is also a gift shop full of souvenirs for beer lovers. These include a vast selection of glassware and Guinness coasters with lovely vintage designs.
We also stock a range of some of the highlights from the Guinness collection right here.
Irish Pottery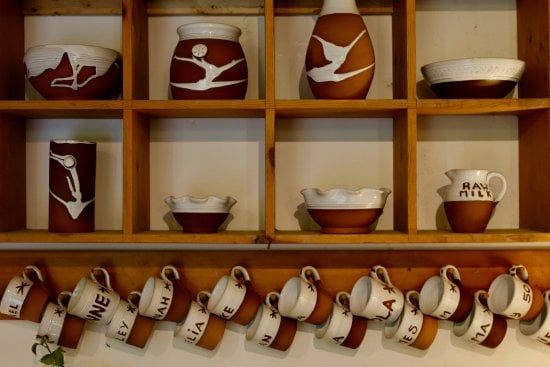 As you roam the Irish cities and towns, keep your eyes peeled for pottery. There are lots of expert potters who churn out incredible clay works daily and we're huge fans of both Shangarry Potters in County Cork and the excellent Sarah McKenna in County Louth, with stunning workshops to behold if you're ever in the area.
These include traditional, modern objects unlike anything you've seen before and Celtic-motif pieces that will look great in any home.
Lemon Soap from Sweny's
Last, but by no means least on our list of great things to buy on your next visit to Ireland, is something rather peculiar, yet steeped in history and intrigue!
In James Joyce's classic novel Ulysses, the titular character Bloom buys a bar of lemon soap from a drugstore called Sweny's. Well, this drugstore is a real place in Dublin, just around the corner from Merrion Square.
Today, the store is a James Joyce Heritage Visitor Centre with curio items, James Joyce's books, and of course, lemon soaps. So if you're an admirer of the author's work, this is the place to be.
That's it for our current crop of recommendations, we regularly showcase other must-see Irish businesses for those seeking to soak up the finest of Irish commerce and culture during their stay, and please do let us know if there are any others you enjoy on your travels that are worth adding to our list!
Authentic Irish knitwear brought to you by The Sweater Shop
If you can't wait for your trip to Ireland to enjoy authentic Irish fashion, The Sweater Shop is right here on Nassau Street in the heart of Dublin 2 (just off Grafton Street, opposite Trinity College) to help you choose the very best clothing that Ireland has to offer.
We also have stores in the stunning medieval city Kilkenny and in thriving western city of Galway, so you're bound to see us on your travels and we'd be more than delighted to welcome you in for a 'céad míle fáilte' (one hundred thousand welcomes) and a warm chat through our local history and folklore.
We are the #1 source of Irish sweaters, scarves, bags, hats, and all kinds of Irish knitwear in the US, Ireland, the UK and throughout Europe.
Renowned for our commitment to quality at a reasonable price throughout our supply chain, outstanding customer service and a keen eye for both style and modern contemporary fashion, you can never go wrong when adding a Sweater Shop product to your shopping list!