Timeless Traditional Irish Women's Fashion Styles to Suit Any Occasion
When you think of Irish women's fashion throughout the past century, what comes to your mind? Maybe it's the early Wild-Woman-of-the-West in her red shawl, or perhaps, it's the Irish Mammy in the good coat and headscarf?
Whatever it is, it probably doesn't take into consideration just how modern and forward-thinking Irish designers are. When you consider the traditional wools, the tweeds, the leather, and the silks, what has come to be of Irish fashion for women in today's world?
Well, we're going to find that out a bit later. But first, we have to go all the way back to the 16th century and dive into the history of Irish fashion styles for females of all ages, shapes and styles - just to see how far we have actually come.
With both tradition and modernity in mind, let's get started!
The History of Irish Fashion Styles for Ladies
The traditional dress sense of Irish women's fashion didn't change all that much from Pre-Christian times up until the end of the 16th century. However, the dress of the town non-traditional Irish followed the patterns as existed in the European mainstream.
When it comes to fashion styles for women in Ireland, we know a little less than the styles for men. This can be due to the many attributed details of men's clothing being reported about the military Irish. The information for fashion for women in Ireland that is available comes from some accounts, and also some drawings by period artists.
What we do know is based more on townswomen, than that of the poorer rural-dwelling women. In general, fashion styles for women in Ireland revolve around an ankle-length léine. Over this, she would wear a dress, and over the dress, she would wear a brat (shawl/cloak). The brat would be similar to that worn by a man.
The dresses in Irish women fashion were presented in three basic styles:
The first was a voluminous gown worn by a woman of means. These dresses were a traditional, yet formal status symbol.
The second type of dress has a low V-shaped neck that is open down the front of the bodice. The opening ended in a U shape at the stomach.
The third dress has a high neck with a fitted bodice and a full skirt. The arms are buttoned from the cuff to the upper arm.
Several various styles of hats were also worn; from simple caps to elaborate hats -Irish fashion puts a twist on the ordinary.
The Sweatershop Irish Fashion for Women Style Guide
Now that you're up to date on the background of Irish fashion for women, we can fill you in on our little secret.
Here at the Sweater Shop, we have gathered a veritable treasure chest of traditional Irish women's clothing in our stunning collection, specially selected from the very best Ireland has to offer.
From the finest hand-finished Aran jumpers and Irish sweaters and cardigans crafted from the highest quality yarns, to luxurious raincoats, hats, Irish ponchos, capes, and wraps - we have everything you need to glam up in 2021 Styles for women who love Irish wear.
Sleeveless Aran Cable Knit Denim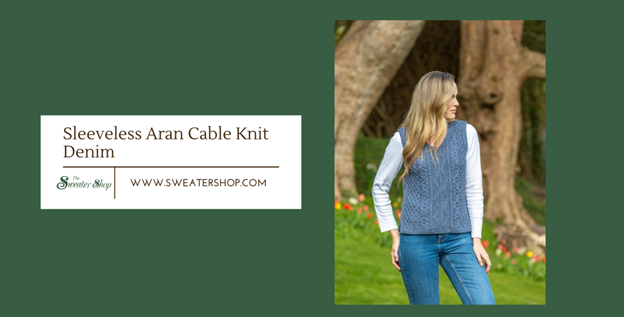 This ladies Irish Aran Sleeveless Vest is made of 100% merino wool, and is so ideal for the Spring Summer weather over a light layer.
The denim is unconditionally stunning as it shows the Irish stitching clearly; the Aran cable-knit denim really stands out from the crowd when it comes to Irish fashion. A versatile piece that can be worn any time of year over your favorite Aran sweater, which of course, is steeped in a rich history of its own!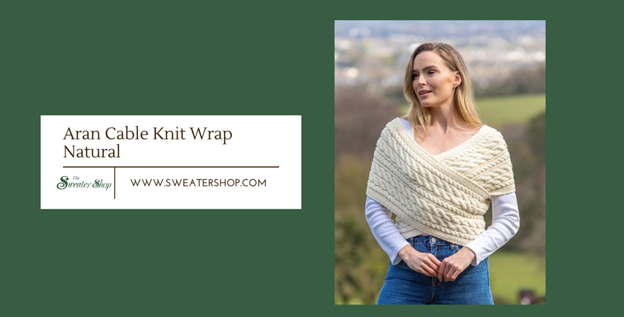 This Ladies Irish Aran Wrap is made in Ireland of 100% merino wool. It is absolutely remarkable when worn, and is perfect for Spring and Summer.
Featuring the traditional Aran stitching married with the contemporary design of this crossover wrap, you're provided with a marvelous look and feel. Featuring buttons along the waist, it gives off a flattering silhouette and allows for ease of opening.
Celtic Design Shawl Purple Mix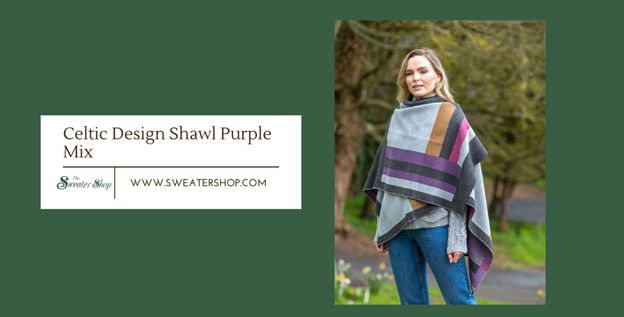 This ladies Irish Celtic Shawl is a must-have for any lady. It's the perfect accessory for wearing at night or when the weather gets a little chilly to dress up any outfit. It is made of 100% acrylic, which means it's an ideal choice for a person who is sensitive to wool.
Irish Aran Cable Knit Dress Orange
Our Irish Aran cable knit dress in a beautiful orange is ideal for all seasons. Crafted from 100% merino wool, you can wear over a light layer in the summer with sandals, or team with boots and tights in the Winter for a cozy Autumnal look. This is a stunning color that shows the stitches so beautifully -making it a fine staple in Irish women's fashion.
Ladies Irish Aran Sweater Aqua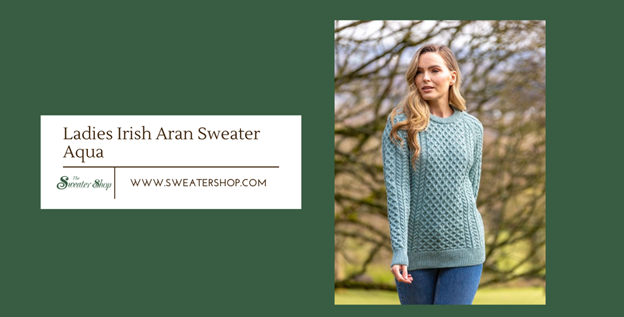 If you're looking for the best Irish fashion for women, this Aran Aqua sweater will definitely fit the bill. This classic cable knit sweater boasts an exotic Aqua feel, which shows off the beautiful stitching even more. If you're looking for a complete Irish fashion look, pair the Aqua sweater with one of our merino wool scarves.
Handmade in Ireland - Snood and Hat Set - Purple Mix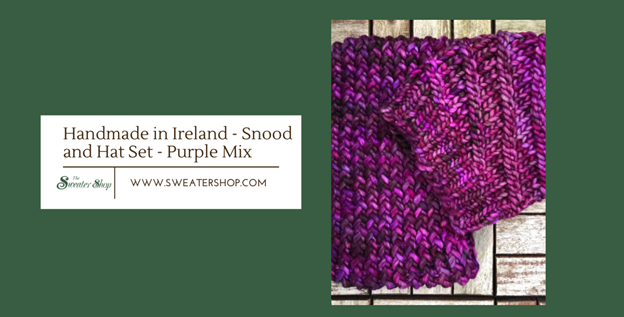 This beautiful set of a snood and spiral or a ribbed hat is entirely handmade with yarn that was also hand-dyed. 100% chunky superwash Merino wool used to knit provides super warmth and softness. The variety of colors resulting from hand-dying the yarn really brightens up the winter gloom, and guarantees that this particular fashion style for women is absolutely unique.
Ladies Boston Hat - Wool Felt - Navy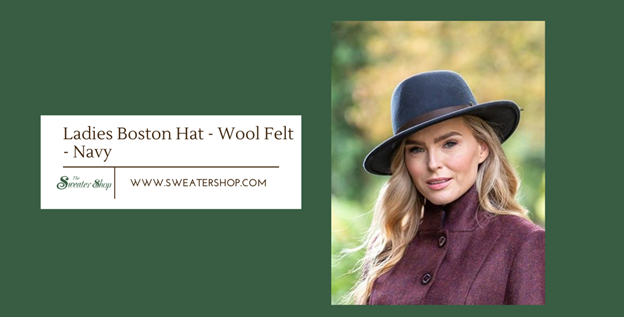 Water repellent wool felt hat in a classic wide-brimmed style. The Boston hat is ideal for the outdoors, dries quickly if wet, and is crushable, so it will hold its shape if packed away. Featuring a leather band with a Jack Murphy jockey pin, it's the perfect choice for anyone looking for traditional 2021 styles for women.
Outrider 3/4 Length Waterproof Raincoat - Urban Grey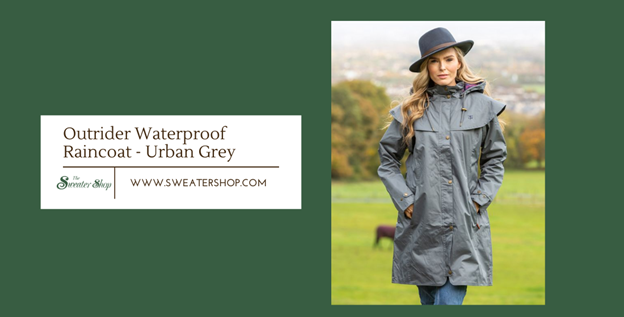 Crafted for leisurely nature walks and exploring the beautiful countryside, the Outrider long length raincoat is the perfect choice for cold, windswept, rainy days.
Designed with the traditional country style look in mind, the cape, detachable hood, and highly waterproof fabric will keep you covered, no matter what Mother Nature may have in store. Antique brass hardware, checked cotton lining, and rich, autumnal and winterberry shades add a modern, trend-led style. Pair this with one of our merino wool sweaters for extra warmth.
Our women's waterproof coats are made with special attention to detail, from our nautical style drawcords to our antique brass tone toggles and buttons. Designed in Belfast, all our prints are hand-drawn, and great care has been taken with the quality and fit of every single garment.
Grab Yourself a Timeless Ladies Irish Garment Today
With perfect-fit clothes and the right finishing touch, we offer you Irish fashion styles for women that fit and reveal your true self. Enjoy every moment in life with irresistible fashion in beautiful colors and stitching - for more joy each and every day.
In our Irish women's fashion range, you will find everything you need. Whether you're looking for something basic or statement pieces - find iconic styles for women at the Sweater Shop.
Looking for a similar jounrey throughout the ages of men's fashion? We cover that right here in our traditional Irish mens style guide - head on over and enjoy!