The best Aran knitwear sweaters are cosy, soft to the touch, and super effective at keeping you comfortable. In the luscious green fields that flow within the Republic of Ireland, Aran knitwear is a long-time favorite.
Each Aran Irish sweater is crafted ever-so-carefully. With more than 100,000 stitches and distinctive knitting patterns - they do a fantastic job of preserving comfort, whilst giving your skin enough space to breathe.
Initially, Aran Irish sweaters were created for fishermen who had to endure rough weather. However, as the popularity of Aran knitwear rose through the roof, they ended up reaching the global market with a whole host of authentic seasonal knitwear options to choose from nowadays.
You may think that you can only wear your Aran Irish sweaters seasonally. When the warm embrace of Spring and Summer approaches, your sweater is probably relegated to the very back of your wardrobe, swapped out for shorts and flip flops. However, due to the wide variations of styles and versatility involved - you can still rock your Aran knitwear with style in Spring and Summer seasons.
In this article, we're going to dive into five great ways you can wear your spring Aran knitwear and Summer Aran knitwear throughout the warmer months. And, we'll even fill you in on the many meanings of the Aran knitwear stitches you'll find in this beautiful clothing style.
Let's get started.
Meanings Of The Aran Knitwear Stitches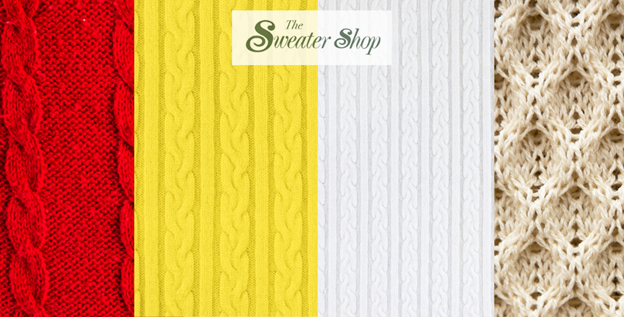 The elaborate and unique stitches that go into the creation of all Aran Irish sweaters are what make them extremely popular and valuable. Any given sweater boasts approx. 100,000 stitches, and can take months to finish. However, the careful care and amount of time it takes to design such a beautiful creation definitely does not go unappreciated, or unnoticed for that matter.
In Aran knitwear, each stitch represents something unique and extraordinary. Let's figure out what's what:
The Cable Stitch - First up is the cable stitch. In Aran Irish sweaters, the cable stitch is most commonly used. It was often applied in many kinds of Aran Knitwear, used to represent a fisherman's ropes. Wearing one would better qualify said fisherman has about to have a productive day out at sea.
The Diamond Stitch - Diamond stitching in Aran Knitwear represents and reflects the small fields on the islands. Back in the day, they were labored upon by the many farmers that inhabited there. This stitch is used in hopes of good luck, success and wealth in the fields of the Aran Islands.
The Zig Zag Stitch - The zig-zag stitch represents the ups and downs of marriage, as well as the twisting cliff paths that live on the islands.
The Honeycomb Stitch - The honeycomb stitch embodies hard work and its sweet rewards.
The Trellis Stitch - The trellis stitch outlines the stone-walled fields of the Northwestern farming communities.
The Tree of Life Stitch - The Tree of Life stitch symbolizes the importance of the clan, clan unity, powerful parents and healthy children. Overall, its design is in hopes of long-lasting and robust family lines.
5 Great Ways to Wear Aran this Spring/Summer
Now that we know what each stitch represents, how do we rock them this spring and summer? With warm seasons just around the corner, there's nothing better than curling up next to a toasty fire on the beach, listening to some smooth jazz, and embracing ultimate comfort in your Aran knitwear. Fashionable, durable, and highly versatile; the iconic Aran Irish sweater is a perfect addition to any outfit, any time of year.
To help you become a fashion guru, we've put together our top tips on how you can integrate Spring Aran knitwear and Summer Aran knitwear into your wardrobe.
Of course, every trend is adaptable and should be tailored to your own individual style and taste, so visit the Aran sweater shop, choose your favorite, and get styling!
1. Casual Days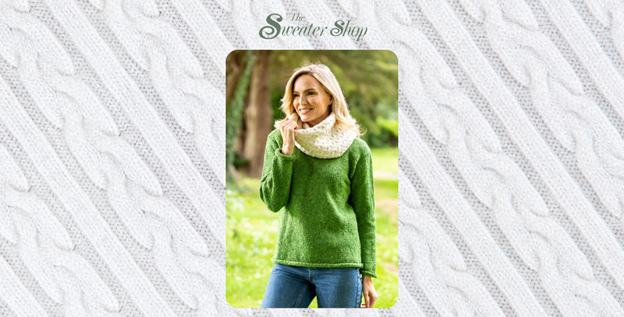 An Aran knitwear cardigan from an Aran sweater shop, along with a pair of jeans, has always been a classic style. Coupling your Aran Irish sweater with boyfriend or skinny jeans is effortlessly relaxed and luxurious chic.
2. Traditional with a Modern Twist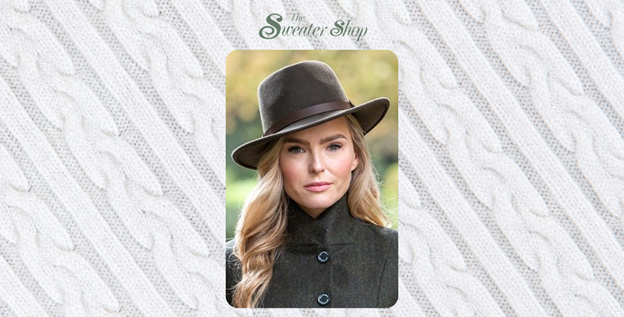 Mixing your classic Aran Irish sweater with a Ladies Boston Hat made with Wool Felt will give you that edgy, fashion-forward appearance to your outfit you've been looking for.
3. Check Hats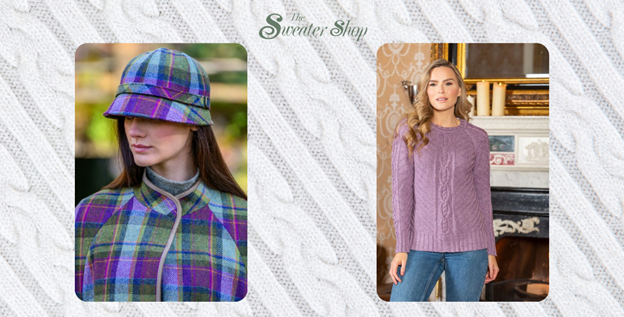 This gorgeous Irish ladies hat is made of 100% wool and has an adjustable satin ribbon on the inside. It is a beautiful mix of purple shades, making it the perfect addition to your spring Aran knitwear wardrobe.
Although commonly associated with prep, check outfits are perhaps one of the most versatile and timeless patterns that never really go out of style. Check out this gorgeous purple Aran Irish sweater to bring an understated edge to your own personal style.
Shop the look:
Ladies Irish Flapper Cap Purple Check
Cashmere & Merino Fine-knit Sweater Lavender
4. Evening Wear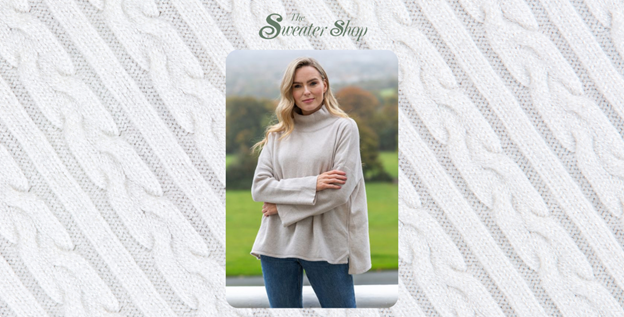 Dress to impress for a glamorous, comfortable evening. The Aran Irish sweater may not immediately spring to mind when thinking of evening wear attire; however, as the years pass, fashionistas and influencers have inspired us to think differently.
This stunning wool/cashmere sweater is the perfect spring and summer Aran knitwear wardrobe staple. It's the ideal evening wear option as you dress it up with a leather skirt and tights.
Available in a range of colors, this fashionable piece is guaranteed to appeal to those stylish ladies looking for something that will take them from season to season. One size, this cosy sweater features long sleeves for extra warmth on some cooler Spring and Summer nights, but is perfect for wearing on its own on warmer days.
5. Rainy Spring and Summer Days
With its deep dipped hem, generous hood and the highly waterproof fabric, this Raincoat is one with a difference. Alongside its wet weather credentials, which is a must for the Irish weather even throughout the summer and spring days - this look is not only elegant, but also trendy.
The adjustable waist drawcord and turn-back cuffs mean that you are free to wear the coat exactly the way you want to. With soft cotton striped shirt lining for comfort, a two-way zip, and snap fastened rear vent, you'll be comfortable and dry even on the wettest walk.
Pair it up with a gorgeous Aran knitwear Sweater like this light-weight one made in Dublin. It is light, luxurious and soft to wear—a magnificent addition to your Spring and Summer wardrobe.
Shop the look here:
We hope you enjoy styling your Aran into your Spring and Summer outfits... we know we will.
Pick up an Aran bargain this Spring/Summer
As the weather heats up, so do our unique offers!
If you like what you see above, please keep an eye out for discounted rates in our Spring/Summer sale where you'll find up to 50% off select seasonal items throughout the warmer weeks and months ahead.