Timeless Traditional Irish Men's Fashion Styles to Suit Any Occasion
Seasons come, and seasons go, but authentic Irish styles for men endure. Every style for men needs some degree of space to develop and transform in line with the latest trends, but there are some staples of Irish fashion for men that will continue to remain in the spotlight, year in, year out.
Timeless Irish styles for men really need to become the backbone of your personal clothing collection. With the countless appearances, you'll be able to construct your wardrobe upon pillars of styles for men that will not falter -keeping you from wardrobe ruin and outdated looks.
Irish men's fashion remains in for the long haul, which ultimately means you get more buck for your money too -a real plus for the budget shopper. If your 2021 resolution revolved around sustainability, buying into timeless trends is the perfect way to achieve your goal.
But where exactly did Irish men's fashion start? We cover traditional Irish ladies styles here and the evolution is similar. Read on to discover a taste of history into the glamorous looks we still see to this day, and refer to our Irish man fashion style guide to complete your wardrobe with glances that will continue to be untouched by the sands of time!
The History of Irish Men's Fashion
When most people think of traditional Irish menswear, they think of the clothes worn for Irish dance. While this is an iconic look, trust us, they didn't just wear kilts, green, or cover everything with Celtic knotwork embroidery.
Although there is very little known about Irish clothing before the twelfth century, historians gather that the early settlers of Ireland attired in wool cloth, although some argue that garments made from animal skins were more common. As we go into the thirteenth century, we can find the Irish bundling themselves in mantles -coats made of wool cloth.
A large number of mantles were formed from tiny scraps of cloth sewn together, although the wealthy were able to afford mantles made from a single but substantial piece of cloth.
In the olden days, most Irish people - even those who wore locally-woven fabrics like silk, linen, wool, and cotton -still dressed in styles that competed with the fashion-conscious of Europe.
While some Irish men dressed in a more traditional manner (particularly those in rural areas), the majority of the Irish men population wore clothing that reflected the changing fashions, and was highly influenced by many parts of Europe.
In the mid-19th century, there were many technological advances. Things like the invention of the sewing machine impacted democratized fashion, enabling both professional and home clothing makers to adapt and copy the latest Irish men's fashion easily.
The Sweatershop Fashion for Men Style Guide
When it comes to Irish men's fashion, you may be surprised by the take on it. Many people think of it as some sort of "throwback"; however, it's more of an underrated simplicity, topped up with a bit of weather-related woolen sweater charm and that famous quick wit.
So what are the keys to looking good and feeling great? Let's start with a few items from us, right here at the Sweater Shop.
100% Lambswool V Neck Sweater Chilli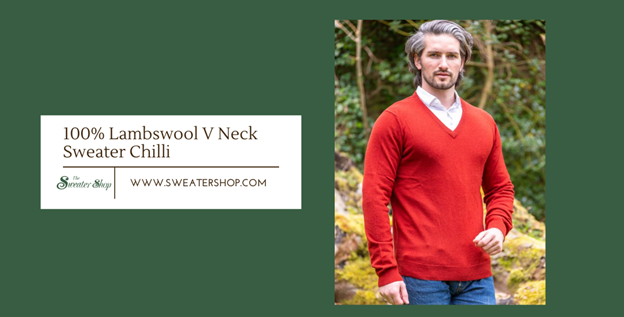 This men's lightweight V-neck sweater is made of 100% lambswool. It is the perfect Summer sweater, boasting elegance, sophistication, and Irish men's fashion. The color of Red it provides draws you into a world of art, matching perfectly with a pair of blue jeans and your favorite shirt. Bear in mind that this is a fitted sweater, so it runs slightly small.
100% Lambswool Lightweight Crew Neck Rich Navy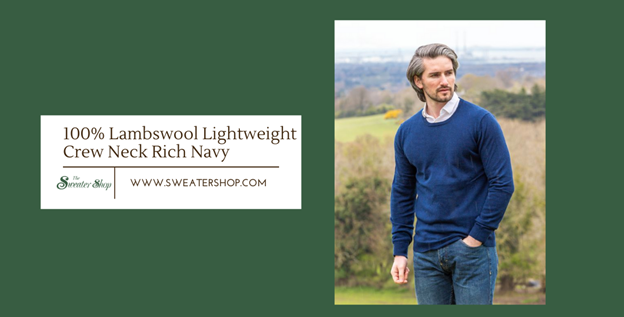 A characteristically timeless classic from the SweaterShop, this jumper is crafted from pure lambswool, and is expertly cut for a snug fit. It's an iconic look, and serves as a hallmark of quality craftsmanship. Understated yet sophisticated, this versatile lambswool lightweight jumper will sit elegantly over both casual and formal ensembles.
Men's Aran Half Zip Neck Sweater Denim Marl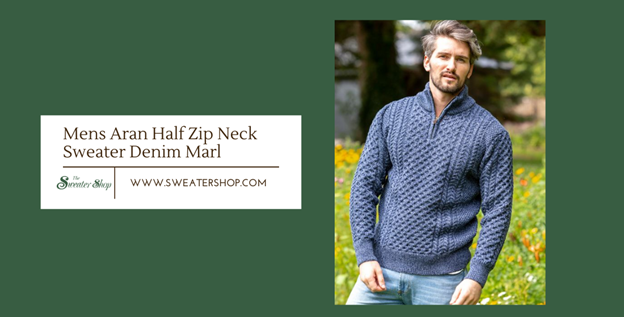 A trendy Irish Aran Half Zip sweater, available in black watch and green marl, is 100% Soft Merino Wool. It's the ultimate, authentic Aran sweater for modern style, an accurate statement of fashion for men, and a beautiful wardrobe addition.
Cozy yet practical, this jumper would definitely play a significant role in creating the perfect Irish style for men, especially when teamed up with a crisp shirt underneath.
Men's Full-Zip Aran Waistcoat Blackwatch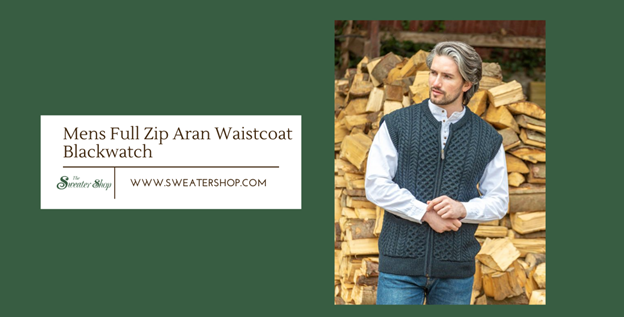 If you're looking for iconic men's fashion, look no further than our Irish Aran cable knit sweater vest, which is made from 100% merino wool. It is a beautiful shade of navy and green mixed in together to create a color we call Blackwatch. This staple of Irish man fashion features two practical front pockets, making it a must-have any season. Although ideal for the warmer weather, it can be worn over your favorite grandfather shirt or Aran sweater any time of the year.
Men's Fashion Merino Wool V Neck Sweater Beige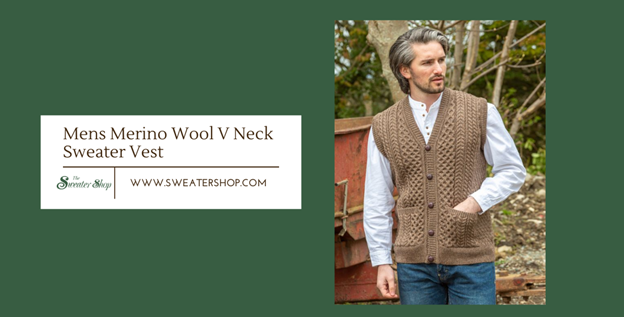 This men's cable knit waistcoat boasts a stunning shade of beige, making it neutral enough to match with anything in your wardrobe. It's made from 100% Merino wool, and is an absolute must-have for anyone seeking grand styles for men that flaunt sophistication. It features beautiful cable knit stitches throughout, making it elegant, and stylish, yet classic enough to last a lifetime.
Merino Shawl Neck Sweater Peacock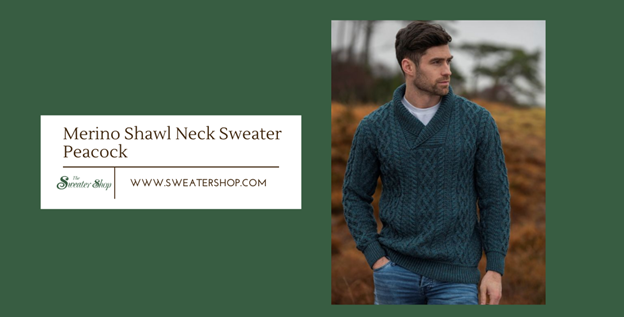 Another iconic style for men convenes in our Shawl Neck sweater, made in Ireland, from 100% merino wool. It is a beautiful shade called Peacock, making this truly stand-out sweater even better.
We absolutely love the shawl as it can be layered with a cozy scarf in the Winter or simply worn with your favorite t-shirt when the weather gets milder. The aran stitches can be seen throughout this Irish sweater, making it a classic sweater with a modern twist.
Wool and Cashmere Full Zip Cardigan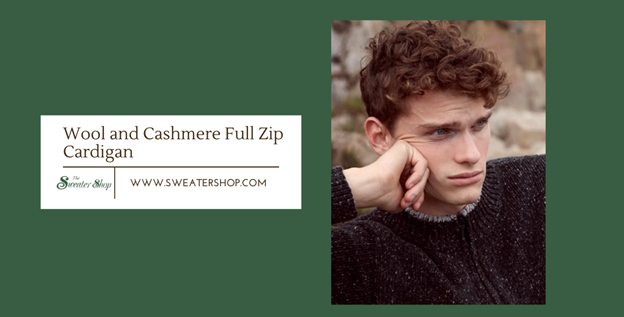 Luxurious, soft, and glamorous - you're never going to want to take this beautiful statement of Irish man fashion off. This men's wool and cashmere full zip cardigan is made in Dublin by Irelands Eye knitwear.
It is made of 95% merino wool and 5% cashmere, giving it the most wonderful feeling. It is perfect for wearing in the summer evenings when the weather gets chilly or layer up in colder months.
Grab Yourself a Timeless Men's Irish Garment Today
When diving into Irish men's fashion, and general fashion for men - the Sweater Shop is the place to be. Our garments are sure to become the perfect addition to your knitwear collection.
Feel free to layer any of our sweaters over a t-shirt and pair them with jeans for casual weekends. Or, if you need to smarten up, layer over an iconic grandfather shirt with chinos for that business-ready look.
With various ranges of shades and styles for men available - from roll neck and crew neck or even a cardigan - you'll look amazing no matter the occasion.
As we use only the softest and highest quality fabrics to craft these iconic menswear pieces for our happy clientele, you're sure to feel exactly as good as you look!