Cable knit Side Zip Cardigan Navy
Cable knit Side Zip Cardigan Navy
We're offering you a new and special garment to add to your wardrobe during this winter season. This cable knit cardigan is a classic and stylish piece to wrap yourself in and enjoy the warmth, softness, and coziness of 100% pure merino wool. The beautiful sweater is ideal for keeping you nice and toasty thanks to the material's moisture-wicking breathability and resilience.
The beautiful ladies' hoodie features a sleek and modern shawl collar that distinguishes it from other Aran pieces in your closet. Beautiful Aran stitches adorn this classic piece representing the fishermen's ropes and wishes for success.
This beautiful pullover is skillfully and expertly hand-knitted by famous Irish Family Producers in Ireland, making it a perfect gift for someone who adores Irish culture. Moreover, the full zipper at the side enhances the modern feel of this women's hoodie. The sweater is perfect for layering up or down for style adaptability or as the weather changes.
The two stylish side pockets bring symmetry to this gorgeous cardigan, making it a classic and statement piece. This hoodie will be a staple and a favorite in your wardrobe for many years.
Features
A warm and cozy piece made from 100% merino wool
Handknit by Irish Family Producers in Ireland
The full zipper on the side gives it a modern feel
Features Aran cable rope and braid patterns
Available in sizes XS to XXL
Size Chart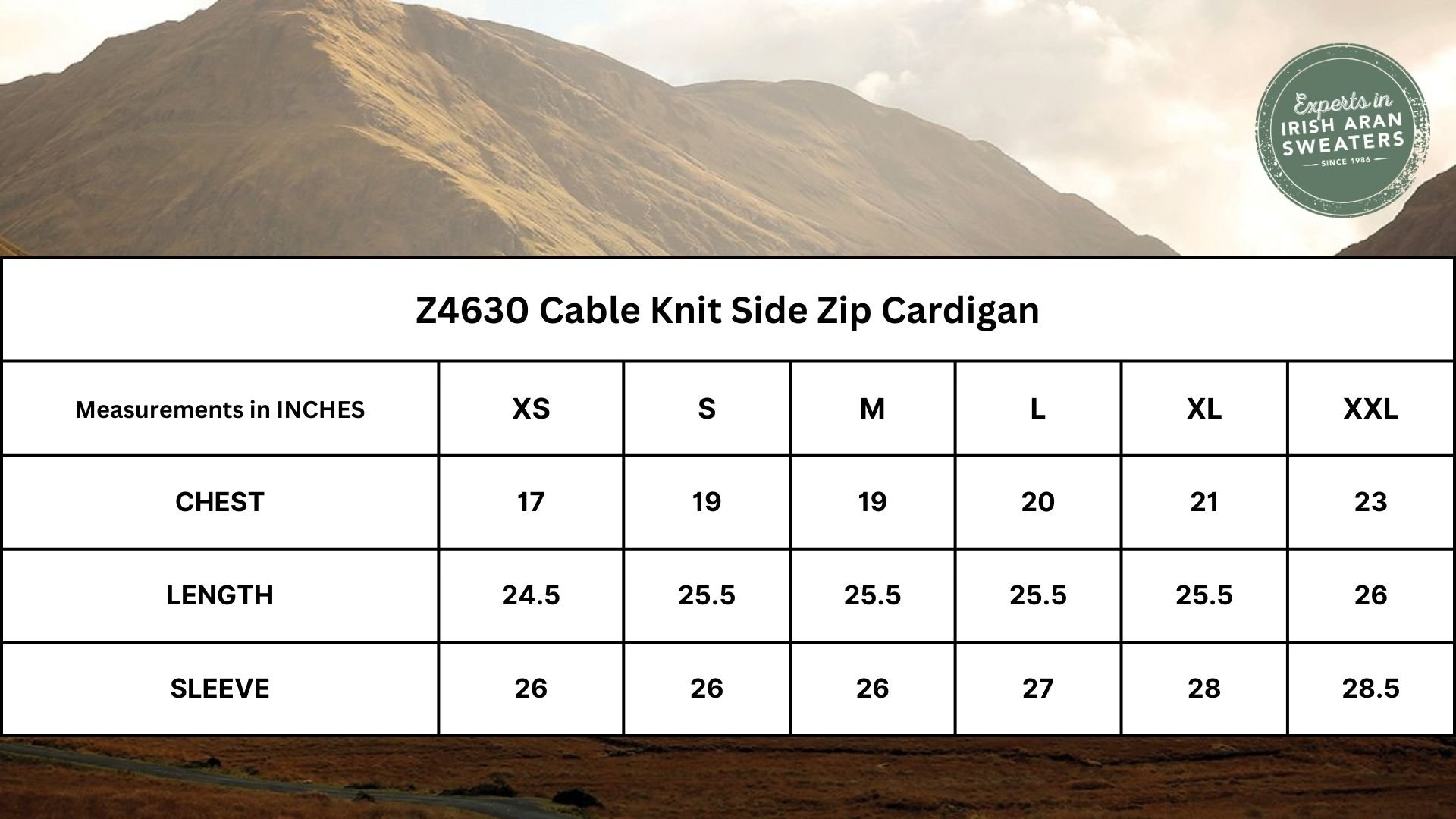 Wash Care
While our sweaters are a great choice, because they are warm and durable, proper care should be always taken to protect your garment. We recommend all of our sweaters and wool garments are gently hand washed with a mild wool detergent, reshaped by hand and dried flat. If soaked for too long, the wool may shrink and become hard.
Alternatively, most of our sweaters can also be dry cleaned but always check the care label first. Under no circumstances should you machine wash or tumble dry your sweater or any other wool product. Remember, when you give your sweater great care, it will last you for a long time.
Our Customers Rate This Product