Cable Knit Side Zip Cardigan Royal Blue
Cable Knit Side Zip Cardigan Royal Blue
Show some love to the woman in your life with this beautiful cable knit cardigan from the Sweater Shop. This perfectly knit piece from the Irish Family Producers in Ireland will be a favorite in her closet.
The beautiful royal blue cardigan features 100% merino wool fibers, expertly put together to create a warm, soft and cozy sweater. The breathability of merino wool makes this piece ideal for all weather. So whether you're wearing your official clothes, or just putting on some casual wear, be sure to complete your look with this gorgeous cardigan.
What's more, the side zip with Celtic knot zipper offers a biker jacket feel while adding class and style to it. The shawl collar is a distinct yet classic feature of this ladies' garment that draws attention to you. Classic Aran stitching adorns this gorgeous sweater, making it a standout piece.
The two side pockets will keep your hands warm or store small items to free your hands. The high-quality merino wool makes this sweater durable with minimal care.
Features
A classic and beautiful garment from the Irish Family Producers in Ireland
Skillfully hand-knitted with 100% merino wool for softness, breathability, and coziness
The shawl collar and two side pockets add style to the cardigan
Features classic Aran stitches
Available in various sizes from XS to XXL
Size Chart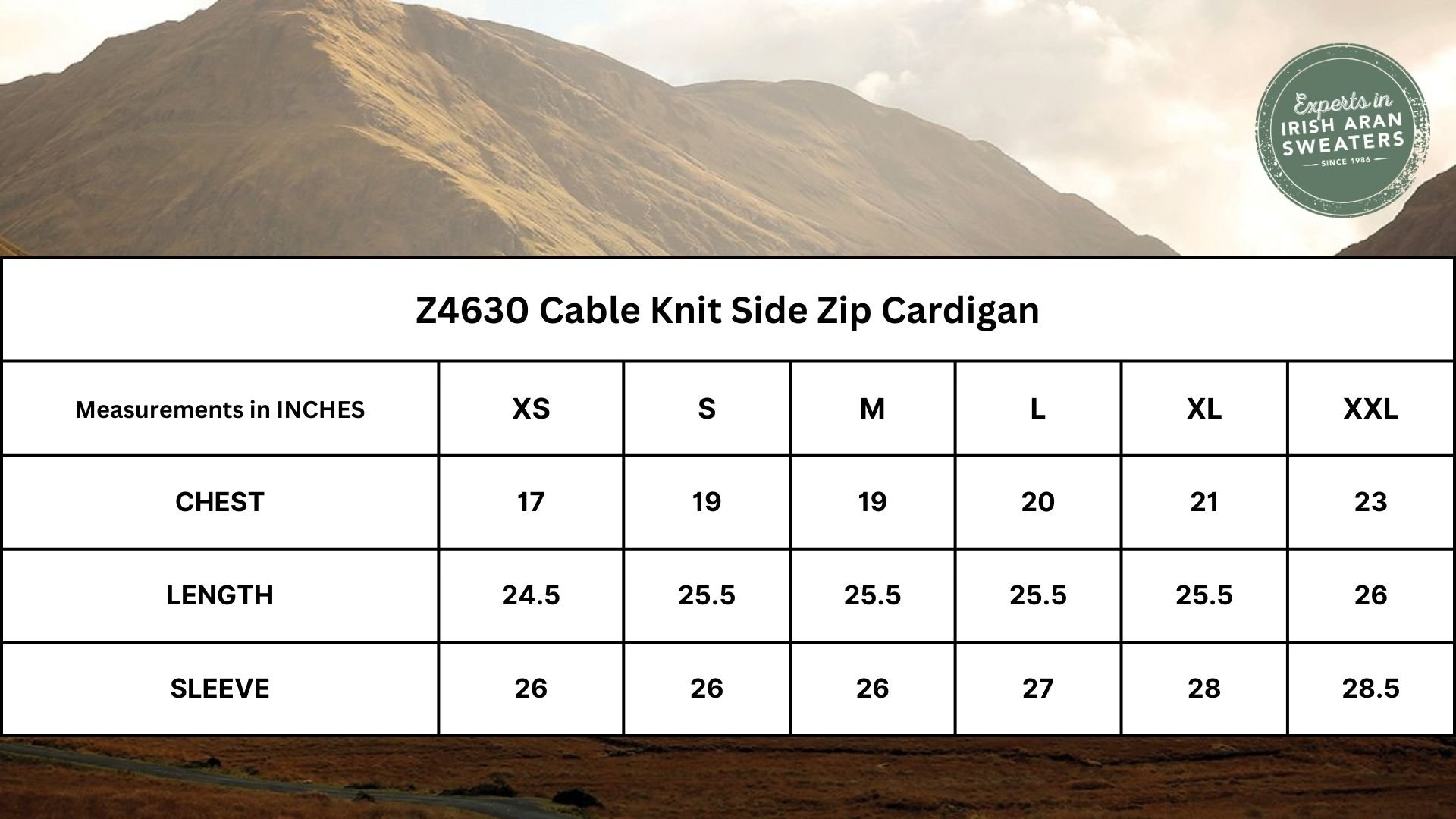 Wash Care
While our sweaters are a great choice, because they are warm and durable, proper care should be always taken to protect your garment. We recommend all of our sweaters and wool garments are gently hand washed with a mild wool detergent, reshaped by hand and dried flat. If soaked for too long, the wool may shrink and become hard.
Alternatively, most of our sweaters can also be dry cleaned but always check the care label first. Under no circumstances should you machine wash or tumble dry your sweater or any other wool product. Remember, when you give your sweater great care, it will last you for a long time.
Our Customers Rate This Product