Cable Knit Side Zip Cardigan Parsnip
Cable Knit Side Zip Cardigan Parsnip
You must be craving more warmth and coziness as this cold weather progresses. We have an ideal piece to wrap yourself in and enjoy the warmth while maintaining a classic look. This cable knit cardigan is a perfect piece from the Irish Family Producers — a leading manufacturer of Irish knitwear.
The cardigan is made from 100% extra soft merino wool offering supreme warmth, coziness, and breathability. The sweater is comfortable to wear and feels luxurious to the touch. You can rest assured of comfort all day long thanks to the breathability of merino wool.
Moreover, the cardigan features a classic full zipper on the side, finished off with a silver-toned Trinity knot zipper pull, offering a Celtic flair. The two front pockets will keep your hands warm and hold small items while adding style to your winter outfit.
The sweater is adorned with beautiful Aran stitches that have a rich Irish meaning. It is a quality piece that will most likely stand the test of time with minimum maintenance. We recommend hand washing your garment to maintain its quality.
Features
A classic piece from the famous Irish Family Producers
Made from 100% merino wool for warmth, softness, and breathability
Features a classic full zipper on the side
Available in XS to XXL sizes
Size Chart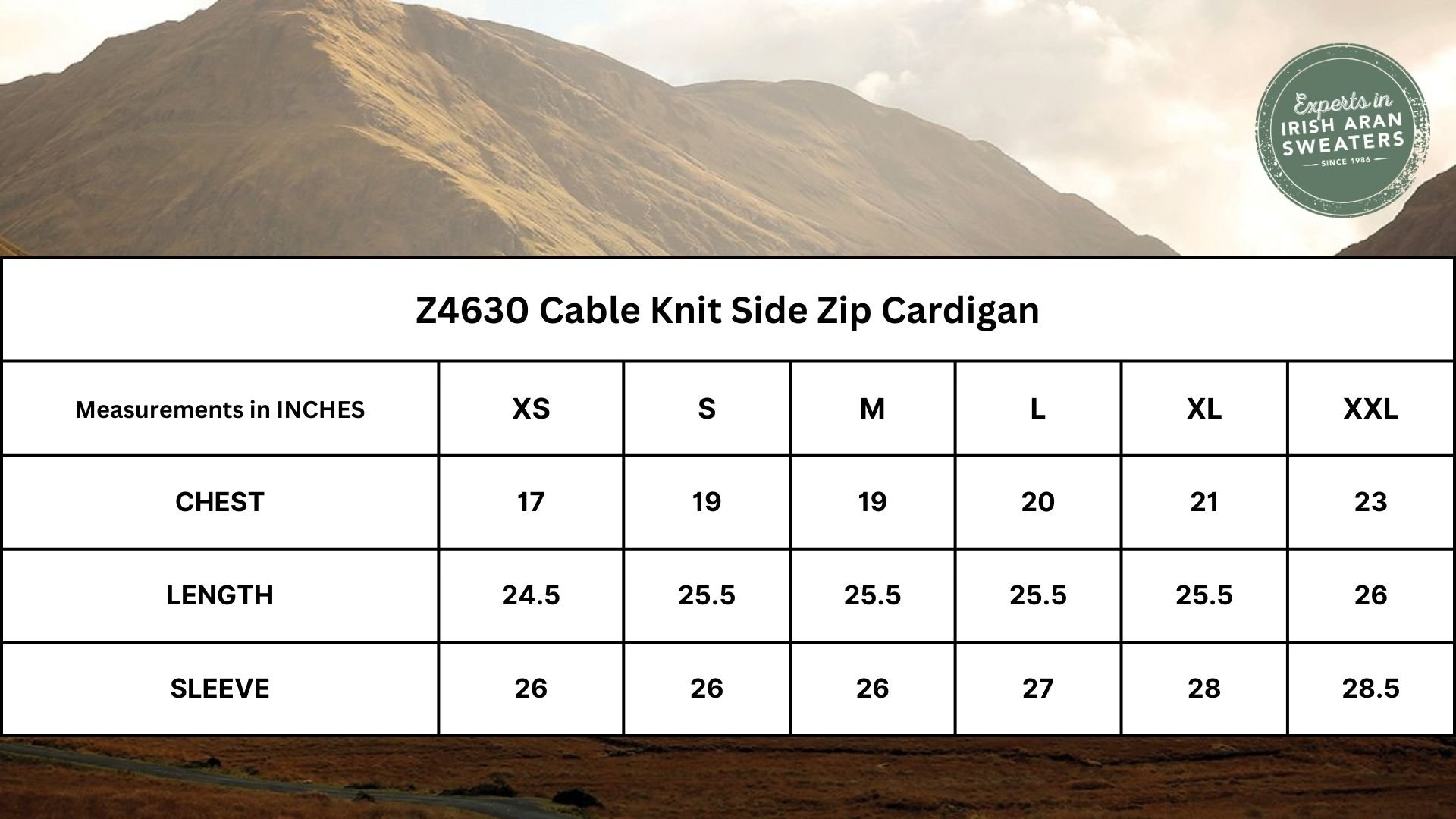 Wash Care
While our sweaters are a great choice, because they are warm and durable, proper care should be always taken to protect your garment. We recommend all of our sweaters and wool garments are gently hand washed with a mild wool detergent, reshaped by hand and dried flat. If soaked for too long, the wool may shrink and become hard.
Alternatively, most of our sweaters can also be dry cleaned but always check the care label first. Under no circumstances should you machine wash or tumble dry your sweater or any other wool product. Remember, when you give your sweater great care, it will last you for a long time.
Our Customers Rate This Product