The Best Aran Sweaters in 2023: Our Favorites
Are you shivering in the sudden change of weather? With winter suddenly here and with it only getting colder the deeper we head into the season, we've got the best warm and cosy Aran sweater picks for you to choose from throughout the year ahead.
With our beautiful array of styles, designs and colors direct from Ireland's Wild Atlantic Way, The SweaterShop is the perfect place to find your next winter wardrobe essentials!
So let's dive in and showcase our ten most popular Aran products across our ladies, men's, unisex and kids ranges for you to consider!
What is an Aran Sweater?
The humble, Irish Aran Sweater is steeped in rich history. Named after the Aran Islands, located off Ireland's West coast at the mouth of Galway Bay. Created many generations ago, the style was worn by fishermen and farmers who worked and dwelled together near the coastal town.
The style has been passed down through generations and is considered the ultimate Irish Clan Heritage symbol of the area. Moreover, the design is still popular among knitting circles and is still worn today to represent the heritage and origin of the sweater.
Aran sweaters are highly sought after due to their warmth and look. Their ability to keep in heat and their place as a fashion statement cements them as a popular choice. Traditionally worn by men facing harsh weather conditions at sea, they are also known as fisherman sweaters, a term more people are possibly familiar with.
Aran sweaters have unique stitching patterns and intricacies that other styles are missing and are overall considered a practical choice and fashion statement. They appeal to multiple customers and will likely continue to be a popular style for generations to come.
The Top 10 Choices of the 2023 Season
With many beautiful designs and colors to choose from, here are the top 10 choices available now.
Women's Sweaters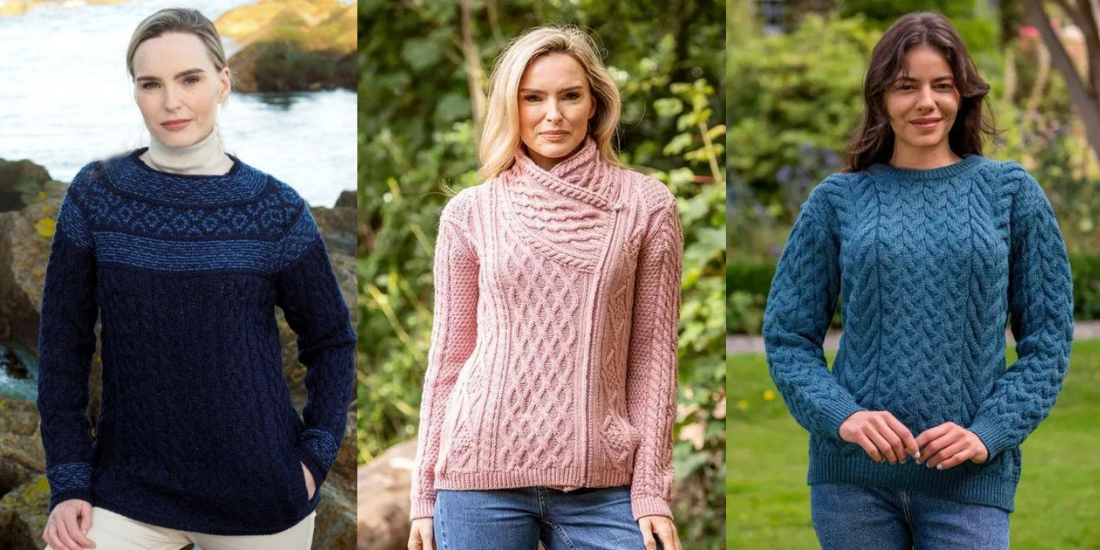 This great collection of merino wool women's sweaters was designed with one thing in mind, versatility. The ability to match your sweater with your existing pieces is undoubtedly and obviously important, and so that need has been kept in mind.
As a result, you will be able to create your perfect outfit with ease and know that you will be keeping warm and looking beautiful.
The SweaterShop has something to suit all women's sweater needs and taste in style, from bestselling options to more unique and quirky styles. The sweaters are so comfortable and warm you will never want to take them off.
This beautiful sweater showcases a mix of the traditional Aran cable pattern on the body of the garment and a Fairisle pattern on the top, neck, and cuff to complete the Jacquard design.
Moreover, with raglan sleeves, pockets, and a round neckline, you can be sure this sweater will flatter everyone lucky enough to see you in it!
This beautiful and cozy pink Aran cardigan features a trendy side zip with an Irish Claddagh symbol detail. Made of 100% merino wool, it will easily keep you warm and snug this wintertime.
In addition, it features a classic design in a fun soft color to effortlessly pair with your existing wardrobe.
As the name suggests, this is a super soft sweater designed to keep you warm and snug. It feels luxurious, looks luxurious, and will make you feel luxurious.
Made in Ireland with the highest quality wool, this sweater is long-lasting and will be a lifetime staple in your winter wardrobe.
Men's Sweaters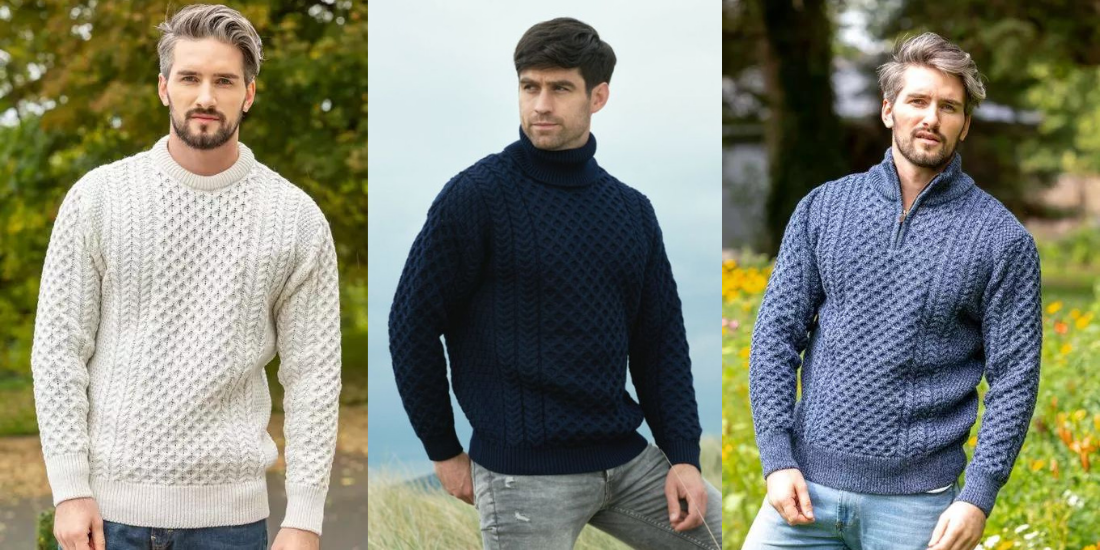 Our classic and contemporary range of men's sweaters exude style, comfort, and class while also being a practical option this winter. The SweaterShop has a unique and versatile selection of sweaters for you this winter, all made of 100% Irish wool.
You will find the perfect piece to compliment you and your style with different cuts and available. One of the sweaters on offer will undoubtedly become a go-to piece in your winter wardrobe.
This is one of The SweaterShop's best-selling men's sweaters. Made of 100% merino wool, it is a classic design that is timeless, elegant, and extremely warm in winter.
This style is made to seamlessly fit with existing outfits and be that classy edition to your winter outfit repertoire.
This sweater stands out from the rest with its stunning Irish stitches. Pair it with a luxurious woolen scarf to perfectly polish your look.
This Aran jumper combines functionality, warmth, and style. Made in Ireland, this 100% merino wool Irish turtleneck is available in natural and charcoal colors to compliment anyone.
It can be highly versatile and be worn both by men and women. It is a classic yet stylish piece that follows traditional Irish stitching patterns that have been used for generations.
A timeless piece, this men's sweater will see you through many winter months.
This half-zip sweater slightly branches away from the traditional Aran sweater design to bring you a trendy and more modern vibe.
It's made from warm and soft 100% merino wool and is available in black watch and green marl. Layer for extra warmth, and this sweater will see you through the coldest of months.
Unisex Sweaters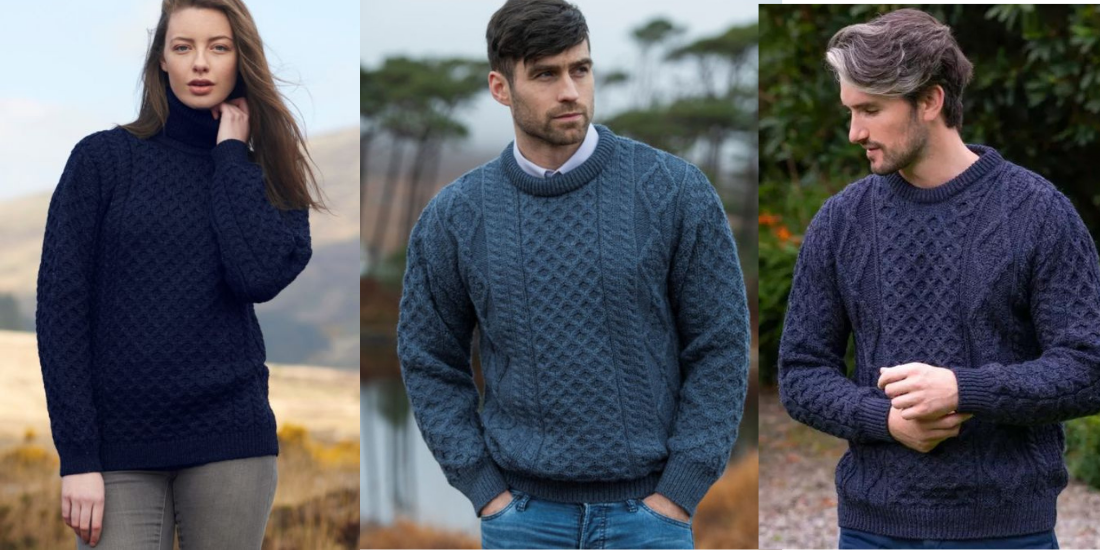 Many sweaters at The SweaterShop are unisex. With the use of unisex sizing, popular styles from the men's and women's sections can be worn by anyone.
Here are the top picks that will keep both men and women looking good and keeping warm in 2023
This sweater is made from 100% pure new wool and is in a beautiful denim look. This traditional style with flecks of color interwoven through the garment is a stunning and classic piece of knitwear for anyone's closet.
It is the most well-known style of Aran knitting and is worn by both men and women. It is said that the stitching incorporated brings the wearer luck, success, and health.
Historically, the honeycomb design represents hard-working honey bees, the basket stitching brings good luck, and the diamond pattern represents wealth. They combine to wish you a healthy, prosperous life!
Available in natural and charcoal, this unisex Aran sweater will make a classy and practical addition to anyone's collection.
The traditional style has been historically worn by both men and women and effortlessly keeps you warm in colder weather while also keeping you looking smart and stylish.
Kids' Sweaters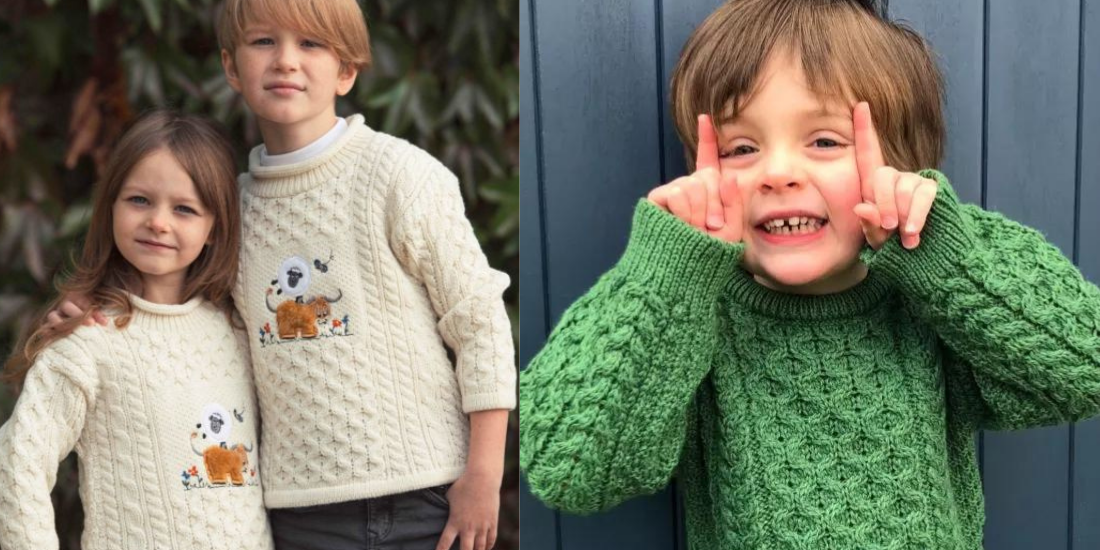 Our extensive kids' aran sweaters collection is designed with practicality, warmth, and style in mind.
With designs made from 100% merino wool that are made to last, your child will be kept warm for many winter seasons to come.
This beautiful kids sweater is warm, practical, and adorable. It is soft to the touch and comes in various colors with a cute animal design.
In addition, this design features a mix of traditional cable and honeycomb stitches your child will undoubtedly love.
Kids Green Aran Sweater
This gorgeous, bright children's sweater comes in the stereotypical but proud Irish green. This design is a stunning and fun addition to your child's wardrobe and will be an excellent piece for the quickly approaching St. Patrick's Day celebrations.
Eye-catching, warm, and insanely comfortable, this is an ideal pick for your little one.
Pick Up Your New Aran Sweater at The SweaterShop
The SweaterShop is the perfect place to pick up your new warm and stylish Aran sweaters.
With a mixture of tradition, practicality, and trendy styles, you are sure to find the perfect sweater for you.
Be sure to start saving early in the new year and pick up a smart bargain for you and your loved ones in our annual January sweater sale – happy new year, and happy shopping!