St. Paddy's Day – A Truly Global Irish Celebration
St Paddy's Day celebrations are globally enjoyed by many people each year. Once only celebrated by those in Ireland, its popularity and spirit have spread worldwide.
Though festivities celebrating St Paddy's Day around the world have been a bit different the last few years, this year in Ireland, it's set to be big. So big in fact that it's set to become a four-day event of celebrations this year!
With that said, you'll be needing a lot of shamrocks and green paraphernalia for the upcoming celebration this year no matter where you're planning to participate. So, grab your Irish sweater from the Sweater Shop in our annual St. Patrick's Day Sale, bring your Celtic spirit and start getting excited for the best Festival in years!
A Brief History of St Patrick's Day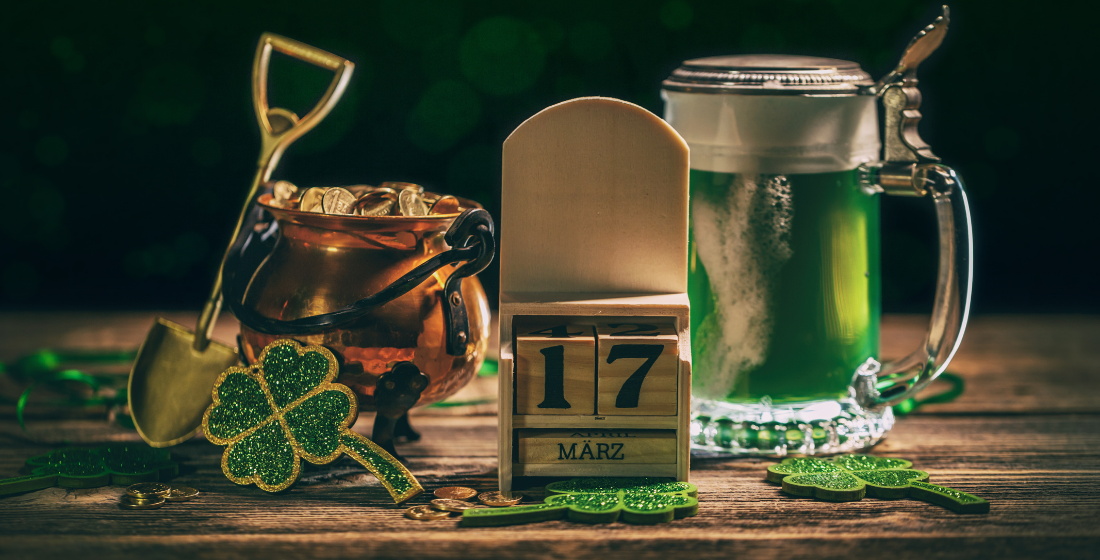 What is St Paddy's Day?
The history of St Patrick's Day as an official holiday dates all the way back to the 1900s, however, it was identified and celebrated as a national feast day in Ireland as early as the 10th century.
St Paddy's Day marks the death of the patron saint of Ireland, St. Patrick who is regarded as the principal missionary in bringing Christianity to Ireland, where he used the leaves of the ever-famous shamrock to teach the doctrine of the holy trinity.
During a rebellion throughout 1798, Irish soldiers wore all green uniforms in the hopes of drawing both attention and support. This is where the rave about St Patrick's started. The green eventually overtook blue, and shamrock along with their now-famous green color became the norm for those celebrating St Patrick's day.
Many find it hard to believe, but the color associated with St Patrick was originally blue. However, in order to honor the famous saint, people everywhere began to wear shamrocks.
Since then, this special occasion has now spread to every single corner of the globe, having evolved from a religious celebration and turned into a day to celebrate Irish culture. People all over Ireland and the world celebrate with parades, special foods, music, dancing, drinking, and a whole lot of green!
Although it originated in Ireland, it is now widely popular in the US, Canada, Australia, New Zealand, Great Britain, Argentina and they even celebrate it in Japan, Singapore and South Korea nowadays – a true testament to the global nature of the event and how 'Irishness' transcends borders.
The next St Paddy's Day will be celebrated just around the corner on Friday, March 17th, 2023. So, mark your calendars, book your plans and get ready for a wave of green!
Why is St Patrick's Day Important?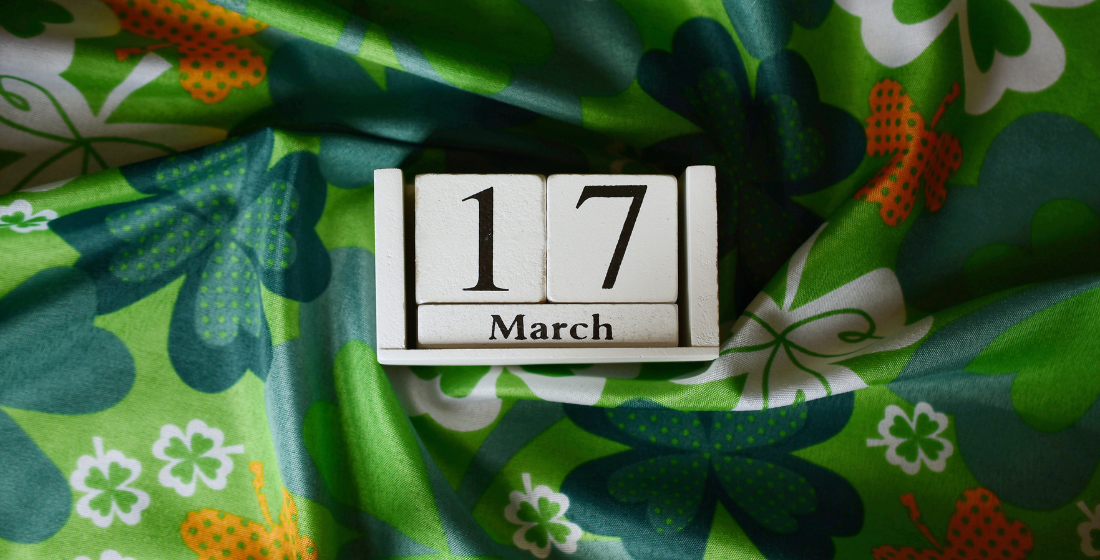 For many, this is a day where one can enjoy a pint of green beer, dress up in wacky St Patrick's Day sweaters (or 'jumpers' as we say in Ireland), and erupt in celebrations all round. However, this is also a day that stands for so much more than just partying.
St Patrick's day is important for so many people, especially those who appreciate the traditional acts like going to Church, parades, and the attendance of ceilidh, traditional Gaelic festivals featuring Gaelic folk music and dancing.
In recent years, the act of giving on Paddy's Day has become more recognized globally. Typically, people will receive St Patrick's Day clothes like Aran Knitwear, and other things to mark this special day like green candy, chocolate shamrocks, Irish beer, and anything else they can think of.
Traditional Ways of Celebrating St. Patrick's Day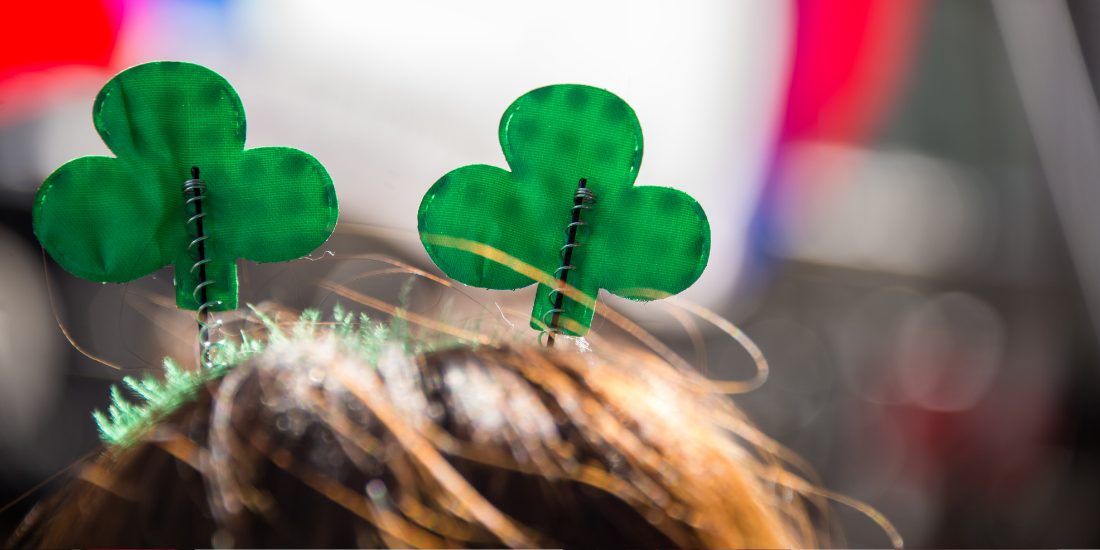 As mentioned, St Patrick's Day is a worldwide celebration of green, shamrocks, Guinness, and parades. With the range of ways in which the day is typically celebrated, it's easy to get swept up in the fun.
Wear Green and Proudly Sport a Shamrock
The shamrock is now tightly connected to St Patrick and is widely used to represent Ireland. The most typical way to celebrate the Irish holiday is to be fully kitted out with a green outfit and wear shamrocks in some form.
You can show your Irish pride with a shamrock-themed sweater or scarf from the Sweater Shop. It only makes sense to support an Irish-run company while shopping for your St Paddy's Day garb!
Eat Some Traditional Irish Grub
The traditional meal for St Patrick's day was boiled bacon, potatoes, and soda bread. However, there are now various versions of traditional dishes that are enjoyed to honor the day.
For example, Irish ex-pats in America started using beef instead of bacon as it was cheaper. Instead, they would tenderize it with brine and slow cook it with cabbage for an American twist.
There's a wide range of dishes enjoyed worldwide that are now eaten to celebrate the day, including Irish Beef Stew, Irish Boxty and Dublin Coddle.
Attend a Parade
Parades happen all over the world on St Paddy's Day, and they are great fun for the whole family. Parades have been happening for centuries in Ireland, but the first colonial American St Paddy's Day celebrations were in 1737 in Boston.
Now it is celebrated all over the states, and New York's famous 5th Avenue parade is the largest and rowdiest of all the St Paddy's parades internationally! Recurring for 250 years, it is incredibly popular with a turnout of 150,000 – 250,000 marchers yearly.
Cheers at the Pub
As the Irish spread around the world during the 1840s potato famine, you'll now never be far from an Irish pub. From Melbourne to London, you'll be able to find an Irish watering hole and enjoy the famously Irish drink, Guinness.
The dry stout originated in Dublin and is considered to be the traditional alcoholic beverage of Ireland – you can see the best Dublin pub prices right here!
St Paddy's Day Festivals in Ireland
There will be a St Paddy's Day festival or parade in most cities and towns in Ireland this year. So wrap up, put on your lovely Irish sweater (or 'geansai') and get ready to head out for a day of great Irish 'craic'!
St. Paddy's Day in Dublin
Enjoy your March 17th watching Dublin's St Paddy's Day parade as it winds its way through the streets of Ireland's capital.
Hundreds of the city's top performers have been preparing a show to wow the thousands of spectators expected to gather. This year's parade will certainly go off with a bang!
You can view the full schedule of Dublin events at: https://stpatricksfestival.ie/events
St. Paddy's Day in Galway
Visit Galway's four-day St Paddy's Day festival this year. The parade is leading up to be the largest St Paddy's Day celebration the city has ever seen, with the city council planning to run an extra-long and extra big weekend of celebrations over the long bank holiday weekend from March 15th to March 19th.
The parade itself marks the beginning of the long weekend and will set the tone for the spectacle you will see over the weekend. There will always be something to see with free live music, entertainment, and performances.
Full schedule for Galway: https://www.galwaytourism.ie/event/st-patricks-day-festival/
St. Paddy's Day in Kilkenny
This year's parade follows the massively successful parade we saw in 2022. Featuring talented participants from across the country, as well as some special international guests, this year's return promises to be a lively community affair with entertainment for all the family from March 15th-19th.
As per usual in The Jewel of Ireland's Ancient East, there are many other events and things to do happening before and after the parade.
Around the city, there will be the festival street food market, live music, carnival rides, workshops, street entertainment and more. Kilkenny will be a fantastic place to spend your March 17th this year.
Full schedule for Kilkenny: https://stpatricksfestivalkilkenny.com/
St. Paddy's Day in Killarney
Better days are on the way. St Patrick's Festival in Killarney is back bigger and better than ever for 2023. Following the extremely successful and safe Christmas parades Killarney enjoyed in December, they are confident about this year's spectacular planned parade.
This year's parade plans to celebrate the Earth. The theme will focus on the planet we live on and the world we share with 7.8 billion other inhabitants.
Our planet is under threat from global warming, conflict, and neglect, and we need to consider our responsibilities to not only the place where we live, but to the others we share the Earth with.
The color theme is intended to be green to fit in with the St Paddy's Day aesthetic, and there will be many green themed activities that fit in with the Earth theme.
Full schedule for Killarney: https://stpatricksfestivalkillarney.ie/
St. Paddy's Day in Belfast
Belfast enjoys one of the biggest parades in Northern Ireland. So head north this spring and join in on the St Paddy's Day celebrations.
Experience the Irish culture in the heart of Belfast, sample tasty Irish food and drink, enjoy Belfast's nightlife, or follow in the footsteps of the saint himself on the St Patrick's trail.
Full schedule for Belfast: https://visitbelfast.com/ideas/st-patricks-day-in-belfast/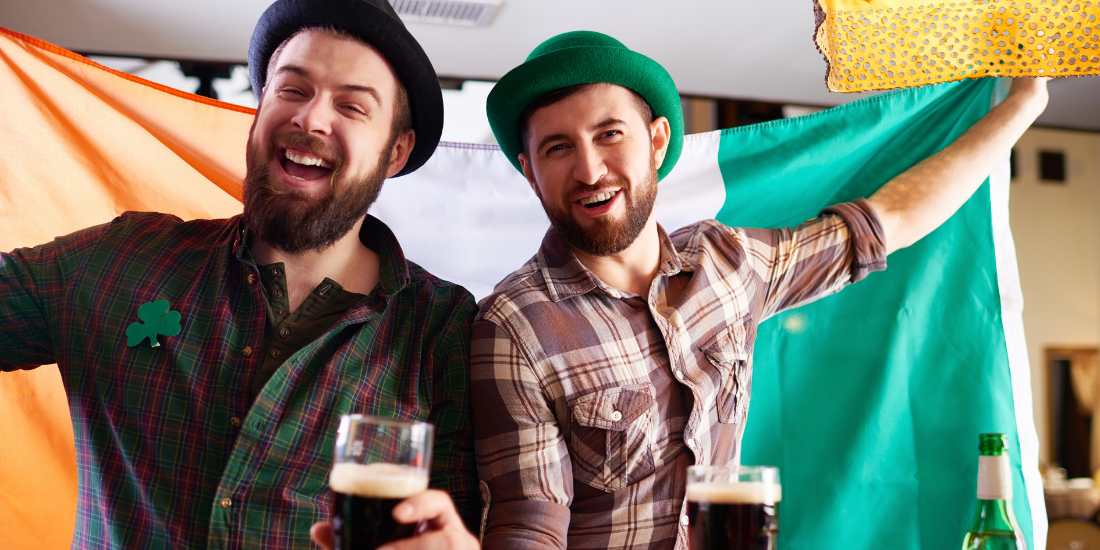 St Paddy's Day Highlights in the US
St Paddy's Day festivals and parades are also very widely enjoyed in the US. In all major cities, you will stumble across Irish pride on the day, and there are many fun and wonderful events planned for this year.
St. Paddy's Day in New York City
The New York City St Paddy's Day parade is one of the city's greatest traditions. The NYC parade is steeped in history, with the first-ever parade taking place in 1762, fourteen years before the signing of the United States Declaration of Independence.
The first St Paddy's Day parade was made up of homesick Irish ex-patriots and Irish military members who were serving with the British Army Stationed in the colonies in New York.
At this time, wearing green was a sign of Irish pride but was actually banned in Ireland. In that first-ever parade, participants enjoyed the freedom of speaking Irish, wearing green, singing Irish songs and playing Irish tunes on the pipes that were meaningful to Irish immigrants of that time.
Today, St Paddy's Day in NYC is the world's oldest and largest parade that is enjoyed by many. The modern parade marches up 5th Avenue, proceeds by several prominent buildings and passes St Patrick's Cathedral.
If you can, it's highly encouraged to attend the parade and become a part of the action of this historic event.
Full schedule for New York: https://www.nycstpatricksparade.org/
St. Paddy's Day in Boston
A treasured focal point of Irish America, Boston's top St Patrick's Day events include the enormous St. Patrick's Day Parade in South Boston, concerts by the Dropkick Murphys' at House of Blues, and non-stop festivities in Boston's famous Irish pubs. However, that's only the beginning of the fun things to do on the day!
You can also raise a glass of Guinness while listening to traditional Irish music on a sightseeing cruise around the historic Harbor.
Moreover, explore the Irish Heritage Trail to discover Boston's Irish heritage, head to TD Garden to watch the Celtics play, or stop by Harpoon for some house-made Irish specialties and, of course, their special brew.
Full schedule for Boston: https://www.boston-discovery-guide.com/st-patricks-day-events.html
St. Paddy's Day in Chicago
There's nothing quite like St. Patrick's Day in Chicago. Irish taverns fill with revelers, cultural celebrations pop up in every corner of the city with explosions of green, and the Chicago River sparkles brilliant shades of emerald green.
The history of St. Patrick's Day in Chicago goes back more than 175 years. Now a longstanding and anticipated tradition, Chicago's Irish parade was first held in 1843 and became an official city event in the 1950s.
The dyeing of the Chicago River was added in 1962, quickly becoming one of Chicago's most famous events.
Full schedule for Chicago: https://www.choosechicago.com/articles/holidays/st-patricks-day-chicago/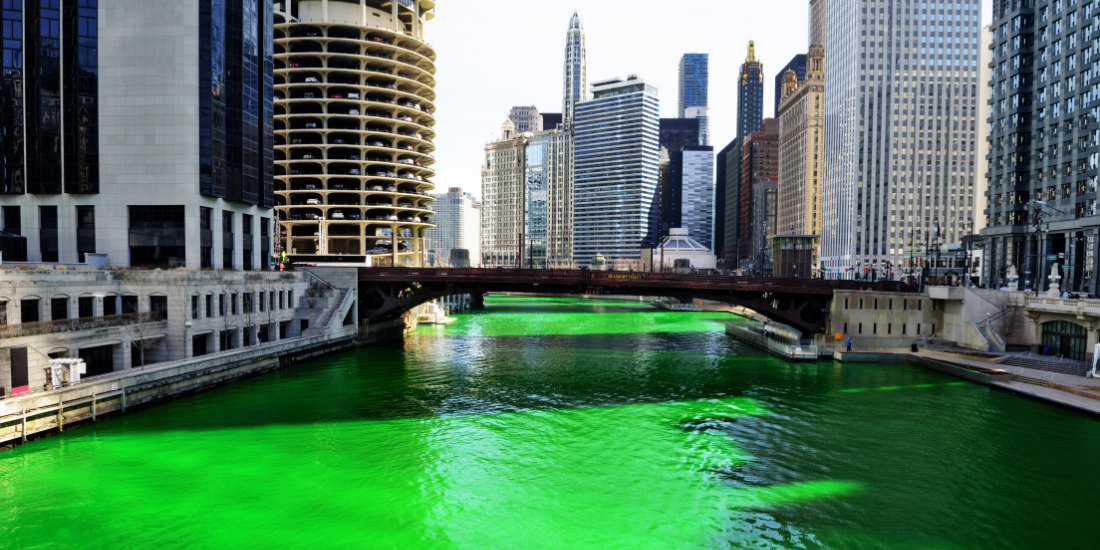 St. Paddy's Day in Savannah
The last time the parade hit the streets of Savannah was March 17th, 2019, and with this year's parade, Savannah is focused on bringing a sense of the normality we all desire during the world's current climate.
A beacon of light for Irish celebrations in the deep south, Savannah is focused on keeping everyone safe and prioritizing the health of those that attend.
With loads of fun events being planned alongside the parade, Savannah will be a great place to spend your St Paddy's Day.
Full schedule for Savannah: https://savannahsaintpatricksday.com/
St. Paddy's Day in San Francisco
With the annual parade, pub crawls, and live performances, San Francisco is full of fun things to do on St Paddy's Day. Conveniently, the city is home to more than a dozen Irish bars and restaurants to spend your time in on the day.
Festivities will take place on March 17th as well as the weekends before and after the day. Activities planned for the celebrations include the St Patrick's Day parade and festival, St Patrick's Day parties, St. Patrick' 's Day Front Street Party at The Irish Bank, and festivities at Maggie McGarry's Irish Pub.
The festival will also include numerous concerts, including The Main Squeeze at The Independent, Ben Bohmer at The Great American Music Hall, Snow Patrol at the Palace of Fine Arts Theater, and Yungblud and Palaye Royale at the Warfield.
You will also find great shows at Cobb's Comedy Club and a variety of performances at the San Francisco Theater.
Full schedule for San Francisco: https://www.sftourismtips.com/saint-patricks-day-in-san-francisco.html
Global St Paddy's Day Highlights from Around the World
Many folks also celebrate St Paddy's Day around the world. From Sydney to Rio, Toronto to Barcelona, Irish revelers and supporters enjoy the spectacular celebrations of the day.
Here's some of our 2023 highlights across the globe!
St. Paddy's Day in London
This year, London has its famous parade and festival in Trafalgar Square planned. You will be amazed by the flamboyant pageantry, marching bands from across the UK, elaborate floats, and sports clubs and Irish dancing schools taking part in the annual parade.
The parade kicks off at Piccadilly and winds its way past London's famous landmarks such as The Ritz, Piccadilly Circus, Trafalgar Square and ends in Whitehall.
The St Paddy's Day festival, which takes place in Trafalgar Square, will feature performances by well-known Irish acts, rising stars and special guests.
In between performances, you can browse the nearby market for traditional Irish food, and there is usually a family zone for your little ones. You can also celebrate with an Irish beer in the nearby Irish pubs and bars!
Full schedule for London: https://www.visitlondon.com/things-to-do/event/7609013-st-patricks-day
St. Paddy's Day in Sydney
Sydney delights in its own unique celebrations. In addition to a St Paddy's Day parade, you can spend your time in one of the many Australian-Irish pubs, and you will see the famous Sydney Opera House's iconic sails turn green for the celebrations.
Sydney also has the annual tradition of holding Australian Citizenship Ceremonies on the day to welcome Irish individuals to the country.
The Sydney St. Patrick's Day Organisation, with the support of The Australian Department of Home Affairs, has announced the celebration will go ahead at Circular Quay.
Full schedule for Sydney: https://www.sydneystpatricksday.com/
St. Paddy's Day in Montreal
The Montreal parade, which has been running since 1824, is the oldest and largest after the NYC parade.
The three-hour parade will feature marching bands, performers, party-goers and hundreds of floats to celebrate the Irish community.
Full schedule for Montreal: https://www.mtl.org/en/what-to-do/festivals-and-events/st-patrick-s-parade
St. Paddy's Day in Munich
St Patrick's Day is an exciting worldwide celebration of Irish culture, so there's no surprise that there are many St. Patrick's Day events happening in Munich and in many other German cities. The biggest celebrations for this year will be happening in Munich, with many German locals taking part in performances and the procession of the parade.
The Munich parade is also the largest to take place in mainland Europe. Though it is easy to find bars and green clothes wherever you may celebrate the holiday, it will be hard to find an event that celebrates the Irish heritage and culture through the performing arts while providing the sense of community as the one that takes place in Munich.
St Paddy's Day was first celebrated in Munich in 1996 when the Munich Irish Network made the decision to put on a small event for Irish nationals. However, instead of the 200 attendees they were expecting, a crowd of over 1000 people showed up.
Since then, the Munich parade has been growing in popularity, continuously attracting thousands of people from the Irish community, German locals, families with kids, ex-pats, students and tourists ever since.
Full schedule for Munich: https://www.iamexpat.de/lifestyle/expat-events-festivals/st-patricks-festival-munich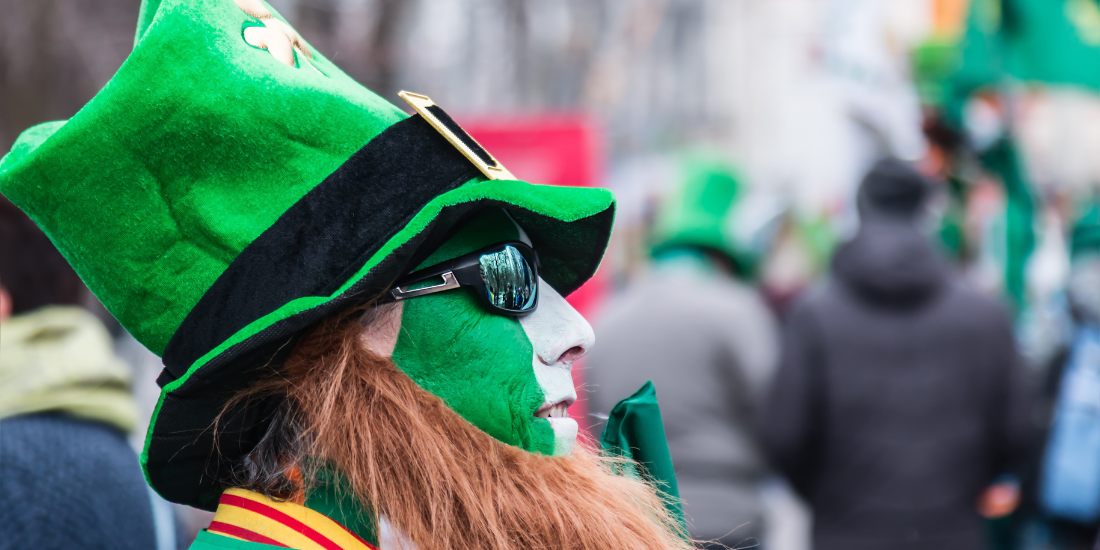 St. Paddy's Day in Buenos Aires
The annual Argentinian St. Patrick's Day Parade has an attendance of more than 500,000 Irish revellers.
This year, the St Paddy's Day celebrations will begin with an event titled 'Buenos Aires Celebra Ireland.' Elves, fairies, bagpipers and Irish dancers will honour the Irish homeland with a parade beginning at 3 p.m.
Impressively, more than 50 food and beer stands will open along the Avenida de Mayo, live music and dance performances will be taking place around the city, and numerous pubs will be open to celebrate the day.
St Paddy's Day in Argentina is unique in that it mixes the two cultures of the countries together. Instead of having a Guinness, you will enjoy traditional Irish dishes such as colcannon, but made the Argentine way!
Full schedule for Buenos Aires: https://wander-argentina.com/st-paddys-day-celebrations-in-buenos-aires/
Grab Your St Patrick's Day Irish Knitwear!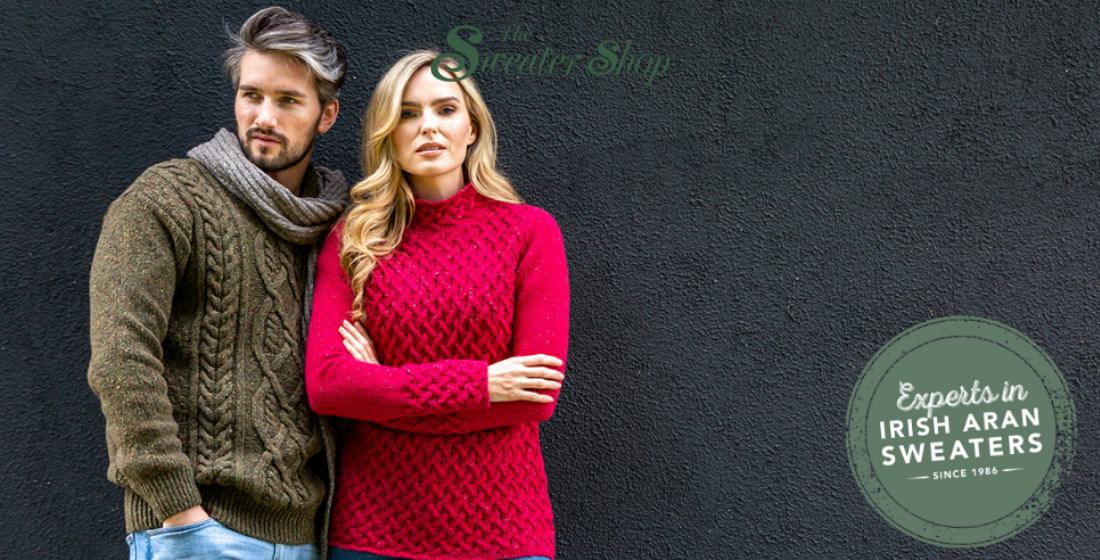 If you've read as far at this point, it will come as little surprise to you that, here at The Sweater Shop, we love this time of year!
Its when we're given the opportunity to let our hair down, celebrate this wonderful Irish tradition, and of course, show off our beautiful range of authentic St Patrick's Day Aran Knitwear.
Our St Patrick's Day Aran Knitwear will get you through your day in style. Whether you're attending a parade, popping into a bar for a pint of Guinness, or on a simple Zoom call with your favorite people, you'll most likely see at least one person celebrating in traditional Aran Knitwear.
If you're looking for a beautiful gift for a loved one or yourself, check out just some of our best sellers for this time of year below!
Popular Paddy's Day Clothing for Women:
Popular Paddy's Day Clothing for Men:
Popular Paddy's Day Clothing for Children:
The stitches we use in our authentic Aran Knitwear range tells tales of the ancient Irish lifestyle, with each unique knitting pattern representing an aspect of Irish heritage.
For instance, a Diamond stitch represents wealth, and a Cable stitch represents love. The Moss represents nature and is mainly based on the beautiful Carrageenan moss that served the less fortunate as food in the most desperate times.
It also represents nature and all of the beauty of the Irish coastline, where you will find bright green moss growing and feel at home.
When you take all of this into consideration, it comes as no surprise that our Aran knitwear is so popular with wearers not just in Ireland, but across the world.
The connection you're able to create with your ancestors by putting on this comfortable item of clothing means that you're able to celebrate your ancestors, wherever you are.
Some Interesting St Patrick's Day Facts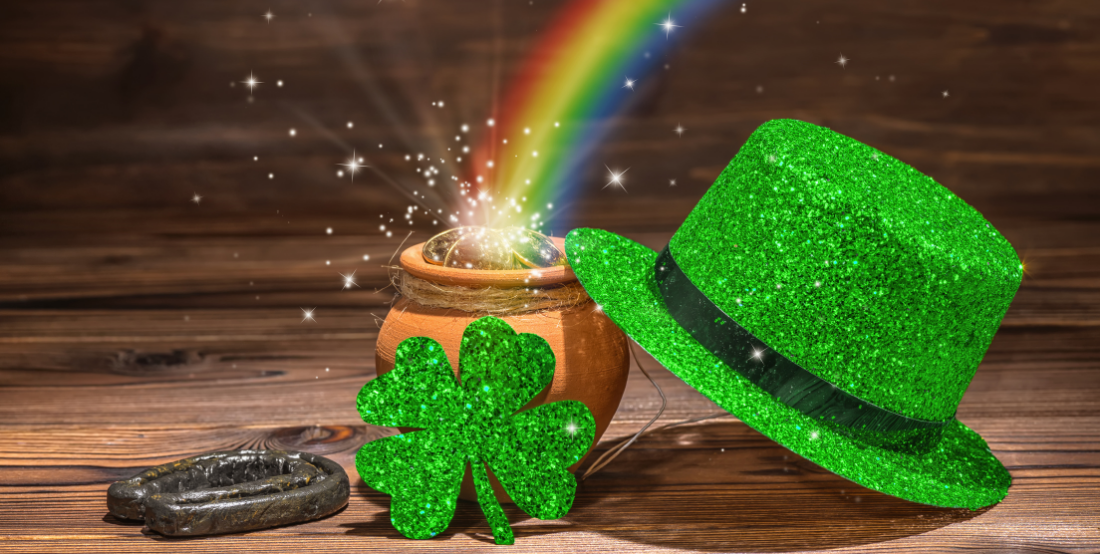 The first St. Patrick's Day celebration in the United States was held in Boston in 1737.
Shamrocks are the national flower/emblem of Ireland.
Beer is one of the most widely consumed beverages on St. Patrick's Day with Guinness being the main drink.
Your odds of finding a four-leaf clover are about 1 in 10,000. Legend says that each leaf of the clover has a meaning: Hope, Faith, Love and Luck.
To celebrate St. Patrick's Day, the city of Chicago dyes the river green for a few hours.
Current US President Joe Biden is now one of the most famous Irish American's, along with some other famous names like Mariah Carey, George Clooney, and NFL quarterback Tom Brady.
In fact, it's impossible to list just 6 great facts about Paddy's Day, so here's another 5 we've condensed into a handy Paddy's Day infographic for you to print out and stick on the fridge this year!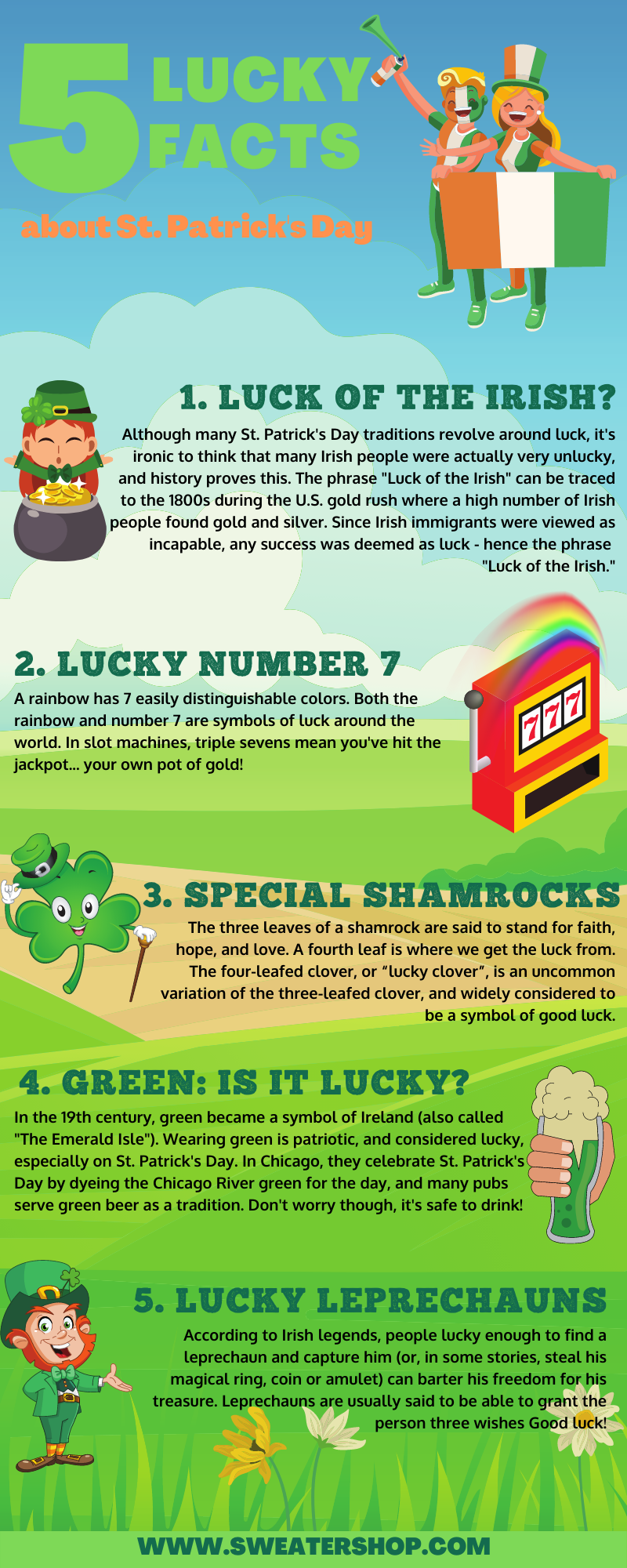 Get Ready to Celebrate St Patrick's Day 2023 Your Way!
St Paddy's Day has become a global celebration of Irish heritage and culture. In all corners of the world, you find Irish revelers paying homage to their homeland and Irish supporters joining in on the fun.
For your Irish garb, The Sweater Shop has the perfect clothing items to show off your Irish pride and keep you warm during the outdoor festivities.
With St Paddy's Day being popular all over the world for centuries already, it is undoubtable that the tradition will continue for many years to come, and that people all over the world will continue the proud tradition of this cherished Irish holiday.
We sincerely hope you've enjoyed this guide and feel ready to start preparing for your Paddy's Day celebrations today and that you enjoy a safe and healthy St. Paddy's Day this year.
An Irish Blessing
Sweatershop.com wishes everyone a safe and happy St Patrick's Day celebration, and with this, we would like to close with a traditional Irish blessing which you're able to share and recite with your family and friends this weekend, and for many years to come.
May love and laughter light you days, and warm your heart and home.
May good and faithful friends be yours, wherever you may roam.
May peace and plenty bless your world, with joy that long endures.
May all life's passing seasons, bring the best to you and yours
If you'd like to run back through some of our other great related Paddy's Day-themed content, please feel free to check out our Guide to St. Patrick's Day Pubs in Dublin, our Insiders' Guide to St. Patrick's Day and, of course, our evergreen (pardon the pun!) infographic on The Day that Irish People Take Over the World.